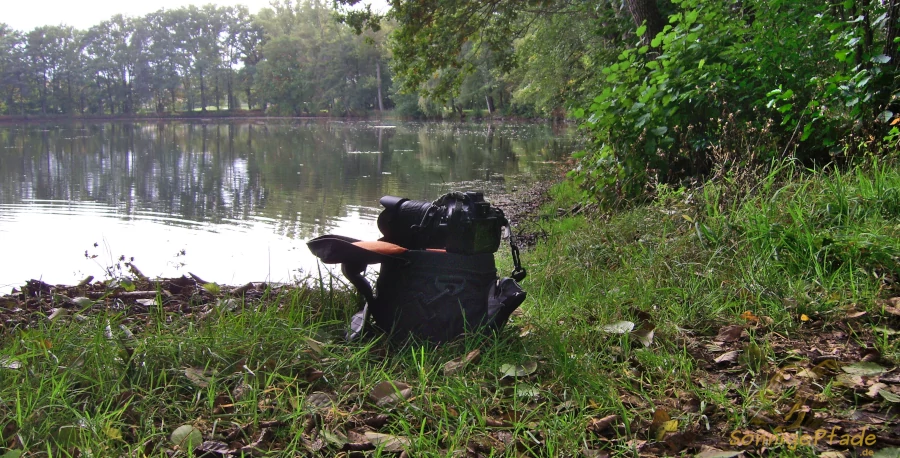 Many people who like to be active outdoors are also enthusiastic photographers. Whether that's out and about on hikes or bike rides, visiting cities, castles or ancient ruins, on an extended mushroom walk or patiently sitting in for challenging wildlife photography. Cameras often accompany us throughout the day.
In order to protect the good, certainly also expensive photo equipment in the best possible way, appropriate camera bags or camera backpacks are helpful. But not everyone needs the same thing – a few suggestions for whom which choice of camera bag makes sense should make the decision easier in this article.
[Contains advertising]
Carrying photo equipment – protected and clearly arranged
Camera bags for active outdoor fotographers - content
hide
Camera bags – small or large?
Much or little photo equipment
The first question is relatively easy to answer – do you use a lot of photo equipment or do you only have a few accessories anyway? Do you have a compact "system camera" or a larger SLR with several interchangeable lenses? Accordingly, the camera bag can be large or small. But even if you have various accessories such as interchangeable lenses, filters, flashes, camera bodies, tripods, etc. – do you always carry all that with you? I have quite a bit of it, but when I'm on the road I usually limit myself to the bare essentials. Then a small camera bag is enough. If you are mainly traveling by car and want the camera bag primarily for safekeeping of your photo equipment during the trip, whereby you have a variety of additional parts with you, a large camera bag may be necessary and useful.
Shooting on the move or more stationary?
A second question is in which setting do you usually shoot? Because camera bags are very friendly for the equipment – your camera lies in it softly bedded and shock-protected. However, large camera bags are not exactly comfortable to carry. I'm going by the square-shaped camera bags that are carried around dangling over your hips on a shoulder strap. If you have a large camera bag hanging over your shoulder like this, it will hinder you when taking snapshots, for example – you have to compensate for the movements of the box. Do you have to bend your knees quickly? Well, then the camera bag often comes flying forward with momentum….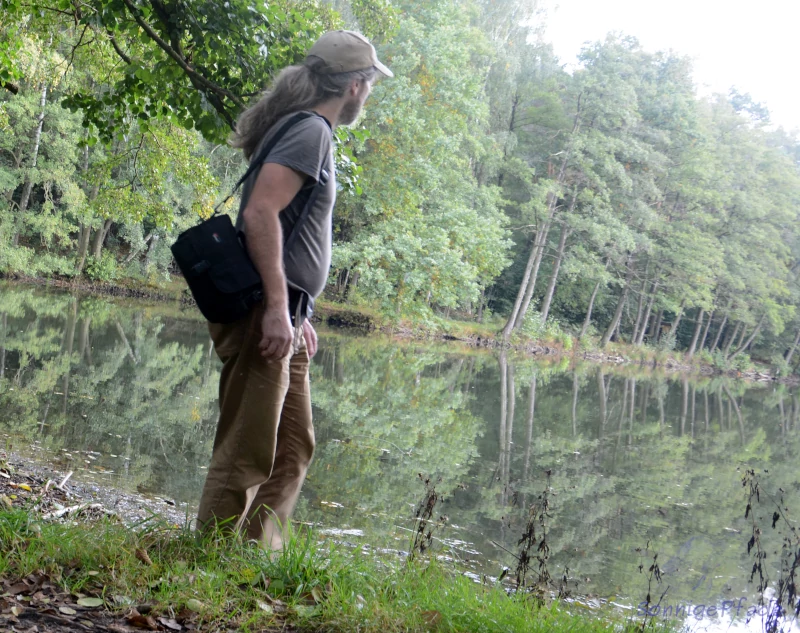 If it is usual for you to drive to your shooting location and then carry the camera bag only a few meters to shoot in a smaller radius – such as weddings in a group or architectural photography on a building, then a large camera bag in this style is also fully o.k.. The advantage is, you open the lid and have all the parts in the "tub" inside clearly in front of you, so you can quickly take out the right lens.
But if you're more of a "motion photographer" who shoots a few photos every now and then in nature on hikes or in cityscapes on discovery tours and also switches between different motifs – from macro in open flowers to telephoto on the osprey – then you should get yourself a camera backpack. This way you have your equipment safely on your back and your hands free for camera and walking stick…
Or you limit yourself technically to the most necessary, put the focus more on your own experience of nature and save the special photo "dates" outdoors for special "photo days", for which you pack exactly the right lenses and additional parts. That's how I do it in general. A small camera backpack or a small camera bag with the "backpack trick", as I will explain in a moment, is sufficient for this.
Why a big camera bag?
From what has been said before, you can already roughly deduce what a large camera bag is useful for: On the one hand, to store a variety of photo equipment and additional parts in a protected, dust-free and shock-proof way, while keeping an overview. This is already practical for home – a large camera bag is a good storage option even in the apartment or studio.
Square, convenient…. it fits on a shelf or closet compartment, and with one handle you'll have your gear ready for the next photo shoot. On the other hand, the large camera bag is a super companion if you work mainly stationary or can go directly to your appointments by car, cargo bike, bus or train. In other words, if you are traveling in an "urban environment". In the great outdoors, it quickly becomes exhausting with a large camera bag. Except for the hunt just behind the next parking lot…
When is a small camera bag useful?
On many occasions. First, if you don't have that much photo equipment anyway and the small camera bag is sufficient for that. Logical… Second, a small camera bag is also a protective storage aid for home. Third – a small camera bag can be combined with backpacks (or even suitcases) – depending on what you want to do.
This is what I meant by "backpack – trick": If you want to do a day hike and be prepared for some good photo opportunities, take your small camera bag, pack your most important accessories and then put them into a daypack or folding backpack. Then there will be some room left in the backpack for food, a light jacket, water bottle, hiking maps or the like. Expediently I would pack these other utensils still in a thin extra bag or even a box, so that I can pull them "en bloc" from the backpack and easily get to the camera bag. Ideally, the backpack still has a side (zipper) access to the main compartment. Then all the stuff comes in the bottom with the extra bag open towards the side access and the small camera bag on top with access through the backpack – lid opening.
If you are planning a longer trip, possibly with trekking or as a traveler in several countries, a small camera bag fits well into a larger travel backpack or trolley. Camera and accessories remain in it protected and ready for use. For day trips or even when separating into carry-on and check-in luggage before "boarding" a long-distance bus or plane, the small camera bag can then be reloaded into a folding backpack as described above.
I think it is already apparent here that a small camera bag is quite versatile. I consider the combination of small camera bag + x even more practical than any camera backpack, since I can accommodate my photo utensils variably in the other luggage. You have to learn to limit yourself as a travel photographer anyway. Or you can only travel by car or you need your private sherpa for the photo equipment. O.k., there are also people for whom the photo equipment is the most important thing and who can afford to travel only with a credit card in their pocket besides the camera backpack. But I am not one of them.
Does a camera bag have to be waterproof?
For nature photographers, this is certainly an important question. And travel photographers will also be concerned about waterproof storage for their photo equipment. I would ask about this – Can a camera bag be waterproof? Most aren't. Ideally, camera bags use exterior materials that are at least somewhat water resistant for now. That is, a brief sudden downpour will not immediately penetrate to your valuable photo equipment.
There may be waterproof camera bags, but that involves compromises that I don't necessarily want to make: even heavier, stiff, quite hard on the outside … And even then, seams can leak in the long run, because they are particularly mechanically stressed. Therefore, my recommendation – for small camera bags the above combination of backpack (with rain cover!) and camera bag or possibly a suitable waterproof rain cover especially for this camera bag. For large camera bags I would ask the manufacturer if there is a waterproof cover to it. Or have this made from tent fabric at a tailor and taping the seams extra with sealing tape. Almost all camera bags presented below already have a waterproof rain cover included.
Even smaller – a camera holster
Besides the small camera bag I use a padded camera – holster for years. This is so dimensioned that my SLR with the "always on" – lens (18-105mm) fits in easily, but also camera plus small tele-zoom to 300mm focal length for forays in nature. I use this holster to protect my camera always and everywhere. The camera bags are now only for accessories such as interchangeable lenses, extension rings, flash and filters in use…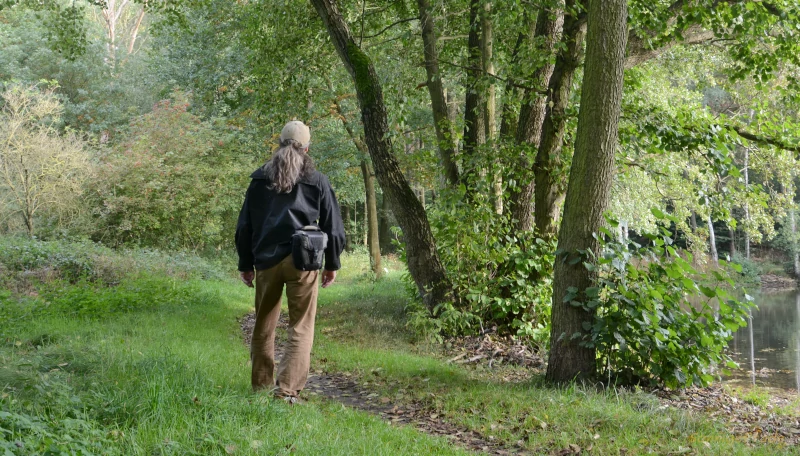 When I'm out in the woods, I can strap the holster to my belt. Rather rarely with camera – which then pulls quite nicely on the pants. But if I want to have my hands free, it is quickly packed in there. Especially when I'm not wearing a shoulder strap, but only a wristband, so the camera is loosely secured with a small wrist strap in my hand.
Replacement batteries, spare memory card, cable release, lens brush are in the holster. If the camera hangs longer in the photo holster on the belt, I can put the strap over my shoulder. As a "suspenders" so to speak. Then, however, the camera does not dangle through the area, but is protected from shocks and dirt. Between the rocks in the Elbe Sandstone Mountains, for example, this is very useful. And another advantage – the holster has a rain cover. For "microadventures" this variant is optimal.
Equipment of a camera bag
Protective padding and dividers against shocks
It is important, as emphasized several times before, that a camera bag protects the equipment from shocks. This means that a well-padded outer shell (usually up to about 2.5cm thick) keeps some of what comes from the outside. But also among themselves, the contents must be kept separate. This is perhaps even more important. Because the camera bag is carried a little like a raw egg, so that one touches as little as possible. But if heavy lenses, flash and filters are loosely jumbled together, they can rub against each other (pavement road!) and push. Dividers are used for this purpose, which are ideally also padded again. Usually, the dividers of a camera bag can be flexibly fitted into the interior with Velcro strips at the ends, creating compartments exactly the size of lenses, etc.
In many camera bags, the fabric of the interior walls is in bright, vibrant colors (example photos – orange). This makes sense because it allows the stored accessories to contrast well and be removed more quickly.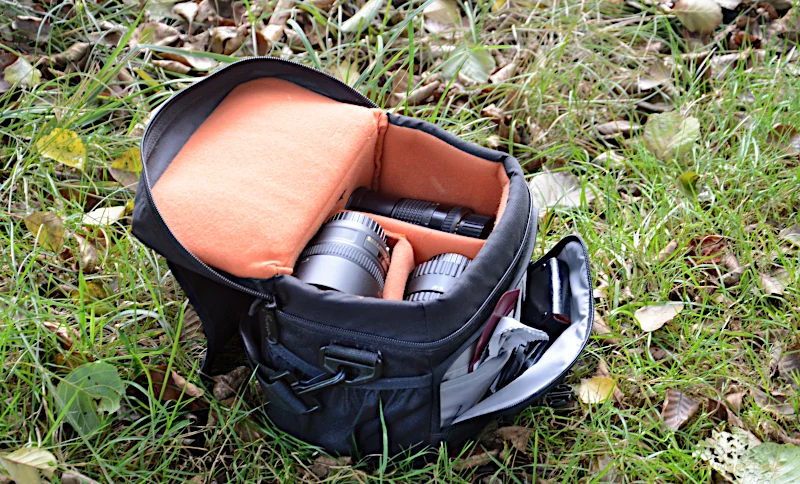 Robust outer material
In order to be able to protect the valuable photo equipment well, camera bags should also be covered with a sturdy, hard-wearing cover material from the outside. Waterproof will probably, as already written, hardly be achieved. But the outer fabric should also protect against short showers. It should be tear-proof – and all seams should be clean and hard-wearing. Especially at the attachments of the straps and closures – the eyelets must be double, better triple stitched. It's a good idea to check your new camera bag right after you receive it and use it properly – and then check it thoroughly again toward the end of the return or warranty period.
Many of the camera bags in cuboid form have a lid with a zipper all the way around and a cover lid over it, which is closed with one or two quick-release buckles. This is optimal, also with regard to waterproofness. Unfortunately, the click buckles but tempt to close only these and leave the zipper open. Especially with large camera bags, however, unfavorable weight distribution inside can cause the bag space to deform somewhat when the zipper is not closed and, in the worst case, objects can slip out through the resulting gaps. So be careful in this respect! A stable bottom plate in the bag can largely prevent this.
My camera bag recommendation
Small camera bags
Lowepro Nova 160 AW II small camera bag with weather protection
A quite small camera bag e.g. for system camera – fans or also for DSLR- photographers with little additional equipment is the Lowepro nova 160 AW II*, which can also be used well as a backpack – photo bag. Interior dimensions are 20.5 x 11.5 x 17 cm (outer: 12.20 x 10.30 x 6.80 Inches). A well-padded carrying strap makes it comfortable to carry. Perfect weather protection is provided by the flap lid, dust- and drip-proof zipper and especially by the all-weather cover. Zipper pockets in the lid and on the front take various odds and ends with.
Almost the same equipment and optically quite identical, but with the internal dimensions of 25.5 x 15 x 19.5 cm a good deal larger is the Lowepro nova 200*. Additional feature – a pocket on the back that allows it to be placed on the handle of a trolley when the zippers are open.
Billingham Hadley Small Pro Designer – camera bag weatherproof
If you value handcrafted designer pieces and want to dig much deeper into your pocket for this, you can take a look at the noble Billingham Hadley Small Pro*. With interior dimensions of 26 x 8 x 19 cm, it lies between the two aforementioned and offers space for a DSLR or system camera with lens, another interchangeable lens and various accessories. For individual subdivision, two larger and two smaller dividing pads are included in the scope of delivery.
In addition to the main compartment, the Pro version has an additional document compartment, which is protected with a waterproof zipper. Double-layered canvas with rubber membrane in between should make this camera bag waterproof. The look is definitely right – with canvas and leather and the vintage adventurer – design makes this camera bag quite a bit. Two attached front pockets each have their own lid, are additionally protected by the flap lid of the main compartment.
The Billingsham camera bags are available with similar design in different colors and sizes*.
Large camera bags
Shoulder camera bag Tamrac Stratus 21
Bigger and higher with interior dimensions: 40x 20 x 26 cm is the large shoulder bag Tamrac Stratus 21* (Outer dimensions: 17.00 x 14.00 x 9.00 Inches). Basically fit even two SLR – cameras including attached lens pure. But probably rather lenses, close-ups, flash and ring lights or other accessories will fill the space in this large camera bag. Two smaller front pockets with several subdivisions accommodate all sorts of additional – equipment. Two more pockets are attached to the sides. There are plenty of options for dividing the main compartment with padded dividers of various sizes. In the lid, a document compartment is divided with transparent film. A wide, well-padded carrying strap makes it acceptable to carry for long periods of time.
*Note on advertising links
This article contains affiliate links marked with *. These refer to online-shops. If you buy something after following the link, the "Sonnige-pfade" – blog gets a small commission for the mediation. Nothing will be more expensive for you, because the commission is already taken into account in the pricing of the dealer.
Picture sources: Product photos – manufacturer / dealer