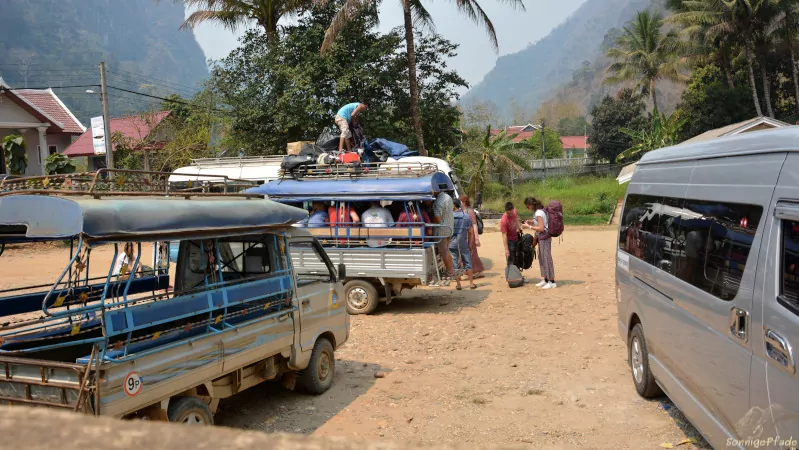 Create security with luggage and valuables
If you want to go on extended trips, you usually also worry a little about the security for your 7 things. I feel the same way. Ok, my washed out t-shirt and the other clothes nobody wants to have, but laptop, camera and GPS device are an interesting target for thieves.
Additionally credit card and cash, which you sometimes have on you. If you want to go to the countryside in poorer countries or go trekking in the mountains, you should take a supply of cash with you. ATMs are not just around the corner in every country. And then there is the passport, which may only be of interest to a very special group of thieves, but still needs to be kept safe. You should also keep an eye on data media, because data theft has become much easier and at the same time more valuable due to digitalisation – even identity theft. Some may even have a bit of jewellery with them, even if the value is more of an idealistic nature…
[This post contains *advertising]
Table of content
Sense of safety is subjective
Even if some warnings may be exaggerated or individual cases may suggest a general danger. For Hanoi in Vietnam, for example, it is occasionally pointed out (also in the travel information of the German Foreign Office) that motorcyclists are on the road in the old town, the tourists would rip the handbags or cameras off the shoulder and chase them away… I have never seen or experienced anything like this in Hanoi or elsewhere, and I have never heard of any other traveller personally witnessing such a robbery. It would be conceivable, however, from the density of the moped traffic and also the skill of the drivers…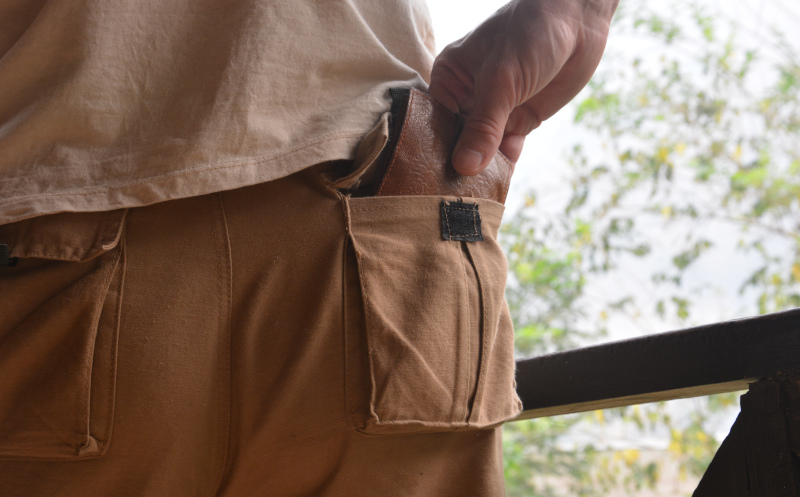 Security is ultimately always a piece of a subjective feeling. You can walk through the streets with bundles of banknotes in your pockets and feel safe, or you can have everything well hidden and locked and still always remain insecure. My credo is a healthy mediocrity between precautions, like packing larger amounts of money extra and hidden and always keeping the camera on the theft-proof strap, and the basic trust that most people in this world are honest, basically want nothing bad to you and that an open, friendly attitude can also be part of the precaution.
Data security is often forgotten…
I have already mentioned the data security and meant mainly SD-cards or usb-sticks. Much more important, however, are data carriers with RFID chips, and these are the credit cards or all bank cards as well as, unfortunately and nonsensically, passport and identity card. Here, the RFID data chips even ease identity – theft.
RFID-chips are supposed to make life easier, e.g. when paying in a shop, you no longer have to hit a narrow slot with your card with shaky fingers, but only hold the card just in front of the reader. Then the shrink-wrapped microcomputer chip receives induced current via the antenna and begins to transmit its information.

This means that with a suitable device, someone could make such a payment from your account or steal information through your pocket, e.g. to copy your bank card. And with a passport? The danger exists that the personal data, your passport photo and your fingerprints, everything that has been stored electronically can be secretly read. Although it is officially claimed that the readers only work when the passport is a few centimetres away. But I am sure that there are more powerful readers for other applications, with which e.g. secret services can copy the data even from greater distances. What if you take part in a demonstration and your identity is simply detected when you pass through a "lock"…
In the meantime, some manufacturers have reacted and offer RFID-proofed passport sleeves as well as money card slots – several of the following bags and backpacks are equipped accordingly.
Where to put all the valuables in everyday life and when traveling?
First of all, for money, credit card and passport, I prefer hidden secure pockets on the body. I have sewn an extra pocket in my trouser pockets, with zipper and made of strong canvas fabric. So it is double hidden and closed.
If the effort for self-sewing is too big for you, you can use the undercover hidden pocket* from Eagle Creek. This is attached to the inside of the trousers with a longer belt loop. To make it as unobtrusive as possible there are even two loops – one in brown, one in black. So you can use the one that matches the colour of your belt. The principle here is therefore "security by obscurity".
To protect larger cash reserves from thieves, you can strap on the money belt. This is a double-walled belt with a zip fastener on the inside, which can be used to insert banknotes into the belt. This is no longer a "secret hiding place", because these things have been available for years. Nevertheless very safe, because – as long as you have your pants on, nobody can reach them. If you prefer brown belts, then the Mens Leather Money Belt* in Tan is your choice. For friends of the black belt the Mens Leather Money Belt* in black is recommended.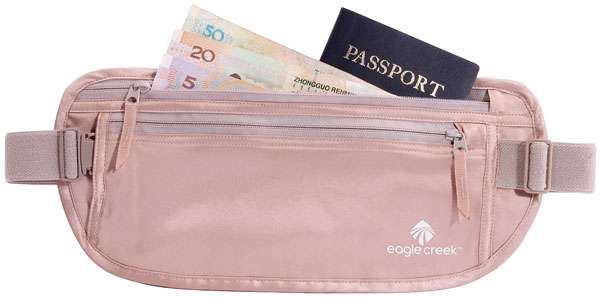 There are also different forms of hidden bellybags. I like the simple silk version, which can be worn under clothing directly on the skin. Eagle Creek offers the RFID blocker Undercover Money Belt* for this purpose, which even holds passport and plane tickets. Despite two separate compartments, this bag is not very bulky, fits the body and doesn't disturb too much in everyday life. If someone "gets into your underwear", you will notice this and you can react. This way a larger bundle of banknotes can be securely transported.
The Western – feeling revives
Especially in the western movies of the 70s was a popular scene that could not be missed when the barmaids slipped the dollar bills over the cleavage in the bra. Well, this form of secured money storage was probably very much based on the fact that the grip on the cleavage is taboo anyway and that the notes are therefore soft and secure.
But Pacsafe took up the old idea and created womans coversafe S25*, an additional hidden pocket that can be attached to the side or to the middle connection on the bra – thus providing extra protection from both secrecy and social taboos. It can also be used to store money or a credit card, for example, but should be removed in good time before use in quiet places.
A variant of this can also be used by woman or men. Coversafe V75* – a secret pocket as a shoulder holster, which can be worn under the armpit or in front of the stomach.
Cut-resistant bags and backpacks against theft
Of course, no one is happy if the rucksack or bag is "ribbed" and rummaged through, whether valuables are lost or the damage is greater than the loss. If you are very careful in this aspect or if you want to travel to an area that is described as unsafe or precarious, then take a look at the theft-proof backpack and travel bags – offers from pacsafe. These are designed from the outset to provide maximum protection against all possible attacks by bag-slitters, pickpockets and casual thieves. Many years of experience come together here with special materials that cannot be forcibly opened in seconds with a knife. Three security features make the bag or backpack theft-proof:
cut-protected pocket material and sturdy zippers
straps with steel cable – inserts
integrated sturdy locks for securing zippers or fastening the bag with the strap to components.
Theft – proof shoulder bag for all occasions
The Metrosafe X Anti-Theft shoulder bag* from pacsafe does not need to be hidden – cut-proof materials have been used to protect the up to 6 litre contents. The zippers can be fastened with an integrated lock, the front zipper is at least hidden under a firm band. Both carrying straps and the bag fabric itself are interspersed with steel wires, which make cuts impossible. To additionally secure the anti-theft bag during a longer waiting period, the carrying strap can be looped around a column or similar and locked with the lock.
In addition, the theft-proof bag is equipped with RFID shielding to prevent passport and money cards from being read and thus protects against identity theft or the theft of account data. For this secured bag for women and men recycled polyester was used. There are two colour options.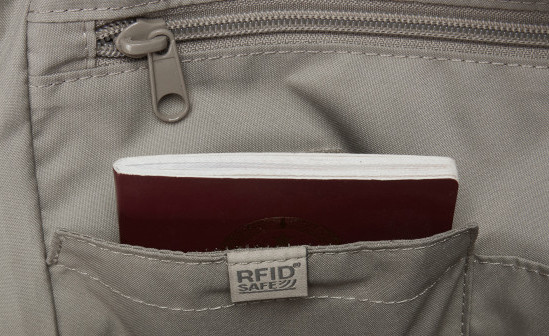 Theft – secured daypacks for daily life and travel
The Metrosafe X20 Anti-Theft Daypack* is above all one thing – suitable for everyday use. And theft-proof anyway. Fabric, zips, straps, everything has been designed to be cut-protected to make life difficult for casual thieves. A sturdy lock ensures that money and credit cards, notebook (up to 15 inches in the extra compartment), tablet (up to 10.1 inches in the extra compartment) and documents remain protected.
Here too, a strap of the padded shoulder straps can be looped around a fixed object and secured with a lock.
The backpack is secured against RFID data theft. There are two colour variants. With all the features, it also has a very pleasant shape, which makes the Metrosafe X20 a friendly everyday companion.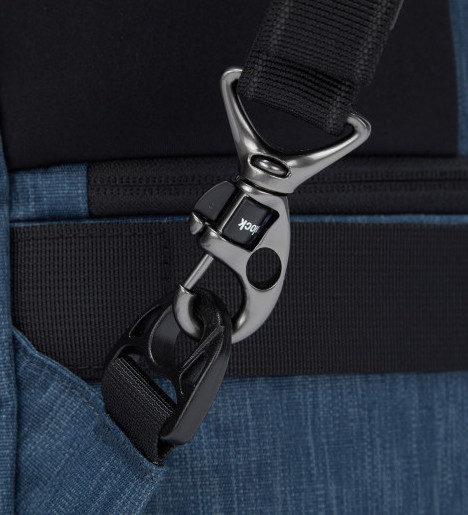 The theft- protected Venturesafe X34* is already a pretty big daypack. Designed especially for travel with little luggage and a lot of storage security. It has 34 litres of packing space for this purpose. Satisfying the pacsafe standards, the nylon material of this anti-theft – backpack is covered with a stainless steel mesh and therefore almost impossible to penetrate. The zippers can be secured with a lock. In addition there is a safety buckle with a special snap fastener. Additionally the backpack is secured against data theft by RFID.
Theft – protected travel backpacks
With the Venturesafe EXP45*, you are going on a great journey. The space available in this anti-theft backpack is well suited for longer tours, e.g. to warm countries where you can get by with few things. And all of this is especially safe thanks to the slit-proof eXomesh fabric and the stitch-proof zippers.
The material for the theft protected backpack cover is Econyl, a recycled polyester. Possible color versions are black, plum and eclipse.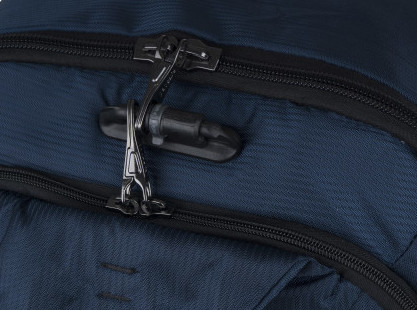 With the Venturesafe EXP55 backpack*, you'll really get things done. This size is sufficient for longer trips with a lot of luggage, including small camping equipment. Okay, learning to limit is part of the package when you are planning a trip anyway.
With eXomesh fabric reinforcement and stitch-proof zippers, thieves hardly stand a chance. An ingenious fastening system takes away the rest of the attack surfaces…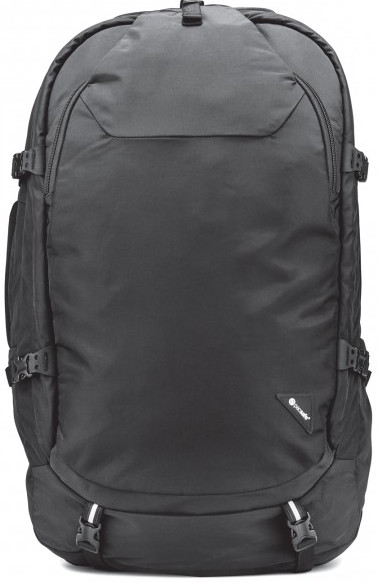 Lightweight stable travel locks – anti-theft protection in your quarters
The anti-theft backpacks are the right accessories for traveling. But all the safe hull is useless without a proper lock. In the quarters you can additionally provide for security of your things. There are different types of travel locks from suitcase locks to padlocks, which you can use to lock the lockers in hostels or your bamboo bungalow in India or Southeast Asia. Even if you do not use an anti-theft backpack, security locks on simple backpacks often help well against casual theft.
The pacsafe variant is the Prosafe 700 combination padlock*, which is suitable for theft- protection on suitcases and backpacks as well as for lockers or doors.
Alternatives are the Lewis N. Clark Travel Sentry 3-Dial Combo Lock*, which comes with a 48″ steel cable to connect luggage to massive components.
In addition, it is also useful when it comes to securing a backpack not designed for theft protection from quick access. For example, for baggage storage, where corrupt employees use their free time to search luggage for usable contents. Their interest is rather to return the backpack externally undamaged and apparently intact. Cable locks can be used to pull openings tightly shut and "seal" zippers, denying easy unobtrusive access.
Or the Lewis N Clark cable Luggage Lock*, which is not equipped with a long cable despite its name, but instead of the stiff shackle of the usual locks, it has a movable cable for security, which makes locking much easier in some places.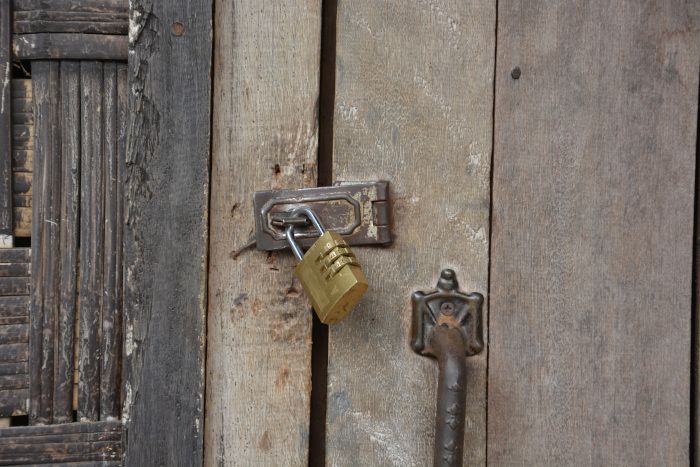 Useful lock application tips for theft-protection on the road
For some years now I have preferred security locks with combinations of numbers instead of keys. This has the disadvantage that strangers with enough time can find out the combination by trial and error. But with three- or four-digit codes like the Master Lock Padlock* the possibilities are so high that it would take quite a long time to try all combinations.
The advantages for me outweigh the disadvantages – first, I can't lose any keys, instead I set the code to a well known common number and have comfortable access. (Not exactly 0815 or 4711, of course, it should be a "personal lucky number"). Second, your friends can also access the " locked thing" – later arrivals will get access to your room if you mail them the code. If you have a bungalow together, you can also leave separately. With only one key there is always the problem of 'who is back first'? You can also leave a bicycle secured with a code lock at the station and make it available for others etc. etc.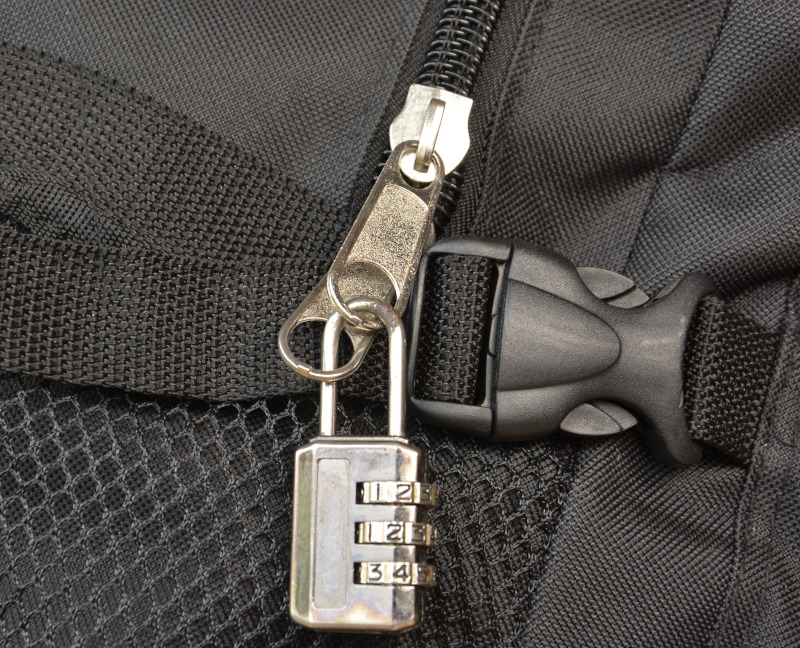 If I hand in my backpack for storage or put it in the Luggage-Room in the hostel for the day of departure, then I secure at least the main compartment with a small suitcase lock. (In the washing things – side pocket hardly anybody will find anything valuable…). This can at least make access more difficult even with normal backpacks and thus prolong the time, so that a potential thief is caught. The lock of pacsafe backpacks is usually riveted and secures the zipper of the main compartment or several compartments together. In addition, there are puncture-proof zippers as well as cut-proof fabrics of the outer cover and the straps, which are often still wire-reinforced. Hardly anything can go wrong, average thieves bite their teeth out or at least give up before.
Secured camera belt against roads – robbery
On my camera I use a camera strap Carrysafe 100 GII Anti-Theft* from Pacsafe when travelling. This is to prevent the fast theft e.g. by pickpockets in the crowded suburban train. The camera strap consists of a webbing with two inserted steel cables. The carabiners are equipped with an additional twist-lock safety device, which can only be opened with both hands. And it is also quite tight.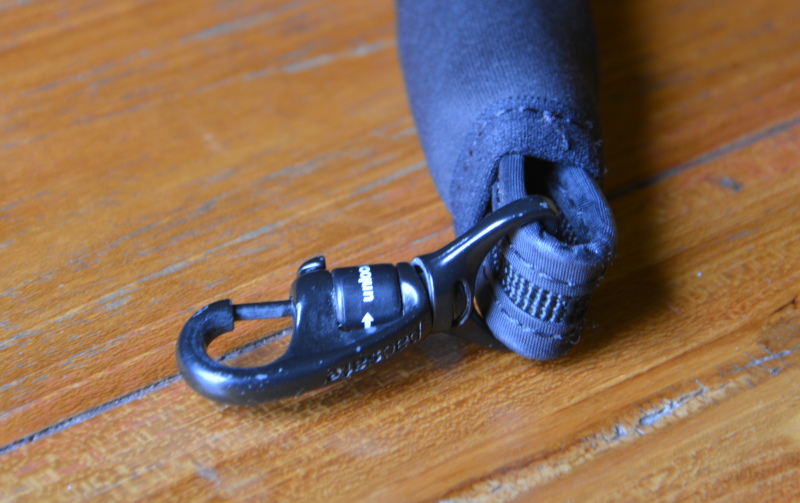 The camera suspensions are made of special Dyneema fabric, which is cut-resistant. This belt is padded with several partly movable neoprene pads. The disadvantage is a certain stiffness to which one must first get used. After some time you will be able to handle this part a lot more than with a normal camera strap, even when carrying it normally (arm support etc.).
Conclusion about theft protection when traveling
The risk of becoming a victim of theft while traveling or even in everyday life can probably never be completely prevented. It is one of the imponderables of life. If you want to be on the safe side, there are some possibilities – with anti-theft backpacks or cut-protected bags you can successfully ward off thieves and keep your tablet or laptop safe. Security locks also prevent access to normal daypacks and travel backpacks or regulate access to your hut on the tropical beach. Even your camera can hang calmly by your side in the crowded subway with an anti-theft strap. Thus, theft – protected travel utensils for your carefree trip.
Note on *advertising links
This article contains links to shop offers marked with *. If you follow one of the links and order something in the shop, sonnige pfade blog get a small commission for running this website. For you nothing will be more expensive, because the commission is already included in the price.

Source product pictures: Manufacturer/ Dealer