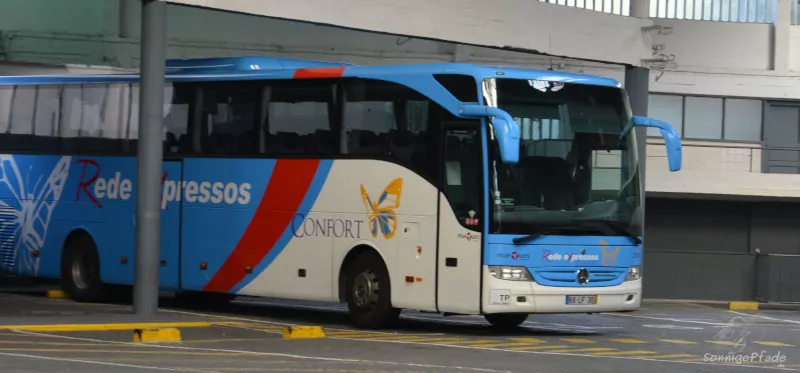 Since liberalisation, more and more long-distance buses have also been on the road in Germany and Europe. This alternative to the railway has been around internationally for a long time. For large parts of Europe, the use of long-distance buses is thus a cheap substitute for flights or travel by car. So that you can plan a good trip, I will tell you some of my experiences with the long-distance bus.
Coach – driving after the Corona lockdown
Since June 2020, a number of long-distance buses have been operating again on the most important routes, at least nationally. However, there are restrictions:
Masks must be worn over mouth and nose during the whole journey
The toilets in the bus remain closed – rest areas with toilets are more often visited
This happens because the minimum distances of 1.50m cannot be maintained in the bus.
[The article contains (*) references to long-distance bus companies, accessories and other things and is therefore advertising !]
Table of Content – prepare your bus journey
With the long-distance bus through Europe
Sure, it's convenient and fast – book a flight, drive to the airport, stand in queues for 2 hours, fly for 2 hours and you're in the warm. So why travel for days on end with the post couch like in Goethe's time?
The choice of the long-distance bus is an ecological and decelerated form of travel
With this fast and seemingly comfortable solution "flying" 2 things worry me and another, more "philosophical" thought directs my priority to the slow and less comfortable variants:
Reduce greenhouse gas emissions
Firstly, flying is largely responsible for climate change and the increasingly rapid consumption of the scarce resource oil. Even though an airplane captain once told me that the fuel consumption of an airplane per capita and passenger is lower than that of a car, it is true that the emission of CO2 at high cruising altitudes, i.e. in the thin layers of the atmosphere, has a much greater effect on the climate than on the earth's surface. I do not wish to ignore this and am therefore looking for alternatives wherever possible.
Make surveillance mania superfluous
Secondly, passenger air travel, as a potentially perfect terrorist target, is one of the drivers of surveillance technology – from airport controls to the transfer and storage of passenger data, the emerging use of facial recognition and the creation of movement profiles, everything possible, whether necessary and useful or not, is being practised in air travel – our everyday lives are being recorded ever more closely, and aviation security prevention plays a large part in this. The digitalisation of our everyday life will destroy our freedom.
A Culture of travel
A thought that was and is important to me when travelling is expressed in the well-known saying "The way is the goal" – when travelling I want to experience, in the literal sense of the word. This means that I let myself get involved in the journey, I see and feel the changes in language, culture, mentality, architecture, landscape, weather and climate, etc. These take place gradually and observably when travelling slowly. For me it is always important to experience the dimensions of our world. From this arises an attitude of respect and humility towards the Earth as the only known planet capable of producing life and such highly developed organisms as plants, animals and among them man.
Slower, more attentive, more conscious, more intense
Therefore, whenever possible, I travel by slow, earthbound means of transport such as hiking boots, canoe, bicycle, buses, ships and trains. Even if this is sometimes much more uncomfortable than a fast flight to a faraway country. The inconvenience makes the dimensions of travel physically tangible.
Nevertheless, you can also make a longer long-distance bus ride quite comfortable. Basically, probably all European countries and regions (except Iceland) are now reachable by long-distance bus and/or train. I myself have been to the Baltic States, Portugal, the Czech Republic and Slovakia, Austria, Italy, London and Wales and Poland by long-distance bus. The longest non-stop route I had was between Lisbon and Paris, which can take between 18 and 25 hours.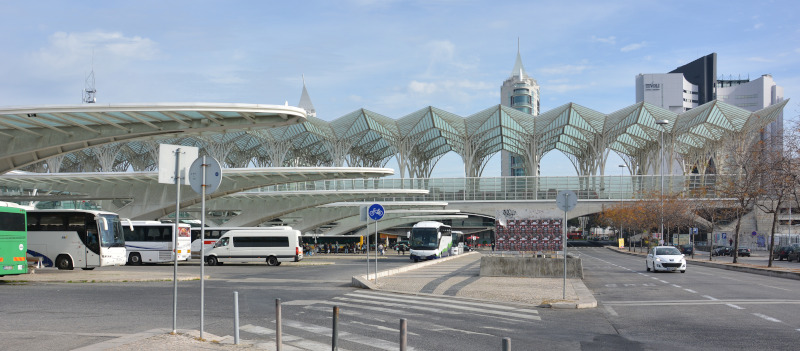 Long-distance buses have a very good eco-balance – with high capacity utilisation. Even though they run on non-renewable energy sources (except for a first e-bus experiment), the consumption and pollutant emissions per passenger are very low compared to passenger cars. Since virtually all long-distance buses enter low emission zones, good particle filters and Euro 5 or 6 emission standards are more or less mandatory.
Crossing borders on the move – where railways are weak
The advantage of long-distance buses is that many regions are now connected. In addition to large cities, the providers also include medium-sized towns and areas of tourist interest. Even to the Baltic Sea – on the Darß or on Usedom, to Rostock, Greifswald or Stralsund you can travel by long-distance bus.
Although international rail transport* from Germany to Paris (with continuous TGV and ICE trains from Saarbrücken, Cologne and Karlsruhe…), to Warsaw and Prague, Amsterdam and Vienna works, it is difficult to find connections to many smaller places or even to buy a continuous ticket. On the web-site of the German Railways there are almost always comments like "unknown international fare" or similar. Former continuous Express-train connections, e.g. from the East German countries to Poland or the Czech Republic/Slovakia, were discontinued in the 1990s and the routes were often only served by regional trains, which made it necessary to change trains and buy tickets in remote border stations. The long-distance bus providers are much further and more "European".
The disadvantage is that long-distance buses travel much slower. They travel to several cities, and the journey through the city centres with many stops at traffic lights costs a lot of time. On the motorways the maximum speed is 100km/h, on country roads even less. Ideally, the train rushes through without stopping at the centrally located train station. But long distance buses are usually much cheaper than the train.
Competition between different long-distance bus providers
Germany largely monopolized again
After a whole series of companies sent buses onto the runway at the start of the long-distance bus "liberalisation", the picture in Germany is now almost all green. What was there not everything – DeinBus, Postbus, ADAC-Bus, Flix-Bus, IC-Bus by Deutsche Bahn*, MeinFernbus and some more. Then after a short time came the merger of Flix and MeinFernbus and so bit by bit most competitors threw in the towel.
But Flixbus* is not only trying its hand in Germany, but also in Poland, the Czech Republic, Slovakia, goes to Vienna and London, Brussels and Rotterdam, Copenhagen… In Germany, you will probably be able to use the green Flixbus almost exclusively. On some routes there is competition from abroad. For example the Czech provider RegioJet* which runs from Prague via Dresden to Berlin, in Bavaria to Munich and on some long-distance routes via Stuttgart or Frankfurt am Main across Germany to London, Amsterdam, Brussels, Zurich, Bern, Lyon and Paris and Vienna, Salzburg, Linz. You can book the inner-German sections and the international connections directly with RegioJet*.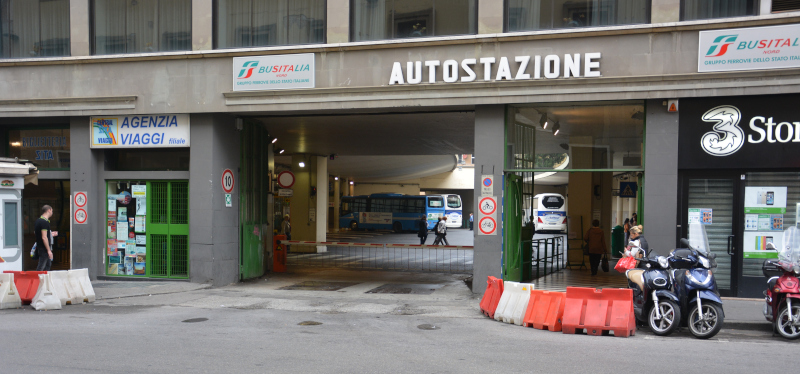 It is also possible to travel with RegioJet via Prague as a changeover hub to Vienna, Budapest or some Italian cities such as Venice, Florence and Rome. And of course to many Czech and Slovakian cities.
Overnight to the Baltic States
In the northern half of Germany, the Baltic long-distance bus operator Ecolines is also on the road, linking German cities with Poland, the Baltic States (Lithuania, Estonia and Latvia), Kiev and Odessa (Ukraine), Minsk (Belarus) and Kaliningrad (Königsberg), St. Petersburg and Moscow in Russia. To the west, some of the Benelux cities (Amsterdam, Antwerp, Utrecht, Groningen …) or Paris are served. At least from southern Polish cities you can also go with ecolines to Thessaloniki in Greece.
It is an advantage for both RegioJet and ecolines that there is on-board service at least on the international routes – you get coffee, tea, snacks, information about connections etc. When changing to the RegioJet train* in Prague, the bus attendant explained me the fastest way to Hlavni Nadrasi (main station) by metro and exchanged a few euros into Czech Korun for the ticket. In addition, the passengers are counted after each stop. With Flixbus it is your own fault if you are forgotten at the rest stop. The drivers don't check if everyone is back on board.
Overland through Europe – to the islands by ferry
As an international long-distance bus operator, Eurolines has been on the market for a long time – even before liberalisation. Eurolines has many branches in the European countries (eurolines-france, eurolines-polska…), which serve routes across Europe, including Spain and Portugal. My Tuscany tours to Florence I have done so far with Eurolines Polska as my carrier. You can get the tickets e.g. via the booking portal trainline* . There you can also find discount offers, student prices or sometimes network tickets for regions, similar to the Interrail-Ticket at the railway.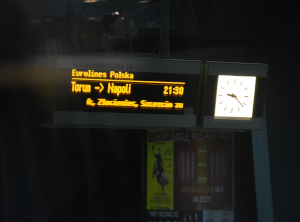 With Eurolines you can also get to Spain and Portugal, Croatia, Romania and Greece, at least with one or more changes. Cities such as Paris or Barcelona are good places to change, as many of the lines cross each other. If you are planning an adventurous journey in stages through Europe, you should identify such hubs, because there are more connections available. As port cities such as Rostock (- Gedser in DK or Trelleborg in S), Barcelona (- Mallorca, Menorca, Ibizza), Holyhead (- Dublin IRL) etc. are served, you can use ferries as pedestrian passengers and continue your journey on the islands.
Plan stopovers and changeover times
However, for other routes that you cannot book as a continuous travel offer, you should plan for long changeover times or, even better, overnight stays. Because long-distance buses can quickly be a few hours late – they get stuck in cities during rush hour, get stuck in traffic jams on the motorway, which means that drivers exceed their driving times and have to take breaks… A continuously booked ticket from start to finish gives you certain rights towards the organizers, a transport guarantee so to speak. If you change the organizer or can only book your trip with several single tickets, you are responsible for the risk yourself.
Other providers in European countries
Nationally there are other bus operators in various countries. In Poland, this is traditionally the former state-owned bus company PKS under the name PKS-Polska (still regularly operating to Dresden, for example). In Portugal, every major city is served by Rede Expressos (and many destinations in Spain), in the UK the National Express is on the way and in Ireland BusEireann. As already mentioned, the Czech Republic and Slovakia are opening up RegioJet*.
Knowing that helps. On the Internet you can find the timetables of the companies, the routes, prices etc.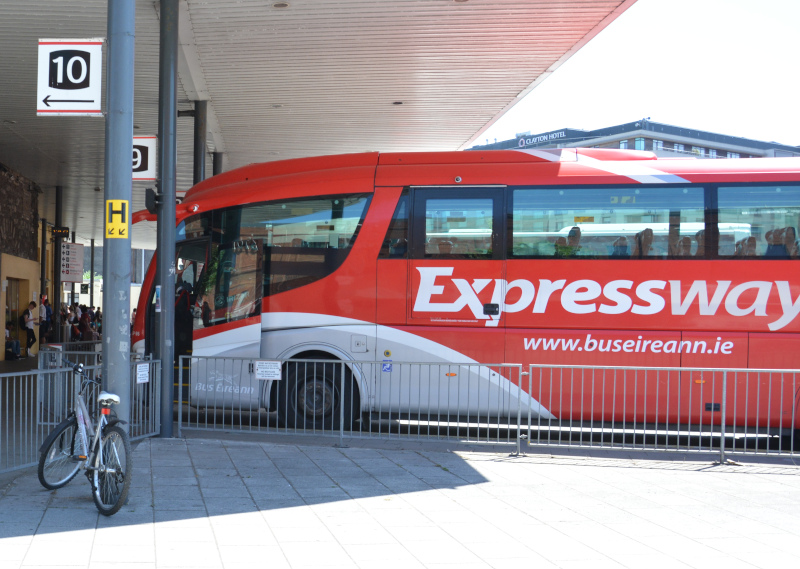 Long-distance bus practice: Route search, booking, luggage and comfort
Travel planning on the Internet
The booking of long-distance buses is mostly done via the respective websites of the bus companies on the Internet with self-printing of the ticket or alternatively with saving it on the smartphone/tablet. Alternatively, you can use the already mentioned booking portal trainline*, which not only provides information about bus lines but also about trains and sells train tickets. Connected are Flixbus*, IC-Bus*, ALSA, baltour, Eurolines, ouibus and isiline, so mainly Western European companies. For online booking you need a credit card almost everywhere.
In large cities, some lines have ticket offices or sales through cooperation partners (e.g. the sales offices of local transport companies). BusEiran also has ticket machines in large cities.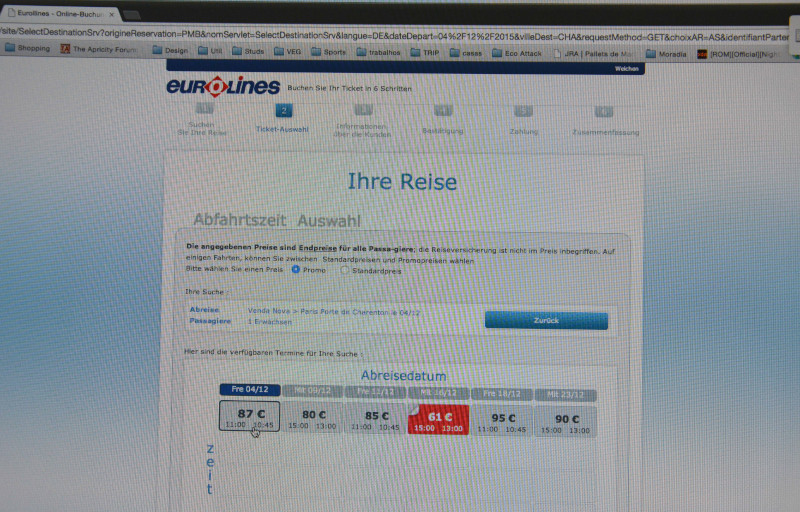 Luggage transportation – hand luggage and "check-in" luggage
Hand Luggage
Similar to the airplane, the long-distance bus offers the possibility to take along hand luggage and "check-in" luggage. Usually one piece at a time, some providers also allow 2 or 3 pieces to be handed in. Take all your valuables into the cabin, not in the baggage compartment. And secure them properly. For size and weight restrictions please refer to the pages of the transport company, as there are differences. A small rucksack* up to 30 litres can usually be carried as hand luggage – but you must place it in the foot space under the seat or between the seats. That means that this is at the expense of your legroom. However, the space between the rows of seats is usually a bit more generous than on the cheap airlines. The shelves above the heads are unfortunately, as in many passenger coaches, only there to forget your hat or umbrella – there is no room for luggage.
Big luggage and bicycles in the long distance bus
Before boarding, you place the "checked" baggage yourself in the baggage compartment under the passenger cabin or it is loaded (e.g. by ecolines) by a bus driver – marked with a baggage tag. Important – don't leave valuables or documents in there, because these luggage hatches are not very controlled or supervised and everybody can take out what he thinks is his. During the trip you normally have no access to the large luggage (depends on the friendliness of the bus driver). If you are not only taking hand luggage with you, it is worth taking a small "folding backpack*" for your "onboard" needs. This can be emptied into the main luggage upon arrival and folded and stowed away with it.
On some routes, Flixbus* (and possibly other providers as well) offers the carriage of bicycles for a fee – but very limited to up to 4 pieces (or less) after prior online reservation. (Standard bikes up to 20kg, payment in cash directly with the driver, for prices see link, online reservation) Folding bikes can be folded and packed in bags and carried in the luggage compartment.
on board – comfort on longer trips and in the dark
The long bus journeys are very comfortable compared to your own car journey, where you have to constantly deal with the traffic and concentrate. You can simply switch off and hand over the responsibility of reaching the destination, for you and your 7 things, to the driver. If you have not packed any activities for this long time, it can be a bit boring. This is especially true during the winter, from about the end of October to the end of March, because the days are short and the dark nights are long. Therefore, the bus trips take place to a large extent in the dark.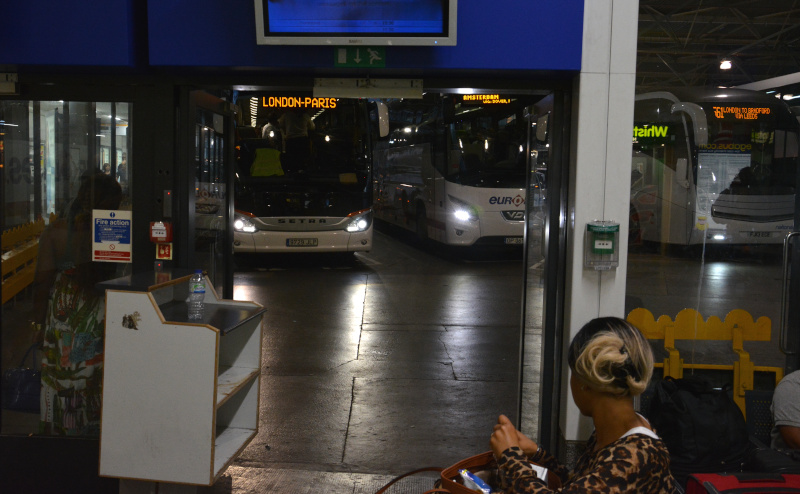 Unlike on the train, no lights can be left on in the bus during the journey. International journeys, e.g. to Italy or the Baltic States, almost always run overnight, so that you arrive the next day and spend the night on the bus.
Reading, listening, playing, watching movies…
So reading is the order of the day! Above each seat there is a reading lamp, which you can use at least until around midnight. After that, passengers who want to sleep are often disturbed by this little sparkle. The light is often not very pleasant anyway, and reading for a long time strains the eyes. Almost all eReaders* that have integrated their own reading light now offer a good alternative. This means you are well equipped, because you can save several thousand books* on it without creating a lot of extra baggage. The smallest eReaders are just slightly larger than a postcard and as thin as a pencil. Of course you can also use a tablet, but during the day, the many changing reflections of the incoming light are annoying.
For eBooks, you can download the moonreader app to your smartphone or tablet, above which you can read standard eBooks in ePub format (or .txt or .pdf etc.). In more and more long-distance buses there is a "bus-own" entertainment program via wifi with some movies in different languages, individual audio books or eBooks. With Flixbus I recently had to realize that the latter are only 30-minute audio samples or eBook readings. At regio-jet there were only a few films with German dubbing, rather in English… I haven't really warmed up with the onboard programs yet…
For everything you want to enjoy audibly, good headphones* are simply recommended. Be it music or audio books from your own ogg player* or tablet, be it the movie via plug-in from the onboard display or just to have additional sound protection on your ears for a while. By the way, if there is a free choice of seats or if you have booked in advance – the noisy seats are at the back of the bus, because the machine is sitting underneath. Listening to music or audio-books is almost impossible there. In front and in the middle it is much quieter! Nowadays almost all long-distance buses are equipped with 220V sockets, usually one for each seat.
Torch recommended
I find it practical to pack in a small flashlight*. Firstly, to illuminate the way to the toilet during the night drive and secondly, to be able to get along in the toilet. On some buses, the toilet light switches on when you lock the door – you are standing in the dark for a while. Or the light is just a sparkle, or the switches for the sink and tap are in the shadow of the sink… there are many traps. Sometimes something just falls under your seat – without light it's hard to find anything again. And if you have to get off at a dark underway station somewhere at night, the flashlight might also help you to find your big backpack from the luggage compartment again or to find the right signpost.
This can be a normal flashlight that easily fits in your pocket. Or even a headlamp* – the advantage here is that you have your hands free. If you don't really like such a "cyclopean eye" – I often just put the headlamp on as a "collar", so it can't slip down…
Neck cushion
For the comfort, so-called "neck cushions*" are actually an asset. I ignored that for a long time and dismissed it as annoying nonsense until I got one for a test. Then I was really astonished how much more relaxation a simple utensil provides, especially in the already often stressed back and neck muscles. And if it doesn't support your head, you can also use it as a pillow to lean on.
Neck cushions are available to blow up or in pillow form* with a firm filling. I prefer to blow it up because I want to store it as small as possible when I don't need it. However, the cheap parts from Xenos or where else for a few Euros are no good, the air is quickly out and the holes are not to be mended.
In the meantime I use an inflatable Neck Pillow*. This has an inner air bubble with a big hole valve which works like a flutter valve. You can put on your lips with a kiss and just breathe in. Goes super easy, not like the bath ball Schniepel valves. To release the valve, the center pin is pushed in and the thing is empty again. The outer cover can be removed and machine washed at 30°. To connect the ends of the cones there is a small band with click-lock. This prevents the croissant from slipping down while sleeping. You can quickly click it on the backpack when changing. If you are not a baggage minimization freak like me, the solid-fill cones are certainly an equally pleasant option.
… and blanket
A small cuddle blanket* is another feel-good accessory, especially for night cruises. If you are travelling with a sleeping bag, you can use the silk inlet*, which I advise you to use anyway. Otherwise, a 1.50×1.50 blanket made of soft fabric or wool is sufficient. You can cover yourself with it to a certain extent, which protects you from draughts and creates a kind of shielded intimate zone during sleep, which makes many people feel more comfortable.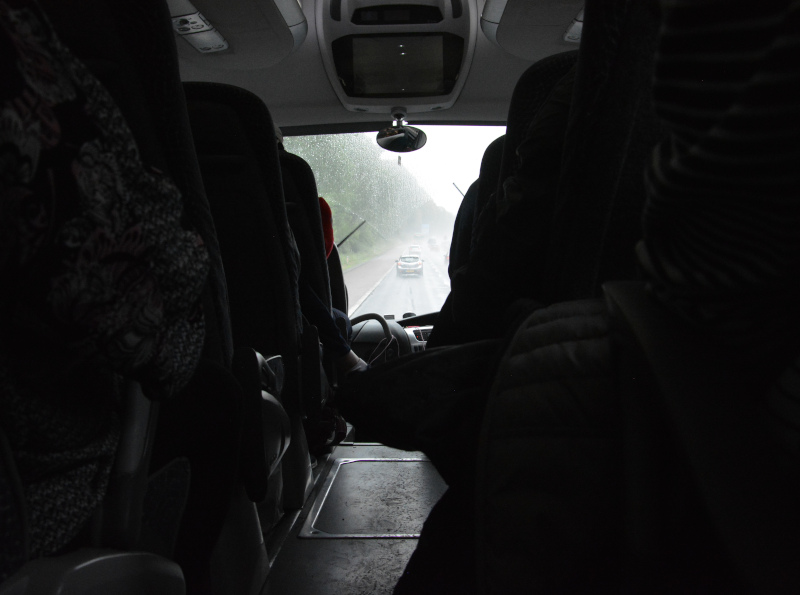 One night on the bus – what do I wear?
For long journeys it is practical to wear comfortable clothes in which you feel flexible and comfortable. So wear wide trousers instead of tight jeans. For girls you might also want to wear a long skirt and pantyhose. T-shirt and sweater are more flexible. You can take the sweater off when it gets too warm and use it as extra padding. A light jacket is useful for stopovers. If you have several pairs of shoes with you, take some that you can get in and out of quickly. Since I often travel with mountain hiking boots, I take them off soon after the start. The laces I stuff loosely inside. This way I can slip in and start running quickly and easily. A hike, where tight lacing is necessary, is cancelled at the intermediate stations anyway.
Catering and toilets
Board catering – do it yourself
Onboard catering service is rare with long-distance bus companies. ecolines and RegioJet are positive exceptions where you can get coffee, tea, hot chocolate and possibly hot soups or similar. All this for little money or even without additional costs. During long journeys there are stops at rest areas, which can be particularly expensive, and a rather rushed eating pleasure, as the stays are limited in time. Use this time rather for a well-groomed toilet (don't forget your change), the on-board toilet is a torture.
Therefore you should pack drinks and food depending on the length of the trip. A bottle* of water is always recommended. Sandwiches, fruit and maybe a few candy bars will sweeten your journey. Then you don't have to queue up at the rest stop and can eat what you really like.
Toilet in the long distance bus
The on-board toilet has already been mentioned several times. This is at best an emergency toilet! Unfortunately the room is so cramped under a row of seats that you have to get into the right position before closing the door. At least as a bigger person. Unfortunately, in the narrowness, bad lighting and under the influence of the driving movements often times someone misses the target, so that on-board toilets will rarely belong to clean hygiene temples. It is therefore recommended to bring your own toilet paper (the existing one is often already wet) and possibly a disinfectant spray*. Or everything you personally need to be able to use a public toilet under these adverse circumstances.
Conclusion on well prepared long-distance coach journeys
Due to the now very dense long-distance bus network, it is possible to travel through Europe at low cost. Exciting destinations are easy to reach, especially from Germany and the German-speaking countries due to the central location – the Baltic States, Polish cities such as Gdansk, Kraków and Wroclaw, Prague, Cesky Krumlov and Ćeské Budejovice in the Czech Republic, Slovakia with beautiful hiking regions, Venice, Florence and Rome in Italy or in western direction Amsterdam, Rotterdam, Paris, London…..
Were the suggestions helpful for you?
Are you already looking forward to your next long-distance bus journey? Then share this article on your social media channels. And I like to hear about your experiences in the comments! Thanks!
Advertising note
The links with * are so-called affiliate links. If you go to a shop page and buy something there, I get a small commission. There are no additional costs for you, because the commission is already included in the pricing.