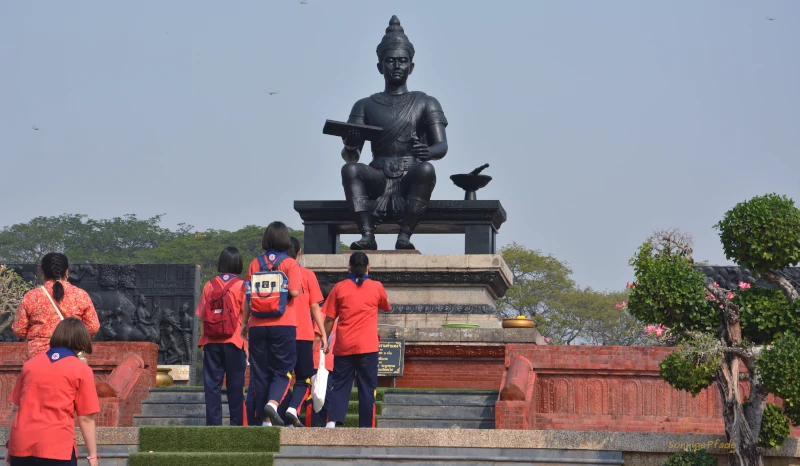 The great mass of tourists visits the Thai south, which stretches as an elongated tongue of land between the Gulf of Bangkok and the Andaman Sea to Malaysia. For there are the beautiful beaches and paradisiacal islands, but also tourist castles with all the concomitants of mass tourism.
On the other hand, those who want to experience more of the country, historical, religious and scenic beauty in the mountains of Thailand should direct their paths northward for at least part of the travel time – that is, northward from the pulsating metropolis of Bangkok.
Thailand is now reachable again
After the Kingdom of Thailand rigorously closed its borders to all in March 2020 due to the Corona pandemic, the country has been open again since November 2021 for travelers vaccinated against Corona. Thus, there is currently the chance to experience Thailand with few other tourists and to benefit from the offers of the tourism industry starting again after the Corona – interruption. However, according to information from the embassy, a registration in the Thailand – passport – system is required in advance.
By public transport from Bangkok to the places worth seeing in the north
[Contains advertising!]
Travel tips for the North of Thailand - table of contents
Verbergen
Best time to travel in the north of Thailand
The best time to visit the north of Thailand is from October to February. During the day it is warm up to about 30°C. From March it can be really hot with daytime temperatures over 40°C. From the end of June to the beginning of October is the rainy season. Especially in August, roads can be impassable after flooding.
In the winter months of December and January, however, you should bring warm clothes, as it can be as cool as 15°C or less at night – a noticeable chill for many after getting used to high daytime temperatures. In any case, it makes sense to have your sunglasses* with you all year round.
Air quality in Thailand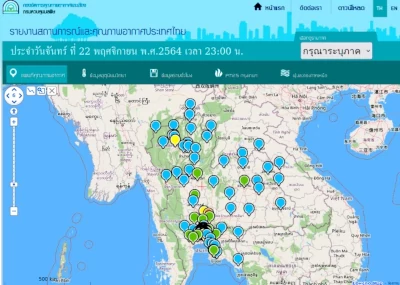 Unfortunately, another important issue for Thailand's urban centers, as well as for most residential and industrial areas, is air quality. A constantly updated situation picture can be called up here.
Time zone Thailand
Thailand belongs to the Southeast Asian Time Zone, also called "Indochina Time" by some. This means 6 hours ahead of Central European Time (CET). 16:00 in the afternoon in Bangkok and Chiang Mai is only 10:00 in the morning in Central Europe. Traveling from Europe to Thailand can be associated with significant "jetlag" due to the time difference.
Arrival to Thailand
By plane to Bangkok
From Europe the journey is possible by airplane and without problems from all larger airports. From London Heathrow, Paris Charle de Gaulle or Frankfurt am Main several lines fly daily to Bangkok. Cheap and quite comfortable are the flights via the Gulf States, because the long distance is divided about in half. So you can stretch your legs for an hour or two in between. Even if the travel time is a bit longer, it is more pleasant than riding the whole distance in one go. With Quatar Air* there is a stopover in Doha in the small Gulf emirate of Kathar. Emirates* flies via Dubai and Etihad* via Abu Dhabi.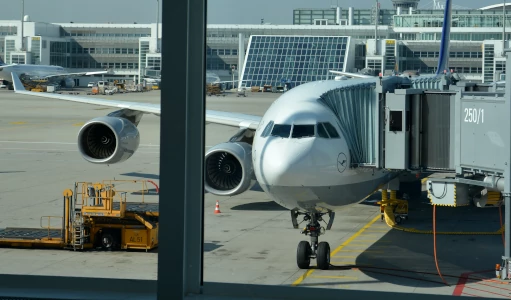 The frequent flights are not only due to the fact that masses of tourists flock to Thailand, but because Bangkok has become one of the important air hubs in South-East Asia and travelers from here have connections to all Asian regions.
Bangkok has two major airports. The new modern Suvarna Bhumi International Airport (IATA designator BKK) is located east of the city and is the destination for almost all intercontinental flights.
Suvarnabhumi Airport is well connected to the center of Bangkok by City Line – elevated train. For this, the payment machine spits out so-called tokens – depending on the route length. The stations are listed next to the machine. You hold the token – plastic chip at the barrier on the sensor field, then the barrier gives you the way free. Do not lose the token! You need it to be able to leave the track at your destination. There you put the chip into a slot, then you are allowed to leave.
From the airports in Bangkok, especially from the older Don Muang airport north of the metropolis (on the main railroad line to the north /Chiang Mai and northeast ) there are connections to the most important and many less important places in all of Southeast Asia (China, Laos, Vietnam…).
Rail and road transport from neighboring countries in South-east Asia
By land you can reach Thailand from the surrounding countries Myanmar, Laos, Cambodia and Malaysia.
Up to Hanoi and Ho Chi Min City (Saigon) in Vietnam there is already the possibility to arrive by train from Europe. From there, the rail connection via Laos/ Cambodia to Thailand is missing. This journey leads over Moscow – Beijing – Nanning in the south of China to Hanoi and lasts with all fast trains and sporty completed scarcely 14 days. If you want to undertake this adventurous rail trip, the German mini-travel agency traivelling (derived from train traveling) will help you with its extensive expertise in rail travel.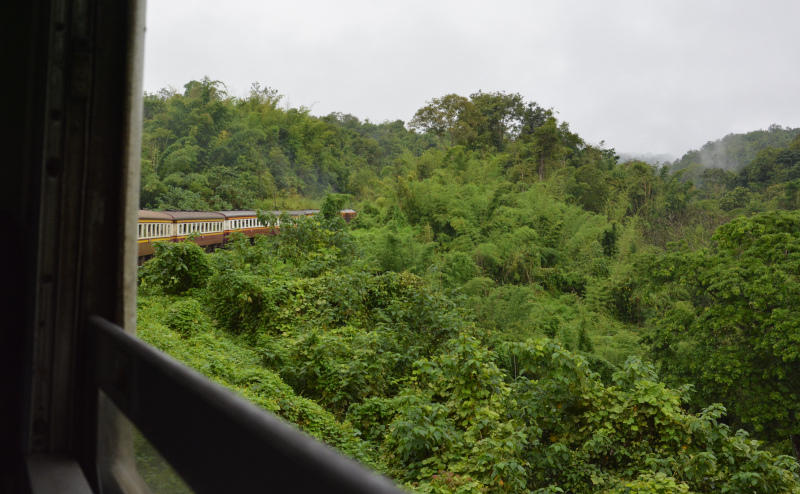 There is (still) no international rail transport in the region of Northern Thailand apart from an extension of the railroad to Ban Thanaleng in Laos via Nong Khai, and thus practically to the Laotian capital Vientiane. On the other hand, the long-distance bus system is very well developed, you can travel to Bangkok by bus from Hanoi and Ho Chi Min City (former Saigon) in Vietnam, Phnom Pen in Cambodia, Vientiane and Luang Prabang in Laos, and certainly from some more places. For the most part, (air-conditioned) semisleeper buses operate. That is, you book a sleeping seat or even a "bunk" in which you can or must lie on the road. Now this is not super comfortable, but it saves time that you can spend overnight on the road. The routes are quite long, because the roads are not so well developed, especially in the mountainous regions of Laos.
However, there can change quite a lot in the next few years! At least in Laos and Thailand China invests in the context of the "new Silk Road" projects masses of money also in transport infrastructure – where you today with the bus over endless serpentine roads mountain around mountain, there are in the future dead straight train routes simply across with tunnel chains and bridges. A rail link from Beijing/China via Laos (Luang Prabang, Vientiane) to Bangkok is planned and under construction. But this will seriously change the region of South-East Asia as a whole.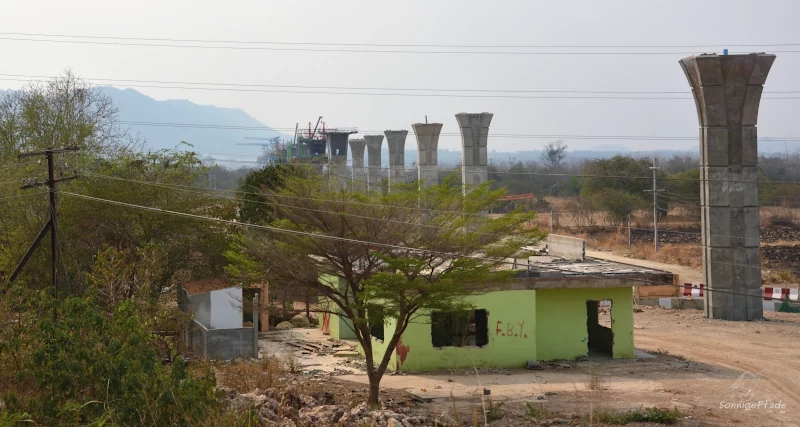 Entry requirements for Thailand
Currently, entry is only possible for fully vaccinated against Corona and requires prior registration in the Thailand Passport System!
For Europeans of the EU, British and US cititzens there is by stamp in the passport with the entry a permission for the tourist stay in Thailand for max. 30 days. A visa is not required. So don't queue at "VISA on arrival", as an EU-citizen you don't need it! You have to fill out an entry form in advance (T6), which is usually already given to you on the plane by the airline. Otherwise they are available in front of the immigration queue. You will receive a section of the confirmed entry form and must hand it in when you leave the country – do not lose it! A webcam photo will be taken. In the meantime, all fingerprints will be taken upon entry. If you don't want this, you have to stay at home.
The duration of stay can be extended once by the local immigration authorities. Otherwise you have to leave the country for at least one day (e.g. to nearby Laos or Cambodia). The passport must still be valid for at least 6 months.
Thai money
The currency of Thailand is the Bath. 1€ is roughly equivalent to 33.77 Thai Bath. In the larger cities, money is available everywhere at numerous ATMs, most of which accept the usual credit cards. Sometimes there are regular ATM queues of the various banks at subway stations. Regardless of the conditions of the local bank for the withdrawal of foreign currencies, the ATM operators add withdrawal fees on site, which are not refunded by your bank!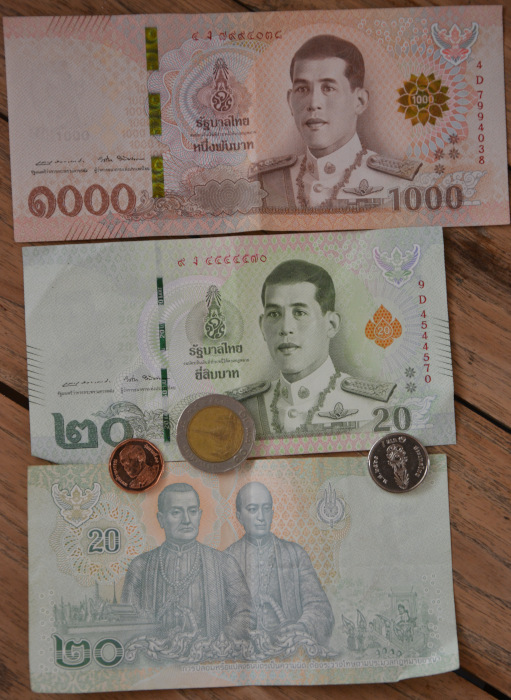 After a few attempts you will find out which bank is the cheapest and otherwise it is simply better to withdraw larger items at once. The surcharge is displayed before the booking confirmation, so you can still cancel if the additional costs are too much for you. Currently (2020) I have only found ATMs that take 220 baht (so about 6,50€) fees. Take care of your valuables and cash – supplies. Safe stashing is in order, although most locals are friendly and helpful. Sometimes, unfortunately, there are idiots among backpackers…
Public transport in Thailand's north – local and regional
By train from Bangkok to Chiang Mai
Where it exists, the Thai railroad is an iconic mode of transportation. Narrow gauge compared to the European standard gauge, it is somewhat of yesterday in equipment and operation. For example, on departure, conductors everywhere wave flags (or flash strobo flashlights at night) until the train has left the station. At the stations, "ship's bells" are rung when trains are announced, and station personnel stand at attention at designated posts to receive them. Upon arrival at the terminus, some windows are replaced, which were broken during the last trip. (Pardon, it also happened to me, the window has tilted when lowering and broke when pulling up).
From the point of view of a rail customer, I have experienced all rail employees in Thailand as very friendly, helpful and committed. For example, I once took a night train from Ayutthaya to Chiang Mai in a couchette car – as soon as I boarded, a conductor approached me, led me to my seat and handed me clean (shrink-wrapped) bedding. In the morning – no sooner had I pulled away my curtain than another attendant came and offered me fresh coffee.
The cruising speed was sometimes only 40km/h, which allowed me to enjoy the ride through the jungle very much. Maximum speed was about 90km/h (all according to my GPS device). The prices are moderate.
The train lines to the north leave from Bangkok Hua Lamphong station. This is unfortunately not directly connected to the City Line from the airport. One way to connect is to get off the City Line at Makkasan station and change to the metro there. This is the best way to reach the station. If you want to take the northeast train to Nong Khai via Nakhon Ratchasima (Khorat), you can also start from Hua Lamphong. Only after Ayutthaya the lines separate.
Dense bus traffic with minibuses in the countryside
In addition to the train, there is a well-developed bus network. Actually, every place can be reached. Larger cities have large bus stations with some services like toilets, stores, snack bars, etc. In more remote areas and smaller towns there are minibuses as big as VW buses. However, these have one more row of seats, so 14 people share the cramped space. Luggage ends up mostly on the roof, smaller things (or when the roof is full) go under the seat or somewhere where there is still a little space. Since some trips can easily last 3-4 hours, this is quite a pain. Even for me, who's not too tall. In the end, you don't know how to twist your legs anymore so that it's halfway bearable. Here you come into close contact with the locals !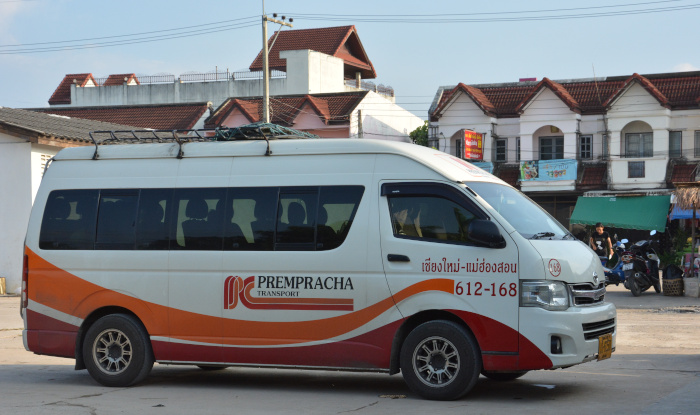 I would say that a longer route is not financially ruinous. But if you drive with a small budget several short sections in a row to explore a region, it is noticeable in the long run. At least if you want to spend a longer period in the region without big costs.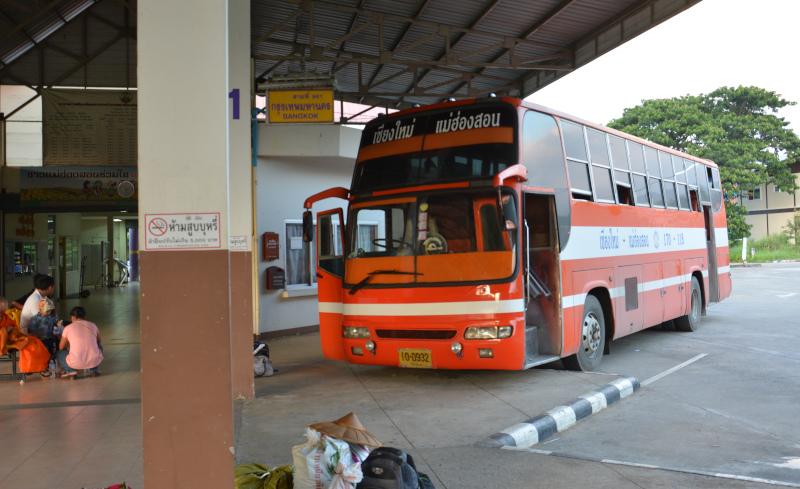 For those who prefer to save time and spend more money, Thailand also has a fairly developed regional flight system. From the relatively small town of Mae Hong Son in the far northwest, where I spent some time, at least 2 planes flew every day to and from the provincial capital Chiang Mai with connections to Bangkok and other destinations. So it would be rather no problem to get back to Bangkok from this last corner before Myanmar within max. 4 hours.
For better handling of elephants
Elephants are the symbol of Thailand, the typical beer of the country is Chang, which means elephant – and yet most elephants live in more or less bad torture conditions.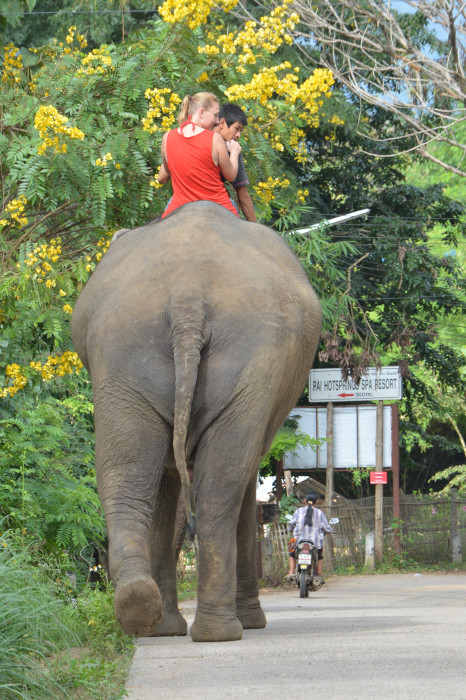 If you want to have a nice experience with elephants and consciously avoid riding them, the Elephant Nature Park is looking forward to your visit. About 60km north of Chiang Mai, the enthusiast Sangduen Chailert (Lek) has purchased 840 hectares of land on which 84 elephants now live. These were all "ransomed" from torturous captivity and are now allowed to live here as if in freedom.
While the riding elephants of the camps are separated from their conspecifics as babies and psychologically broken with screams, beatings and pain, here the mahouts have no hook, but at best tasty treats. The animals come together in herds on the grounds, learn to help and support each other, and begin to work through their psychological wounds. The income from tourist visits helps to maintain and expand this elephant park. In the meantime, five baby elephants have even been born in the park, which has been in existence since 1992.
A contact office can be found in Chiang Mai at the edge of the old town district, where you can book day tours or overnight stays in the elephant park: Elephant Nature Park Office, 1 Ratmakka Road, Phra Sing, Chiang Mai 50200.
I'm glad if you liked the post! And it would be even better if you share the link with your friends on your social media channels! Thank you very much!
* Note on advertising links
Some links in this post are marked with *. About it you reach a store, an agency or another commercial enterprise. If you buy or book something there, I get a commission for financing this blog. Nothing will be more expensive for you, because the commission is already included in the price.