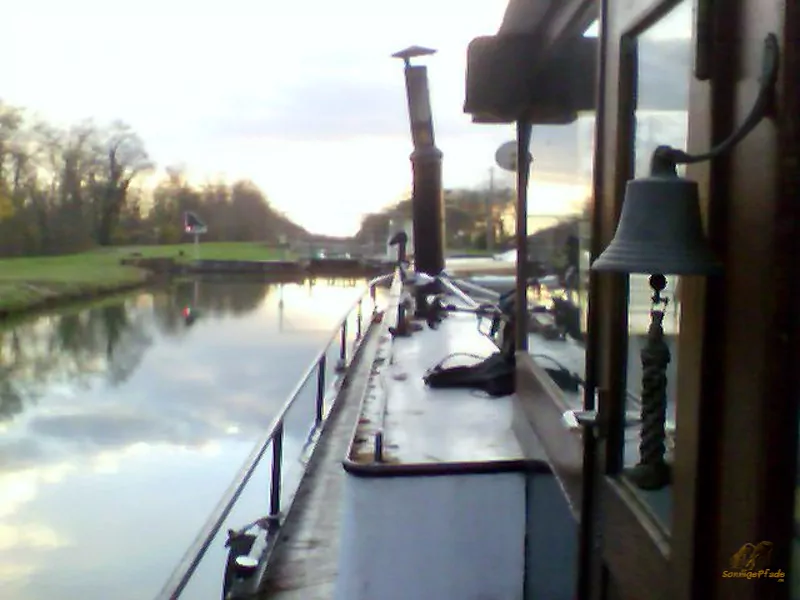 [First published in german under travel stories]
Damn it! Coughing and smoking, the outboard engine gives up the ghost. Finally this time. With a lot of luck and a little paddling I barely reach the canal bank and my "berth". Two iron hooks in the embankment. Several days now I have been tinkering with the outboard, disassembling the carburettor, cleaning the jets, blowing the fuel line, fixing everything – nothing. One mile with difficulty over the channel, one lap with the snorting engine at the stern and quickly back. That's it, rest in peace.
Information about canal boat – renting in France below!
To the coast at the Mediterranean Sea it is 12 nm, sailing is not possible, before that there are 3 bridges. I'm stuck here. In the Canal du Rhone a Seté, Camargue, on the edge of a small nest in the south of France. Sure, the area is beautiful and for the end of October still really warm. With the borrowed bike from the neighboring boat I was already in Nimes and in Le Grau du Roi at the exit from the canal into the Golf d' Aigues – Martes. But sailing outside, down to Barcelona and further, will probably not be possible this year.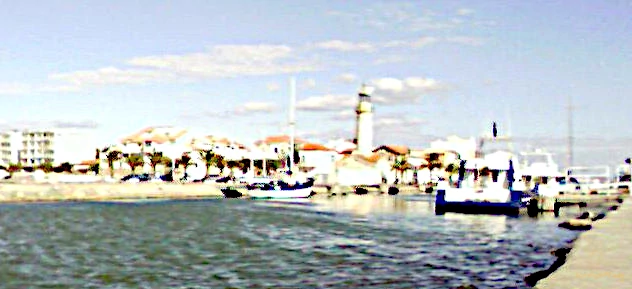 A little tired and disappointed I walk along the canal towards the washroom. Patrick speaks to me, an Englishman who has been lying here with a sailboat for a few days. He sees that my mood is not the best. When I have briefly told him what is going on, he makes me a proposal. In the north of France, near Soissons, he still has a boat moored, an old river freighter that until recently served as a houseboat in Amsterdam. He has bought it and wants to bring it here as soon as possible. Now he is inviting me to accompany him, as it is not very nice to be at the helm all day alone and to sail the rivers and canals.
Well, I guess that's not the Mediterranean, but at least on the way with a machine that runs. And on a houseboat, I've always wanted to try that. So I say yes, with the restriction that I only have a week to do it. Unfortunately I have arranged a slide show at home on the weekend after next, I can't just cancel that.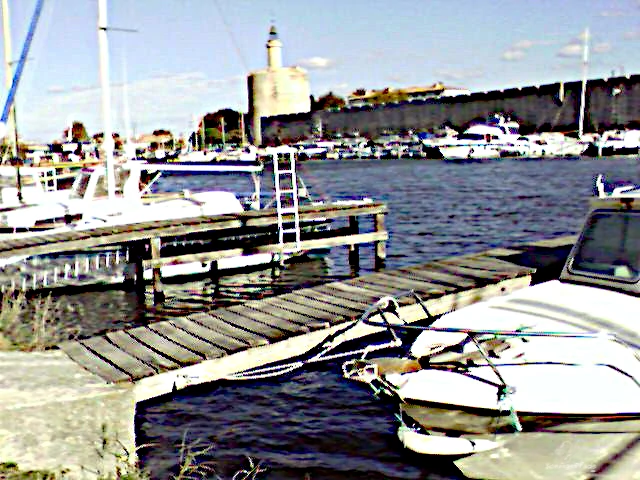 In the afternoon Patrick gets a small rental car and we drive off. He tells me a lot of things, he is such a real permanent entertainer. Seems to have little fear of contact. On the way there is soon a small change of plan. We won't make it to Soissons today anyway. We'd better make a detour via Grenoble. He has a girlfriend there. He's going to visit her. It's okay with me. I'm flexible.
But I'm increasingly disturbed by his driving. He is obviously quite tired and unfocused and swings over the whole lane. We can't go on like this. We can't even get to his girlfriend. So I persuade him to let me drive on. Much to my relief. As long as it's just the car route he's sleeping next to me now.
In Grenoble, he drives me to his girlfriend's apartment. Wow, an attractive lady, about my age! I didn't think Patrick could do it. I'm sure I would have gone soft 😉
She is very much pleased with our visit and is not at all bothered by the fact that I am there as an appendage, so to speak. It is already late in the evening, we are served another supper and then I am assigned an air mattress in the daughter's nursery. They disappear into the bedroom.
The next morning there is nothing to do with sleeping in. The girl has to go to work in time, before she takes her daughter to the kindergarten. But there is a good breakfast with strong coffee, after that she goes back to the ski slope. After a short time I am fed up with Patrick's driving skills again and take over the driving. It takes hours until we arrive in Soissons. Here in the north it is already freezing cold and there is some fresh snow. And I am only travelling with a thin sleeping bag.
At dusk I see the steamer lying on the bank of a quietly flowing river. A beautiful old barge. The hatches to the hold take up the main part of the deck. Behind them is the wheelhouse, wood-panelled, and then a small aft deck with winch and the fans from the engine room below. Below deck there is a lot of space – the hold is a large living room, but not very comfortable with the temperatures – just not really furnished yet. In the bow on the left side a small kitchen, opposite is a washroom, shower and toilet. In front of it there are two more cabins, I get the left one with a narrow, short double bunk bed.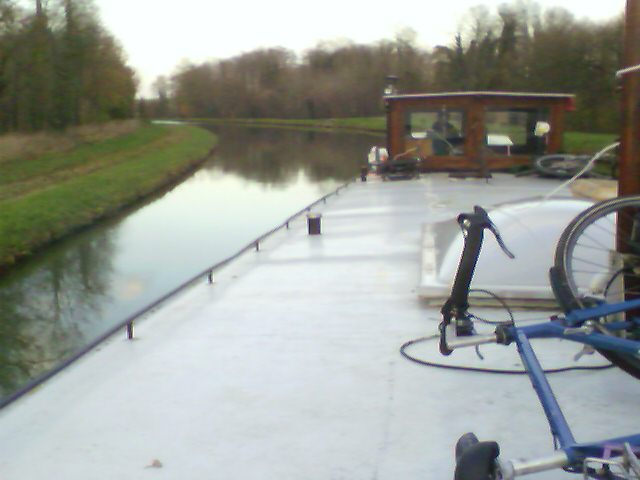 There is even a heating system installed, but with the cold and the steel hull without insulation the bare money burning system. But there is a stove in the hold, and so we immediately start to search the nearby woods for firewood. After a short time a pile of firewood is piled up on the fore ship. A fire crackles in the cannon stove below deck, but in the big hold it only warms a corner halfway. We try a German – British game, but soon I disappear in my bunk. It is not very warm, but I manage to get along reasonably well and find my sleep in a summer sleeping bag and with a blanket.
The next morning we do not stay long. Breakfast, then off we go. We drive along a river course of the Aisne, which merges almost seamlessly into a channel. Canals were created here as early as the 19th century, parallel to the meandering rivers, cutting off the many bends and ensuring a constant water level, thus creating an extensive navigable network of waterways. The rivers lie alongside, sometimes a little lower than the canals, and form extensive floodplains. If it wasn't a wet and cold November, it could be really beautiful. Although, even this foggy atmosphere has its charm.
It doesn't take long, then I'm the one who's at the helm or sitting at the wheel all the time. Patrick just needs to… Well, he doesn't have the composure to take on such a persistent, uniform activity. As soon as he stands or sits he has to jump up and go somewhere. This goes so far that he takes his bike at one of the first locks, leaves the ship to me and just quickly finds out where he has to go! So now I'm alone at the wheel of a not exactly small barge in a foreign country on unknown canals, and without a plan I just sail along where this endless canal leads to. Patrick wants to get back on board later. I do not even have a map of these waterways.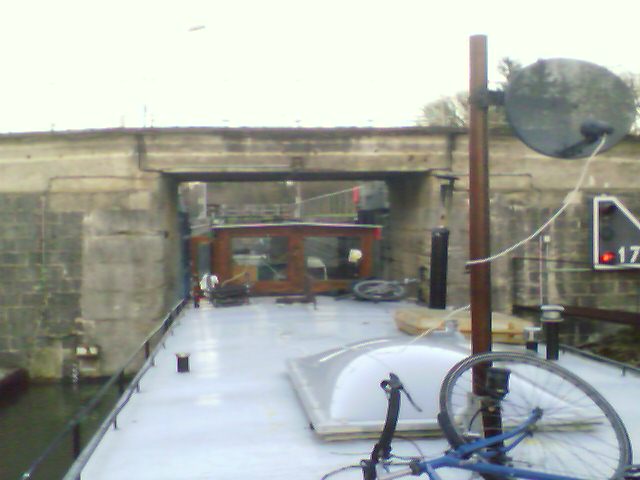 I feel a little queasy about this. This ship is not really nice to steer. I have no experience with it. It has no keel, so it is a flat-bottomed ship and the hold is empty. I.e. it floats high on the water – every gust of wind pushes it from the direction. An endless rolling course. And then the size – over 20 m long. I do have a sports boat licence, but whether it is valid for such a thick pot, I have no idea. Fortunately it is quiet so far and there is hardly any shipping traffic.
After about an hour Patrick is back on the shore path across the river. But now I have to find a place to park. Especially in this section there is a lot of scree on the bank, I don't want to ride on it. After a few hundred meters there is a small weir of a floodplain on the right side. In front of it there are some dolphins and older work boats. I just lie down there and moor at one of the barges. When Patrick is back on board I am quite relieved. Not that he's such a big help, but in my mind I've just put the responsibility on his shoulders again.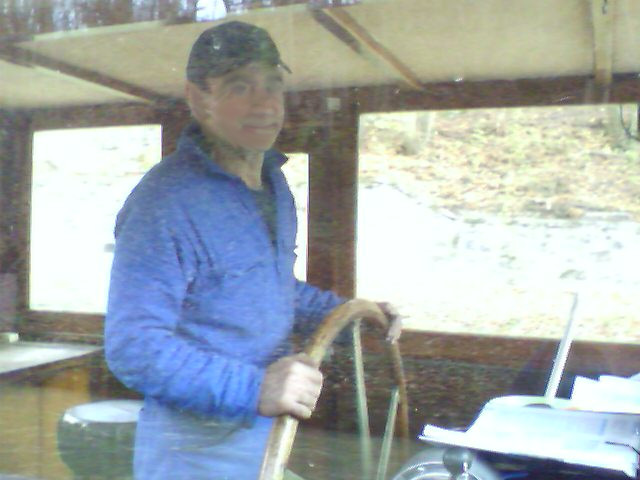 Towards evening we reach another lock. It's already closed for the day. Damn it, and tomorrow's Sunday. There won't be anyone left. So we have to find a berth and then we have a rest day.
The bank is pretty high here, like a wall. In front of it there are some dolphins in the water, which we can moor up to. But it's not that easy. It's Saturday and Patrick insists on a clear view to the south. No trees or other obstacles in front of the boat, please. Otherwise his satellite dish won't work and he won't be able to watch football summaries. Well, just a little bit ahead and a little manoeuvre, then we have made it so far. It is ready dark night, but with full moon and clear starry sky. And correspondingly cold. It's just as well that we still have some firewood from the first day on board.
On Sunday I'll sleep in. It's not exactly warm in my bunk, but what the heck. It's not really something to do anyway. After breakfast we explore how to get ashore. There's a narrow iron lattice bridge leading from one of the dolphins to the bank wall. From there a few cleats along the wall to the top. Above is the shore path, otherwise – nothing. Well, all the wealth and pride of a local farmer surely, namely field. Field, field, field. And November fog.
A short walk along the riverside path. However, this is quickly boring. But because there is not the slightest change. Back on board I prepare a bike. With difficulty I balance with it over the footbridge and heave the thing up the wall. We bring up a second bike, then we ride it to the next village. At the baker's, uh, pardon, in the patisserie we get fresh baguette and some more delicious croissants. A little change on this November day.
Back on board we talk to each other. My English is not so special, but it helps to practice a little bit. Patrick tries hard to speak reasonably understandable. He has been working longer in the film business and imagines to open a small private film school in the boat. My impression is rather that he is about to make a living from his probably not quite inconsiderable fortune (at least compared to me) by buying used boats and campers he can't handle at all.
Because he also tells me that he recently bought a Hymermobil in England and that he couldn't cope with such a big car at all. That's why he switched over to the sailing yacht, which is now next to my boat in the south of France, and the houseboat on which we are currently spending a long November evening in northern France. Then he tells me that he worked for some time in Munich at a university (the film school?) and learned to speak a little German. What comes next is not German, but Bavarian. He quickly notices that I have a pronounced allergy to it and starts to tease me about it. In the next few days he tries to tease me with it from time to time – there is nothing left for me to do but to counter with really dirty Saxon.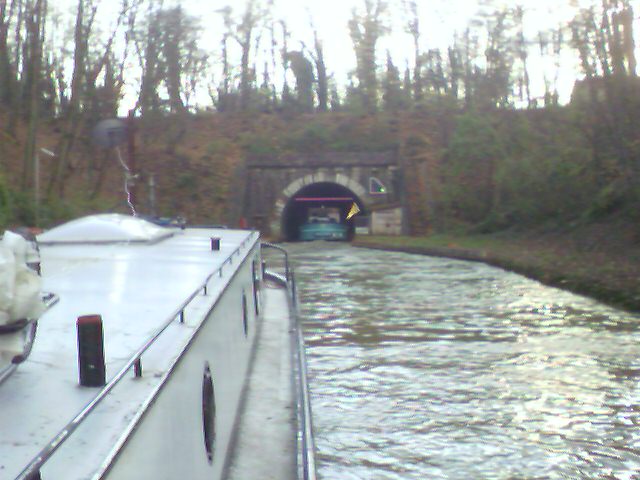 On Monday we can finally move on. We set off, get into waiting position in front of the lock, the gates open and off we go. The lockkeeper greets us briefly and we are up. Now that we have reached a junction in the river, the traffic becomes heavier. More and more often barges overtake us, mostly Belgians, sometimes Dutch, rarely French. The boats have exactly the right sizes – at many locks there is hardly 10 cm space left and right between boat and lock wall. But adapted, and it seems to work – apparently a lot of goods are transported here by boat.
In Germany, on the other hand, they want to adapt the rivers, i.e. enlarge them and dam them up, so that thick ships can sail there anywhere and at any time. In the west the rivers are already concrete channels, in the east the Elbe and part of the Saale are threatened with the same thing from time to time. Here in France a standard measure for the ships from the 19th century has probably become established.
To the right of us on the shore are birch wood butts, finely sawn trunks in handy pieces. Patrick stops next to it, he has no scruples to transfer such a push to the fore ship. Apparently he is very concerned about the warmth in my bunk.
We reach Reims. Years ago I was in Reims with a friend and liked the waterways, the houseboats and the shore atmosphere so much. Back then I thought to myself that it would be an experience to cross the rivers in a boat. Now it had turned out quite unexpectedly!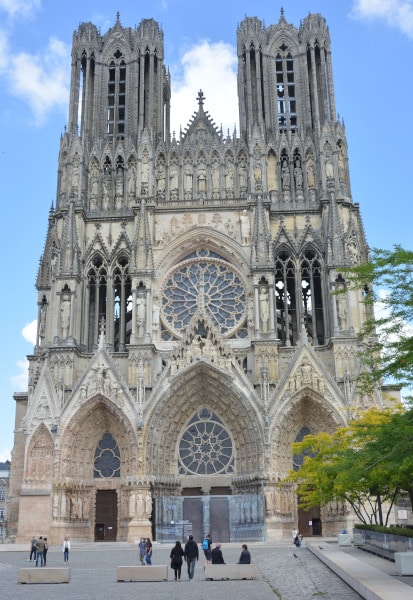 At the edge of a park we find a mooring in the leisure port. There we moor for the evening. For me a good opportunity to stroll through this beautiful city with its impressive cathedral and the many pretty ladies. But the latter are not impressed by my already somewhat run-down looking river boatman figure.
South of Reims we suddenly notice that the battery voltage is decreasing rapidly. Normally the diesel charges the batteries during the trip just like in a car. But something is wrong. Patrick doesn't exactly panic, but somehow what comes next is rather headless in my eyes. He doesn't look for possible causes of the voltage drop, but sets off to buy strong battery chargers. There is an emergency generator on board, so the batteries could be charged. Of course, if the batteries are too weak, the diesel won't start anymore and we hang around on the shore without energy.
Anyway – Patrick talks to some walkers while passing by with his rather bumpy French and asks them to drive him to a hardware store. And they agree, without delay Patrick's plan works out.
For this I admire him already, that he speaks so self-confidently with a miserable french (that it is bad, I hear even I, who don't know french!) to all possible people without hesitation and gets what he wants. He spoke to me like that (o.k. in English), he got his French girlfriend like that (and she seems to really love him and hopes for a firm partnership) and now these promenaders! It's almost a miracle for me, since I'm always rather hesitant in such things and prefer to try to solve problems on my own (which probably gives me some more solution skills, but often enough I fail). Anyway, I always have the fear of bothering someone – but obviously it works differently!
The consequence – I'm once again alone on board and meanwhile I'm steaming south kilometre by kilometre. Fortunately there are no locks for the time being, Patrick wants to get back on board at the next lock.
And he does – with two thick (certainly not cheap) truck battery chargers in his hand – the walkers drove him to the hardware store and then to the agreed lock. So at least for now the energy security is halfway cleared. But the reason for the creeping battery discharge is not.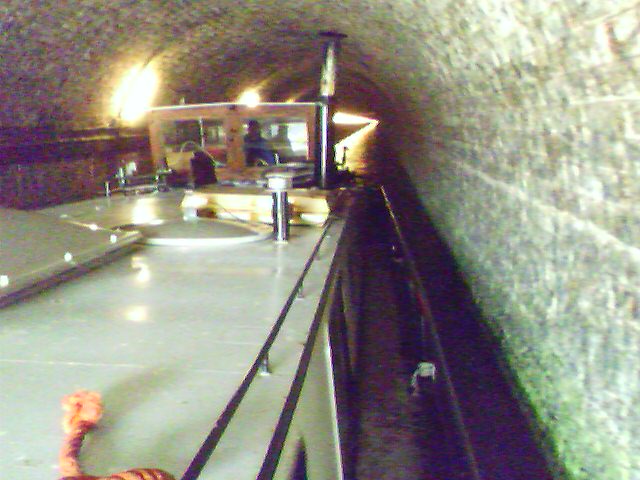 On the next section comes another exciting thing – tunnel. I have not known that one before either. Because there were some mountains in the way when the French waterways were built, the canal was simply led through a tunnel. These are one-way streets with traffic light control. That means we have to wait until two ships have passed in the opposite direction. In front of us there is another Belgian, to whom we then give the right of way and we quickly join before the traffic light turns red again. So we drive some hundred meters under a mountain range.
In the meantime it is getting colder and colder. Patrick decides to turn on the heat in the evening. So we make a stop in Chálons-sur-Marne and he phones a local heating oil supplier. After an hour the tanker is standing next to the ship on the pier and the driver discusses for a while if we don't want to burn the oil with the diesel. That would be tax fraud, of course, like everywhere else. But when he has seen the heating system with his own eyes, he is convinced and fills the heating tank.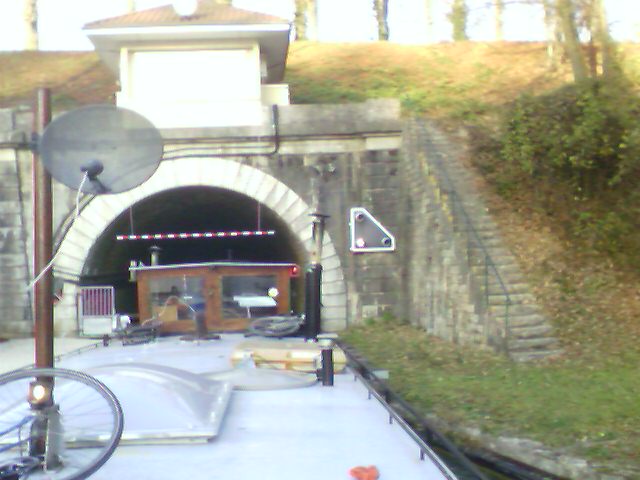 Well, that's not the best solution either. If we really want to use the heater to warm up the whole ship, the flame burns continuously and we can watch the whirlpool in the oil tank. In the end, we just let the heater run a little bit and light the stove in our evening sitting area. So the now quite long evenings become bearable.
Meanwhile my time on board is coming to an end. Patrick has phoned a French friend from the south, he will join the ship and take over my role.
Olivier was basically recruited in the same way as I was – simply approached on the street, only that he didn't have time immediately, but can just now get involved in this river cruise.
While the two of them are now on their way towards the Rhone and then to the Mediterranean Sea, I get on the road at Sant Dizier and start my hitchhike back. Such a tour on the French rivers and canals is already a nice experience, but it is best when it is warm outside and everything is green. Or you have a small boat with good heating. Then it can be a very pleasant and special way to discover France.
Discover France with a canal boat on rivers and canals
Some information for your canal boat trip in France
[because of the naming of providers this part counts as *advertising]
As mentioned above, France has a very extensive network of rivers and canals with over 8000km of navigable waterways. This can be explored with canal boats on boating holidays and thus offers a very close to nature access to the surrounding landscapes. Cities on rivers can also be visited by boat and the houseboat then serves as a comfortable place to stay overnight.
Several regions are particularly interesting:
The "star" among the waterways for boating holidays is the Canal du Midi in southwest France, which connects the city of Toulouse with Séte on the Mediterranean coast. The Canal du Midi is even a UNESCO world heritage site! This trip by canal boat can be continued via the Canal du Rhone a Séte to the Rhone. The Camargue with its flamingos and Camargue horses will be passed. The canal boat provider leboat has some stations at the Canal du Midi*
Very beautiful for boating holidays is also the north-east region with the Marne, Meuse (Meuse) and Moselle (Moselle) as well as smaller rivers like the Aisne and Oise. Besides beautiful river valleys and chateaus, smaller and larger cities like Reims are located along these waterways.
Somewhat isolated, i.e. not connected, but still with its own beauty is the area of the Loire with Nantes and Rennes, which touches Brittany in the west and reaches the Atlantic Ocean. The leboat houseboat station in Brittany you can find here*.
You can find more beautiful canal boat regions on the general map or at the houseboat providers. A map of the navigable rivers and canals for boating holidays can be downloaded here as a .pdf – file (right click on the link and choose "save target as… ").
Season and trafficability
The larger rivers and canals are navigable all year round, even in winter (as long as no ice prevents passing). This applies especially to the routes that are also used by commercial shipping. However, some canals are only navigable for boating holidays from May to September. This means that the locks are switched off and therefore these waterways are no longer accessible. Unfortunately I could not find an overview which contains exactly these seasonal times.

The authority responsible for the public waterways is VNF – voies navigables de France. The website of the vnf also publishes some information for canal boat drivers about boat tourism on the waterways – unfortunately the whole website is only available in French. So if you are looking for specific information, you may need to consult a translator such as deepl.com.
Canal boat – providers in France (or in Europe)
Canal boats can usually be driven in France without a driver's license and are offered by various companies. Some providers for your canal boat hire are listed here:
At least a little canal boat FAQ for beginners:
Where can I go for boating holidays in France?
There are several houseboat areas in France. Some of them are connected with each other. For example, in the border area with Belgium, Luxembourg and Germany there is an extensive network of canals and rivers for boating holidays. Also in the south of France several rivers and canals are navigable. Somewhat isolated but nevertheless beautiful is the canal boat area at the Loire river in Brittany.
How do I plan my houseboat tour?
Take a look at the map of the vnf and decide which area you want to visit in your boating holidays. Then get a more detailed area map or / and a canal boat area guide for this region. So you can plan starting points, stopovers, daily stages and especially sights. And then book your canal boat with one of the local providers in France like e.g. leBoat*.
Who is allowed to drive a canal boat in France?
Actually every adult visitor of age. The rented canal boats are usually license free. At the handover by the houseboat – provider there is an extensive briefing and test drive. Then you can manage on your own – but "teamwork" is required especially in locks and when mooring. In family or in small groups up to 12 people boating holidays are the most fun anyway.
Where can I stay overnight with a canal boat in France?
Almost everywhere. Of course there are some "no parking zones" on the rivers and canals. Otherwise you can moor at the banks and spend the night relaxed in your cabins. In many places there are small leasure harbors for houseboats with a little more service – opportunity to replenish water and buy other supplies.
Have fun with your canal boat wishes Sunny Paths blog!
Whoever is on the move on the canal boat should bring or develop inner peace. Sitting at the helm for hours on end should not be a problem and a part of your boating holiday adventure, even if the landscape outside passes by at a very leisurely pace. Especially if there are a lot of passengers, bikes on board of your canal boat are a recommendation – so a part of the crew can change to a bike and explore the area. Especially the canals often have very nice "accompanying paths", which are easy to ride by bike.
You like the story? Share it!
You like that story? Ready to go with your canal boat? Then please share the link to the post on your social media channels! Thanks 🙂
---
Advertising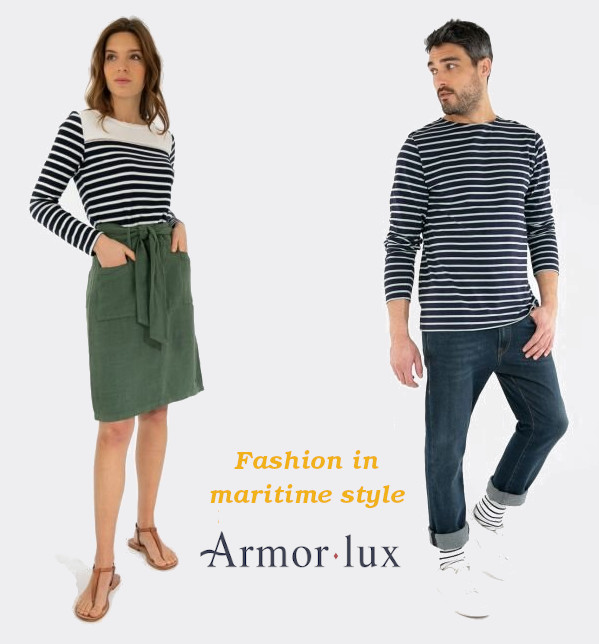 Note on * advertising links
Links that are marked with * lead to a shop. If you click on them and buy something, sonnige pfade will receive a small commission, which helps me to finance this blog. Nothing will be more expensive for you – the commission is already included in the prices.
Source of pictures: Product pictures – Vendor / Producer