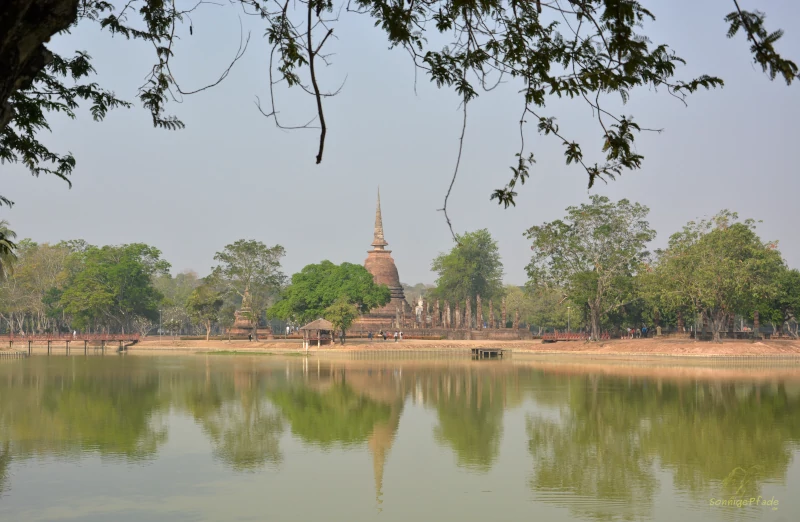 If you are interested in the history of the Siam Empire, as Thailand was originally called, and the region as a whole, Sukhothai is a must-see. It was here, on the plain between the Yom and Pet Rivers, that the Thai, who were streaming in from the north, succeeded for the first time in 1238 in wresting a larger area from the weakened Khmer and bringing it under their own control. By means of diplomacy and a well-organized army, this settlement area was expanded.
Sukhothai and Historical Park - table of contents
hide
The origin of the Thai kingdom Sukhothai
Strong king with political foresight
Sukhothai is therefore considered the cradle of Thailand and the first capital of the Siamese kingdom. The region is very fertile and well watered by the Yoam River and its tributaries, so that a strong agriculture could be established. King Ramkhamhaeng (1275 – 1317) founded Sukhothai, a capital city with a multitude of temples and palaces, creating a place of knowledge and learning. He promoted innovation in agriculture and ensured the adoption of technologies from the surrounding ethnic groups from China, Burma, the Khmer and others, such as weaving, ceramics production and land cultivation, thus ensuring the first flowering of the Thai Empire.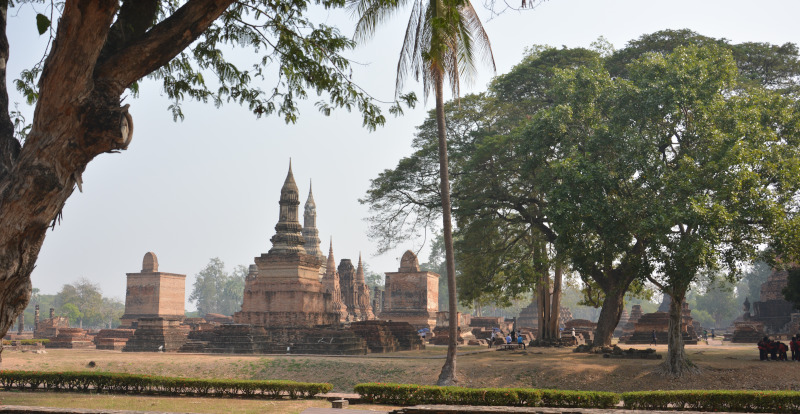 With the help of specially recruited Ceylonese monks, Theravada Buddhism was spread and old influences of Khmer culture were pushed back. In Sukhothai, King Ramkhamhaeng developed the Mon alphabet into the standardized written language of Thai, which is still in use today. Thus, this innovative ruler succeeded in forming a coherent state structure by wisely promoting cultural currents and influences from the traditional milieus.
Sukhothai Historical Park as a World Heritage Site
Numerous palace and temple ruins in Sukhothai bear witness to this, as do a large number of historical finds exhibited in the Ramkhamhaeng National Museum.
We are talking about Old Sukhothai, officially Historical Park Sukhothai in the administrative district of Muang Kao. This is located about 12km west of New Sukhothai, which is a rather "busy" big city with only a few points of tourist interest. Since 1991 Old Sukhothai together with Si Satchanalai and Kamphaeng Phet is a Cultural UNESCO World Heritage Site.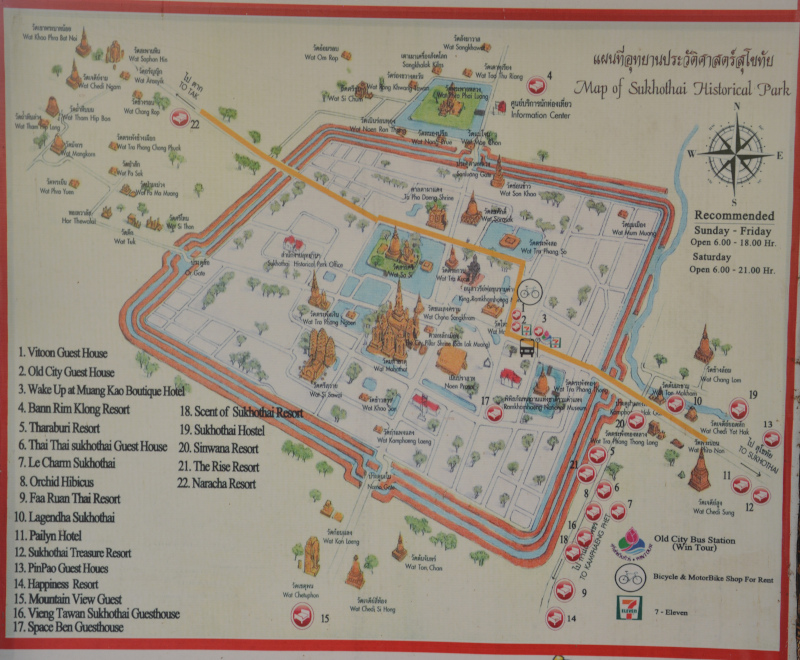 Old Sukhothai is divided into a historical urban area, which is surrounded in a rectangle of 1.8 x 1.4 km with a rampart and double moats, in each cardinal direction a gate including associated military post installations. Within this area are the remains of 16 temples. Outside the city walls there are about 70 more temple ruins.
Rediscovery and park
When the excavations of the Fine Arts Department began in 1953, it soon became clear that this was an outstanding accumulation of historical soil evidence. Therefore, the entire area was placed under monument protection and in the early 1960s, the National Museum began to be built. In January 1964 the museum was opened by the Thailands King and Queen.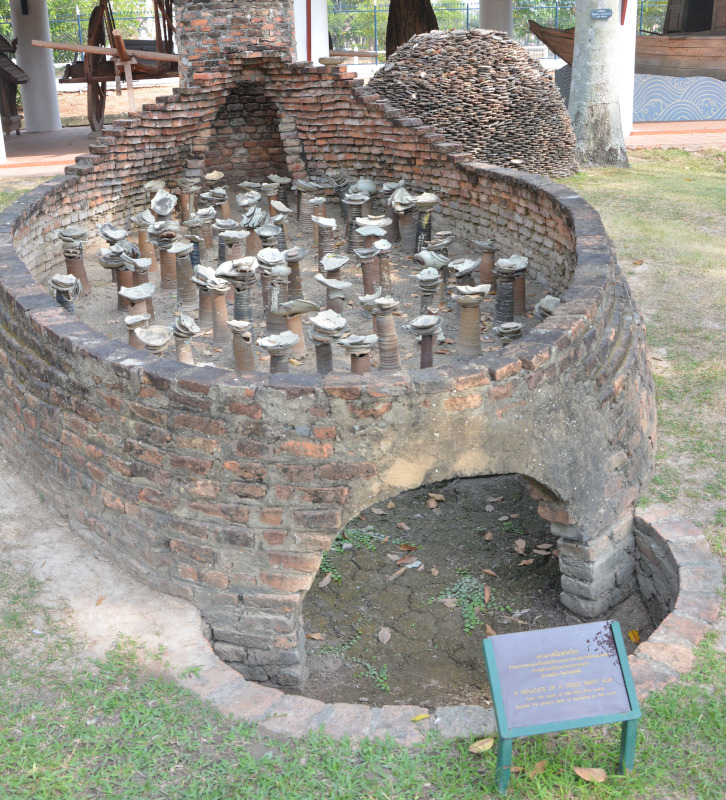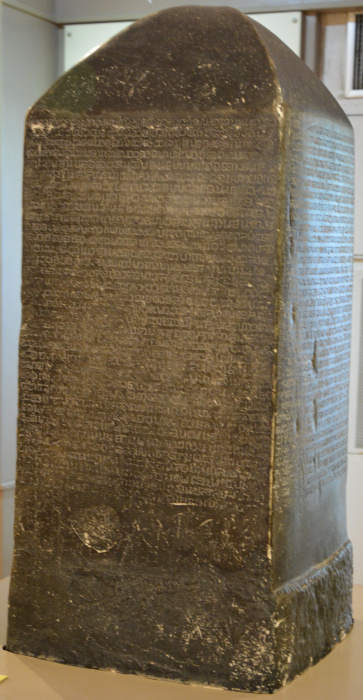 In addition to an overview of the development of the region by the Thai, many of the finds are exhibited, especially smaller ones and those exposed to the weather. The development of the written language from the Mon and Khmer scripts is explained and a stone pillar with the first written testimonies in Thai can be seen. In addition, there are a variety of Buddha figurines, picture panels, utensils, coins (or means of exchange) and weapons, etc. For tree lovers, the outdoor area is interesting, as the various tree species are named with written tablets. The entrance fee for the Sukhothai National Museum is 150 ThB for non-Thai.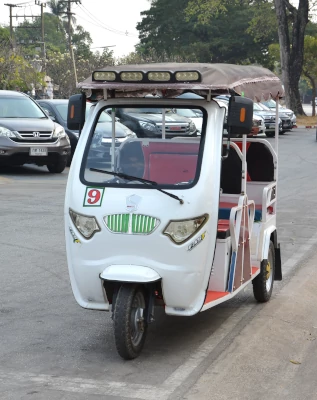 Furthermore, a large part of the historic city center is summarized in the history park (about a quarter of the area enclosed by the city wall in the southwest). It is advisable to rent a bicycle in advance (from 30 baht, bicycle rental diagonally opposite the bus stop), because the extensive park may and can be well explored by bike. For those who want it more comfortable, there are various motorized offers from electric TukTuk to a kind of "streetcar" wagon for groups. The entrance fee to the Sukhothai History Park is 100 ThB + 10 ThB for a bicycle.
Wat Mahathat, the center of power under King Ramkhamhaeng
In the center of the park is Wat Mahathat, the king's temple complex. This includes 209 smaller chedis, stupas and porches in addition to the central chedi and column remains for the Hall. It is interesting for knowledgeable observers that a kind of development or cultural mixing is recognizable, since many of the ruins contain style elements, for example, the Khmer culture or Hindu symbolism.
You can then cycle or walk from ruin to ruin through the park. The state of preservation is very different – from some only foundation walls remain, while others clearly show the structures and the essential elements and are still impressive after almost 800 years.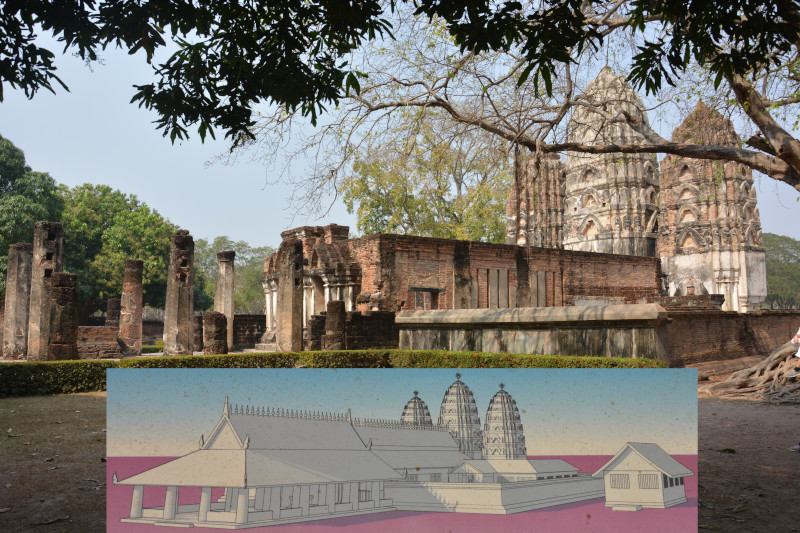 Outside the city walls, there are also significant parts of the complex to visit. For example, in the north Wat Phra Phai Luang (extra entrance fee). Or in the west you can cycle through the countryside and independently explore the scattered remains from Wat Sri Ton to Wat Phra Bat Noi. Part of it is currently being "tourist upgraded" and will probably be included in the temple tour in the future.
Jewel tree snake hunting at Wat Sri Sawai
A historical park is not only a landscape of ruins for visitors interested in history, but often also holds small nature experiences. In the video recorded the hunt of a common ornamental tree snake on a lizard.
Eating in Old – Sukhothai
With the arrival of many tourists, a small tourism branch has developed in Sukhothai. Most providers of the various services can be found on the Thai main road 12 that crosses Old Sukhothai. Restaurants, massages and some of the guesthouses are located on Jarodvithi Thong Road (the eastern section of Thai 12 trunk road). ATMs and a 7eleven supermarket are also located here.
Many of the restaurants also have European food offerings on the menu like pizza, casseroles, etc. Only unfortunately, most don't really understand what is involved. For example, I once ordered a casserole with spinach and cheese au gratin – and got exactly that. That I had ordered rice with it, was already overheard or not understood. So there was only "chopped" spinach, covered with some cheese. Rice, potatoes or similar "fillers", which would belong in Europe in a casserole, nothing of it. In this respect, it is advisable to stick to Thai dishes, although in tourist places some variety could be added to the menu.
As a good exception I can recommend the "Historical Garden Restaurant". Here the friendly and lively chef also understands special requests and changes, here the map is well structured. Above all, there is an extra section where the vegetarian offers are listed separately. And it tastes good, it is visibly prepared with joy in the work and the bright, friendly dining room does the rest. In the evening and when the heat has subsided, you can also sit outside or on the roof terrace.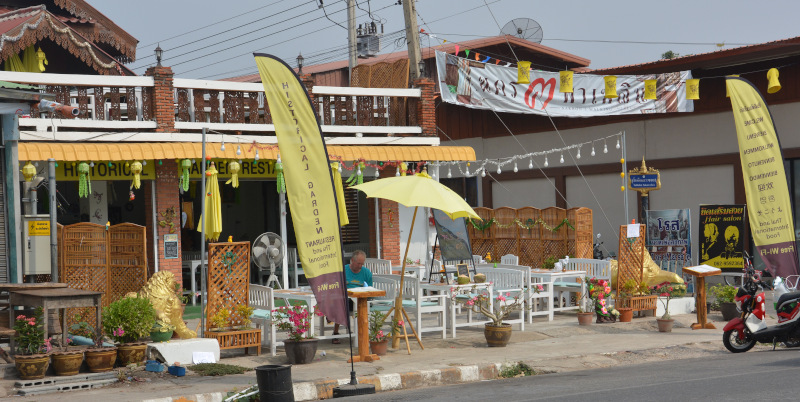 Accommodation in Old – Sukhothai
Budget – Accommodation
In Old – Sukhothai (Historical Park) budget accommodation is recommended at Old City Guesthouse*. There are different classes of rooms available, ranging from 6-bed – dormitory (with AC) to different family rooms, single, double, and triple rooms. The complex is very well maintained and set back from the road, with access through an alley – making it very quiet in the rooms despite the busy main road. Except for dorm sleepers, there is a breakfast service in the shaded terrace. Otherwise, this is the meeting and lounge area for those who need some quiet. A water dispenser provides cold and hot water, so instant coffee or tea can be stirred in and the water bottle filled. It's only about 100 meters from the Old City Guesthouse to the park entrance, and the National Museum is across the street (entrance around the corner).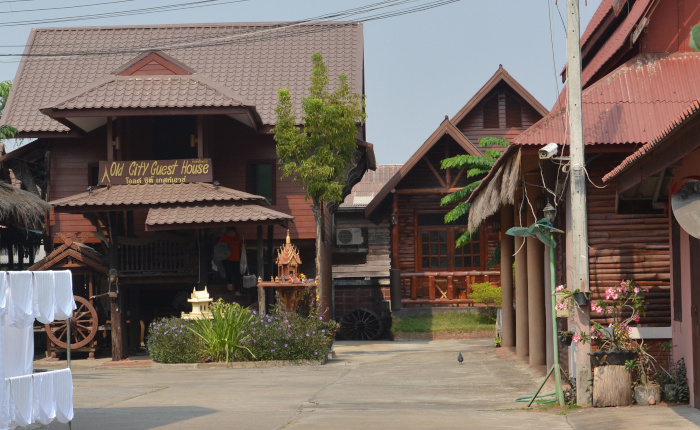 One of the cheap hostel accommodations in Old Sukhothai is Resting Place Hostel*. Gender-separated dorm beds as well as a double and a four-bed room are available. The hostel also has a well-run restaurant that caters to your every need. Tours as well as options for onward travel can be organized.
Conveniently located and especially interesting for couples is the Space Ben Guesthouse*. Here, too, the Historical Park is only a short walk away. The double rooms have a shower. Refrigerator, coffee, tea and water for the whole day are included. Thai breakfast or alternatively toast, butter, jam are included.
More upscale accommodation classes
At Sawasdee Sukhothai Resort*, you can spend your vacation right away, along with your family. Spread over several bungalows, the accommodations are in a spacious garden. The central place is the swimming pool. Next to the pool with a large shallow water zone for children, there is also a small playground. The bungalows have their own shower bathrooms. For visiting the historical park, the reception can organize electro-tuktuks or you can rent a bike for 50 ThB/d.
Vieng Tawan Sukhothai Guesthouse* offers double rooms for adults only. A swimming pool is available. Refrigerator and electric kettle are also available. Bicycles can be rented for the trip to the Historical Park, about 1.5 km away. A laundry service is also offered.
Also featuring a pool, Thai Thai Sukhothai Guesthouse* attracts solo travelers, couples, groups and families. Gardens and terraces ensure a relaxing stay. The Historical Park is about 1.5 km away, but rental bikes are available. Thai – massages can be booked in the room. A laundry service is also offered.
New – Sukhothai
As already noted, New – Sukhothai is not so much the "must have" on the Thailand – destination list. But it is possible to stay cheaper than in Old – Sukhothai in a guesthouse and commute the 12km from here. Because between the bus station New Sukhothai and Old Sukhothai drive regularly about every 20..30 min. "buses" – old trucks with sawn open cab and benches on the covered loading area. This costs 30 ThB per ride. Riding a bike on the busy Thai highway 12 is no pleasure.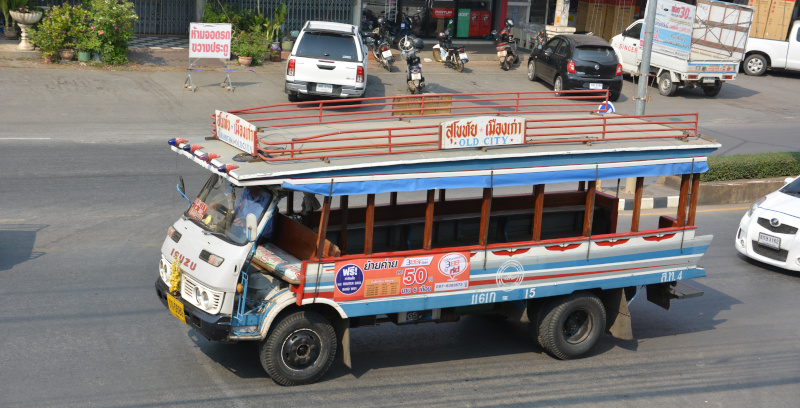 A relatively large pub and bar scene provides nightlife in New Sukhothai and is of course also geared to the traveling backpackers.
Interesting are the offers of two bicycle tour operators in New Sukhothai. With them you can explore the surroundings in the plain of the Yom River. Depending on the program, there is also the guided bike tour to Old Sukhothai – but then not on the highway, but on smaller paths away from the heavy traffic. Day tours, half-day tours, sunset tours or theme tours are offered according to the wishes and capacity of the organizers. Booking is best done through your guesthouse, where the passengers are also picked up before the tour.
sukhothaibicycletour.com eMail: sukhothaibicycletour@gmail.com
cycling-sukhothai.com eMail: cycling_sukhothai@yahoo.com
Accommodation in New – Sukhothai
Budget – Accommodation in Sukhothai
MG Guesthouse* is set back but actually in the middle of the main road. Nevertheless, it is quiet and a garden provides relaxation. Rooms include fridge, kettle and shower. Stop for the Old Sukhothai buses and the popular Poo restaurant are just nearby.
Located right by the New Sukhothai bus station is Rueangsrisiri Guesthouse*. This offers double rooms with balconies. Convenient for those who travel long distances by bus and arrive late. Buses to Old Sukhothai also leave from there, as well as long-distance buses in all directions. A little used path through the gardens leads into town, so over 800m the center of New – Suhothai can also be reached on foot. The Guesthouse rents bicycles and small scooters and mediates on request the above-mentioned bicycle tours of Sukhothai – bike tour operators.
Travel to Sukhothai
There are several ways to get to Sukhothai. For example, there are direct buses from Bangkok to visit (Old) Sukhothai Historical Park. Or also long-distance buses Bangkok – Chiang Mai, which stop at the bus station New Sukhothai. Here you can check and book your travel options on 12go.asia* direct. The travel time from Bangkok to Sukhothai is about 7.5 hours.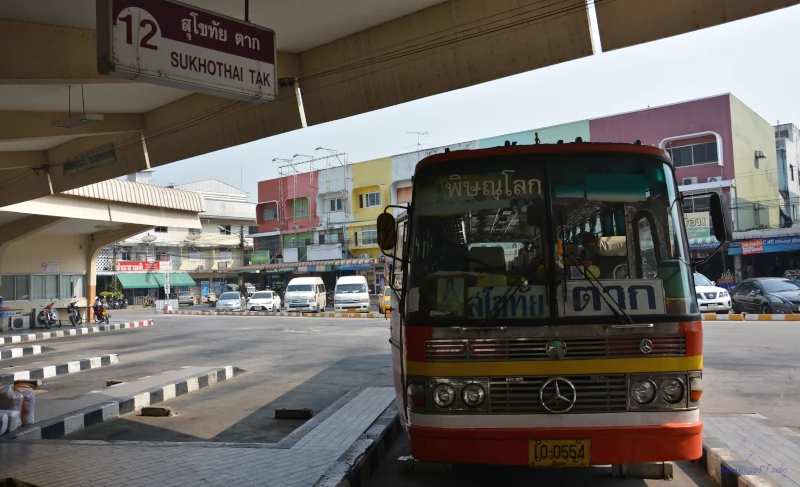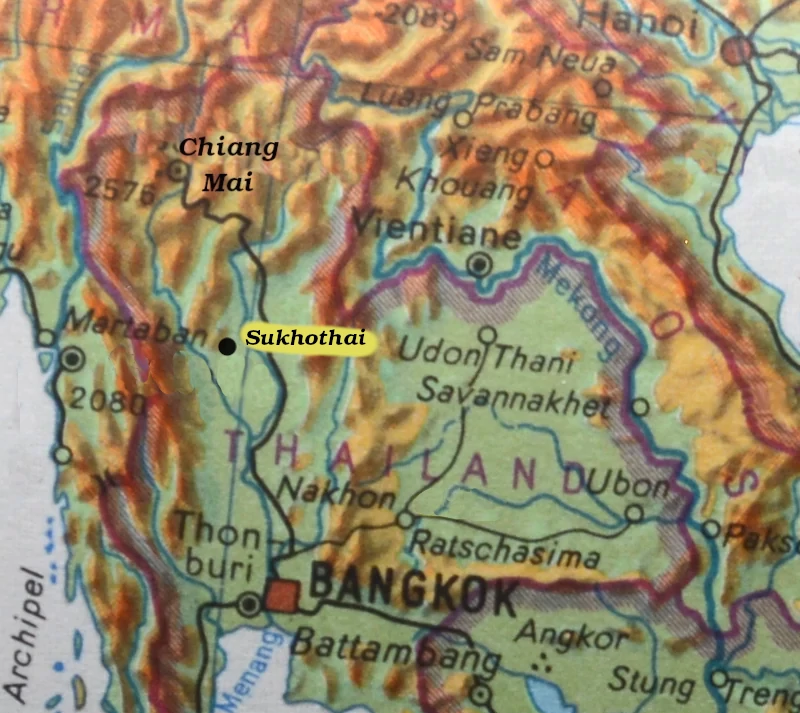 By train via Phitsanulok as a stopover
Unfortunately, there is no direct connection to Sukhothai by train. Here you can go to Phitsanulok. It is located on the railroad line Bangkok – Chiang Mai. With the slow train e.g. from Ayutthaia the train ride takes about 7 hours, so from BKK almost 9. The bus station of Phitsanulok is about 1 km away from the station in west direction. From there buses go to Sukhothai, some of them also continue via Alt – Sukhothai (1.5 hrs) e.g. to Tak. If you prefer a private taxi for the way, look here for the best offer*.
If you arrive late in Phitsanulok, an overnight stay is worthwhile. At the Nan – River there are large "public" Thai massage – offers in the evening under the open sky for 120 Baht/hr. Or pop gymnastics similar to Phimai with a dancer on stage. (North of Naresuan Road.)
Phitsanulok – Accommodation for overnight stays
If you arrive in Phitsanulok and don't go on to Sukhothai right away, you will of course need accommodation. There are some hotels in the city and also for budget – overnight stays few hostels:
Holatel Phitsanulok* is a simple accommodation with single and double rooms. The entrance is wheelchair accessible.
Large bright rooms are offered by Wangkaew Hotel* including family rooms.
Phitsanulok hostels budget accommodation.
Talavera Hostel* offers dorm – bed accommodations, but also has a number of private rooms including family rooms with private bathrooms. Breakfast is included in the house.
Most popular in Phitsanulok is Karma Home Hostel* about 1km from the train station. Dorm beds are available there as well as rooms or even a tent. Many travelers enjoy the atmosphere in the evening on the roof in the hammock. Coffee, tea and fruit are always available for free.
Also quite popular is Nap Corner Hostel* in Phitsanulok especially with double bunk – beds in dormitory. Few private rooms are also offered. This accommodation offers free bikes for its guests to borrow.
Food in Phitsanulok
Good for breakfast is the "Café in love" near the clock tower (corner Sai Luthai Road). Watch out for the veggie restaurant on Paya Lithai Road! It is anything but veggie – only a few dishes are actually without meat. Someone must have got it wrong….
Atmosphere and fresh commitment exudes the Rustic Boho, at the clock tower around the (right?) corner. In any case, the manager and her young team are very concerned about aesthetics in the design and – it tastes good! (Food menu Rustic Boho)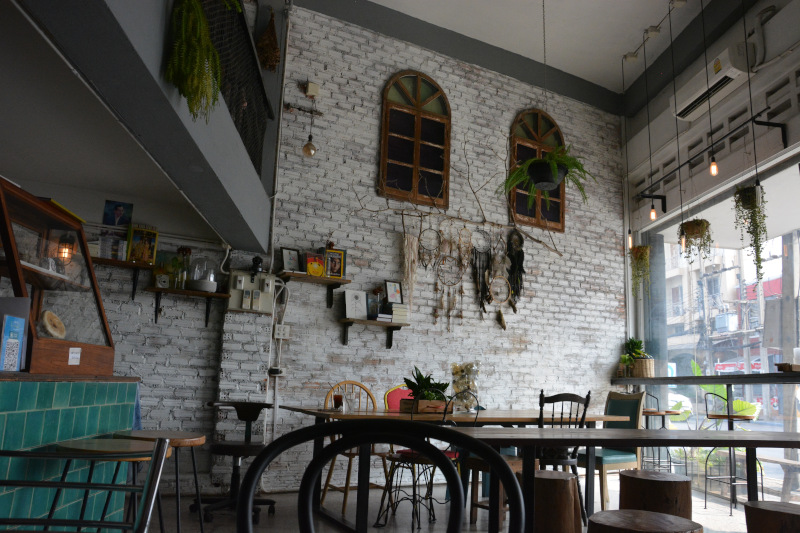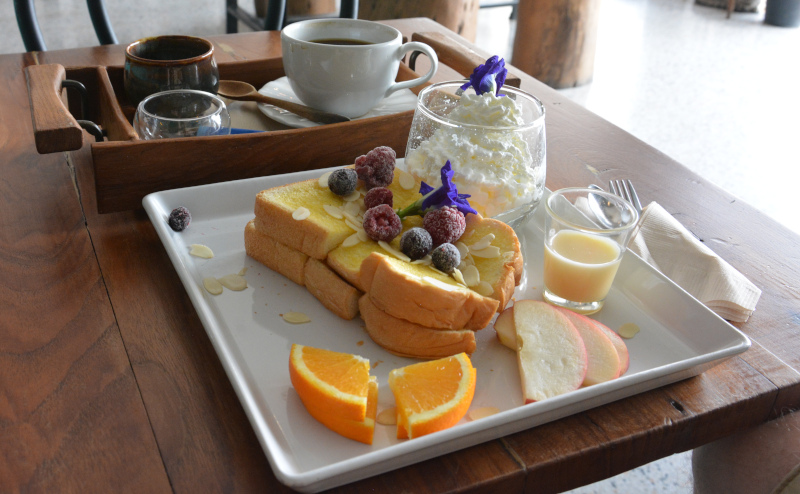 Folk Museum Phitsanulok
If you are already there and maybe have some time to spare, you should visit the Folk Museum Phitsamulok on Wisutkasat Road. Here, a private citizen, Sgt. Major Thawee – to the amazement of family and acquaintances – has collected and preserved thousands of everyday objects and artifacts of the Thai people living in the area as well as the settled ethnic groups in a lonely initiative and years of detailed work. This exhibition is the result of this work.
It was only towards the end of his life that official bodies became aware of the value of his work and began to turn the collection in the Folk Museum into a public educational institution. Thus, today, school classes are among the visitors. From small and large carts and boats to various traps and hunting utensils, agricultural tools, kitchen equipment, home utensils in general, etc. you will find all sorts of things. Open from 8:30 a.m. to 4:30 p.m., entrance fee 50 ThB.
About 200m further south in the same street you can take a break in the Hyper Café. The young operator offers not only good coffee, but also something to strengthen for the way back and is quite well versed in English.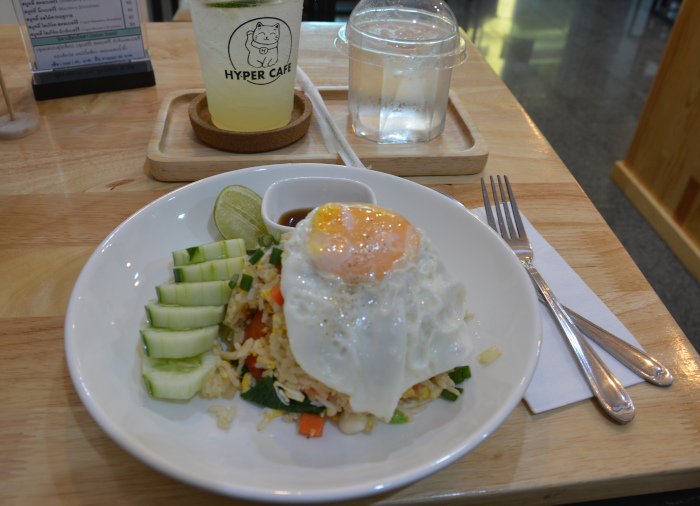 Already caught fire for the Sukhothai History Park? Invite your friends!
I'm glad if you liked the post! And it would be even better if you share the link with your friends via your social media channels! Thanks a lot!
* Note on advertising links
Some links in this post are marked with *. About it you reach a store, an agency or another commercial enterprise. If you buy or book something there, I get a commission for financing this blog. Nothing will be more expensive for you, because the commission is already included in the price.
Plan your individual journey to Thailand's north
Travel guide Thailand with Arrival, entry, public transport, money, weather and smog situation…