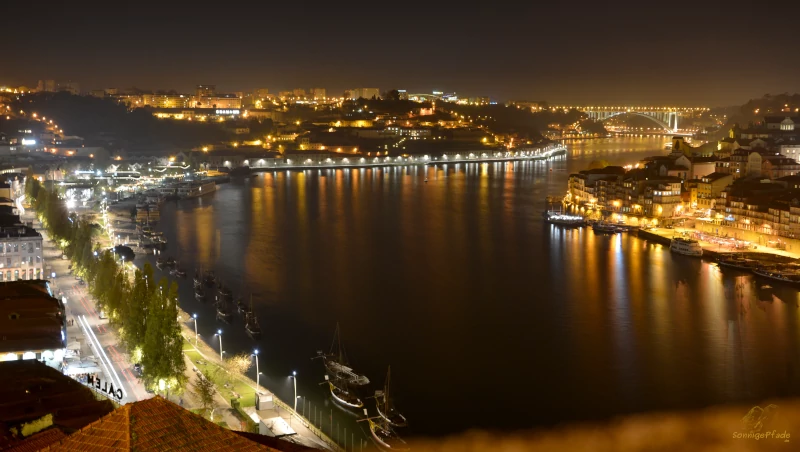 Portugal is overall a very beautiful European destination in the "warm south" of the continent. Many impressive cities and landscapes, small beauties along the way and especially the often rugged transition from the continental landmass to the endless expanses of the Atlantic Ocean offer everyone their experiences. Portugal is also quite easy to reach by land from Central Europe, it just needs more time, which individual long-term travelers are sure to bring along. This info – article is intended to complement the regional articles on individual cities and areas such as Sintra, Óbidos, Coimbra, Porto and Peniche with general travel tips and country information about Portugal.
[Contains advertising]
Where is Portugal located?
Portugal is the westernmost country of continental Europe. The country of Portugal shares with Spain the Iberian Peninsula in the European Southwest. Therefore, Portugal borders Spain to the east and north, and the Atlantic Ocean to the west and south with a long coastline. The Cabo da Roca northwest of the Portuguese capital Lisbon (Lisboa) is the westernmost point of the European mainland. Portugal also includes the island of Madeira and the Azores archipelago in the Atlantic Ocean.
Weather and best time to visit Portugal
In the summer months of July and August, Portugal can also be hit by increasingly hot heat waves. Temperatures of well over 30°C are then possible in the interior of the country. Due to forest fires, some regions can become impassable.
The average daily temperatures in Portugal are between 25 and 28°C from June to September. At the same time, these summer months are of course the poorest of the year in terms of rainfall. Those who do not travel to Portugal mainly for swimming, however, can also visit the country individually in the other seasons. Even in the winter months, the average daily temperature is 14 – 17°C, there are 5 – 6 hours of sunshine per day and precipitation falls on average only every third day. In the north, it can be significantly fresher and also more wet. Cold winters can even bring real snow in the mountainous areas of the Serra da Estrela east of Coimbra.
I was e.g. at the beginning of December in Portugal on the way with most beautiful sunshine and T-Shirt weather. There was rain only once, in order to rinse the dust from my photo motives. However, you have to consider that in autumn and winter the days are very short and it gets dark early. A cultural "indoor – program" and early evening photos in the "blue hour" with very clear air compensate for the shorter sun times. If you want to make a winter trip to Portugal, you should take a thorough look at the weather conditions beforehand. If it is unfavorable, you have to expect short-term cold spells even in this sunny country.
The Time zone
The journey
By long-distance bus and train to Portugal
The journey from Central Europe is environmentally friendly but relatively time-consuming over land possible. For example, several long-distance buses from various providers travel daily from Paris to Portugal, usually with Lisbon as the final destination. From Germany, Paris can also be reached by long-distance bus* or by train* with fast direct connections by german ICE or french TGV high speed trains. Long-distance bus providers to Portugal are Eurolines or the Spanish ALSA Group. The travel time between Paris and Lisbon is about 26 hours. For my last Portugal tour, I chose a combination of TGV to Paris and long-distance bus from Paris to Porto or Lisbon. The long-distance buses can be searched via omio* and most of them can be booked directly. For travel preparation for long distance bus trips read the linked article.
The major hub in the portugese capital Lisbon for international long-distance buses and trains is the modern Lisboa Oriente station.
Exclusively by train to Portugal is also possible. There is a direct express train connection from Portugal to Irún in the Basque Country in northern Spain with a connection to the French TGV in the neighboring town of Hendaye. However, booking is difficult and may only be possible in stages. Even the portal trainline* currently only offers connections via Barcelona and Vigo, which takes considerably longer.
By plane
Of course, there are various flight connections from whole Europe to Portugal. The most important airports in Portugal are Lisbon, Porto and Faro, whereby the latter is also partly served by vacation airlines. This is because Faro is located on the south coast, where the Algarve is a well-known bathing vacation destination for european citizens from the northern countries. The airport for the Atlantic island Madeira is Funchal.
TAP is the (semi-state-owned) Portuguese airline through which, in addition to connections from major European cities, flights to former colonies such as Mozambique, Angola or Cape Verde, among others, are possible. In European air traffic, however, there are also vacation airlines* or low-cost airlines such as easyjet* (to Porto, Lisbon, Faro from London-Luton, -Gatwick, BRS, LPL, EDI, GLA, BFS and MAN) to Portugal.
With your own car, rental car or caravan
With your own car or a rental car*, the individual journey overland is also possible. Due to the distance, however, it is quite exhausting and better to do it in stages. From central Europe, the route goes through France to the southwest to the Pyrenees, a mountain range that virtually closes off access to the Iberian Peninsula. There lies the border between France and Spain. Several highways cross the Pyrenees. Then it is still necessary to drive far west through Spain to reach Portugal. If it is not a road trip with many stops in France and Spain, it is better and much more relaxing to travel to Portugal by other means of transport, to cover the longer distances by bus or train and to take a rental car on the spot if necessary.
If you do need a rental car, it is usually cheaper to book it online in advance and then just pick it up at the respective station.
After more and more campers – vans* have parked up the most beautiful places in Portugal in recent years and spread their garbage everywhere, the rules have now been tightened for caravanners. Overnight stay may caravan – drivers in Portugal only on designated sites and camping – places. This is strictly controlled, violations can lead to hefty fines and nightly expulsions.
Entry to Portugal
Portugal belongs to the European Union and among them to the Schengen countries with common border area. This means that there are normally no controls on entry between these countries. However, Portugal was affected several times by strong corona waves and closed its borders restrictively for a short time. It is advisable to carry a passport or identity card with you, especially for this long distance, as there may also be controls in transit countries such as France or Spain, depending on the security situation.
Means of transport in Portugal
Portugal's railroads
Within Portugal there is a relatively coarse-meshed railroad network. The surrounding areas of large cities are usually well served. There are also fast rail connections between major cities with the alfa pendular, a tilting high-speed train.
It is important to buy the right train ticket! In addition to the state-owned CP (Comboios do Portugal), there is also a licensed private rail company (Fertagus). And especially around big cities there are city trains and regional trains for the surrounding area – with different tickets! Unfortunately it happened to me that I bought a regional train ticket at the ticket machine instead of a 24h – City-Card for Lisbon. The return is possible only up to 15 min after the purchase. But until I realized the mistake and the queue in front of me at the counter was gone, that was too late….
Through Portugal with the long distance buses
Long-distance buses are convenient and inexpensive, and their route network is much more closely meshed. In Portugal, this is above all the Rede Expressos. With them, you can get almost anywhere in the country. This means that individual travelers to Portugal can largely do without their own car. Tickets for the Rede Expressos can be booked in advance online via omio*. There you can also find the next connections. Where Rede Expressos does not go, local buses run from the provincial capitals. … e.g. from Leira to Óbidos. Besides Lisbon Oriente, especially the bus station Lisbon Sete Rios is the most important transfer point in the Portuguese capital for Rede Expressos long-distance buses. The line network – overview of the Rede Expressos here as .pdf file for download.
Accommodation in Portugal – hotels, vacation apartments and vacation homes
Portugal has long been a popular tourist destination. This is due not least to the sunny, warm southern European weather, which extends the summer and travel season to a large part of the year. Logically, in such a destination as Portugal, there is also an abundance of accommodation, ranging from cheap budget – hostel accommodation to luxury vacation apartments and vacation homes with their own pool.
For the more exactly described destinations in Portugal like Sintra, Peniche, Obidos and Porto you find already accommodation – recommendations in the respective posts of sonnige-pfade.de. Here again some selected vacation houses in Portugal, which lie partially in the proximity of the above-mentioned places, however always rather in the metropolitan area in addition. These are especially suitable for a longer "stationary" stay as a base for excursions.
Vacation homes in the center of Portugal
You will find a spacious modern luxury villa with garden and pool* near Óbidos and Peniche. The Atlantic coast is only 5 km away. The picturesque old town of Óbidos is about 11km away.
These villa itself has many generous glass fronts, which can be opened to a large extent. So the sun can stream unhindered into the house and for you the living space merges with the pool landscape. In addition to the large pool, there are also two children's pools. Three bathrooms and four bedrooms allow a carefree stay of up to eight guests in this vacation home with 355sqm floor space.
Also in the surroundings of Óbidos, the luxury – vacation home* welcomes up to 6 guests. This villa includes three bedrooms with bathroom. On a total of 180 square meters of living space you will also find a living room, dining room and kitchen. In the garden behind the villa there is a pool and a sun terrace. Who likes, can directly from the bedroom through sliding doors to the pool. Especially those who like to spend their free time playing golf will be delighted with this vacation home – the nearest golf course is only 1km away. It is 15km to Óbidos and 17km to Peniche.
A beautiful vacation home with lots of wood and regional building materials can be your vacation home in Carcavelos* near Coimbra and the seaside resort Figueira da Foz. This house also has a pool, the sun terrace is designed with wooden panels. The garden is characterized by a rich selection of plants of the region, which unfold a southern atmosphere. In this vacation home can be accommodated up to 6 guests in three bedrooms. Two bathrooms are available. With the rental bikes of the house you can relax and explore the rural surroundings. The distance to the coast and the beach is about 21km. Coimbra is about 30km away.
Also an oasis for golf players is the vacation apartment in Amoreira* near Peniche. Because this ground floor – vacation apartment is located in the golf resort and has direct access to the 18-hole golf course Praya d'el Rey. The trip to the medieval town of Óbidos is about 18km away. To Lisbon it takes about 1 hour by car/ rental car*. Also to the next beach it is only 1,5km. If you need to cool down immediately, you can use the pool facilities of the resort. The apartment is suitable for up to 6 guests in three bedrooms. Two bathrooms are available. On cooler autumn days, a wood-burning stove can provide ample evening warmth. With living/dining room and kitchen, this vacation rental is approximately 140 square feet.
Portugal's south – enjoying the sun in rural vacation homes
If you prefer to spend your free time a little off the beaten track, you can do so in a beautiful cottage in Alentejo* south of Lisbon. Originally a wine press house, the old country house has been lovingly renovated and converted into a vacation home. There are two other cottages on the estate of about 30ha.
The cottage is located in the quiet Costa Vicentina National Park about 22km from the Atlantic coast. If this is too far for swimming, you can also cool off in the very clean Mira River, about 15 minutes walk away. The secluded country house is also well suited for longer stays, for example for writing books, painting, meditating, composing or for personal time-outs. Terrace and garden extend the living space of 50sqm. For cooler hours can be heated in the wood stove. This vacation apartment is suitable for up to three guests, pets are allowed.
Not quite yet on the south coast Algarve is the vacation apartment Portimao*, a semi-detached house – half on an old farm. It is with 65sqm suitable for up to four guests and has two bedrooms. In this respect ideal for a small family. Due to the ground floor location it is also suitable for wheelchair users. The beach at the Algarve is about 10km away. The property has a shared pool and terrace with sun chairs.
With 325 square meters of living space and seven bedrooms, each with bathroom, this vacation villa in Monchique* is probably already suitable for small brigade celebrations or retreat meetings. In the dreamlike environment the thoughts flow freely and allow the view into the future of your start-up. The pool with salt water system, surrounded by natural ponds allows you to relax after exhausting debates. There are always quiet places for reflection on the terraces surrounding the house. The mountains of Monchique are right in front of the property. Of course, this vacation villa is also well suited for family reunions and hobby groups.
A spacious vacation villa with pool* in the Algarve is available for rent in Vilamoura. This detached house on its own plot can accommodate up to eight guests in four bedrooms. On colder evenings, a wood-burning stove or fireplace provides sufficient warmth in the house. A barbecue can also be used outside. Kitchen and utility room with washing machine are available for longer stays with self-catering.
Money in Portugal
More tips for your individual Portugal journey?
Visit the world cultural heritage region Sintra – Palaces, moorish Mountain fortress and a secluded "Capucho"- monastery
Obidos – town of the Queens with complete walkable town wall
Refreshing days at the Atlantic ocean? Peniche with long beaches and a well-known surfspot
The oldest University of Portugal – Coimbra
Porto – city with house wine at the Douro river
If you like the post, then invite your friends to your individual Portugal trip and share the link to the post in your social media channels. Thanks a lot!
Note on advertising links
This article contains links marked with *. These are so-called affiliate links, e.g. to booking portals for travel services. If you use these portals for booking, Sonnige Pfade receives a small commission, which supports the operation of the website. Thank you very much!
Advertising:
Image source Product – Images: Manufacturer/ Intermediary / Dealer