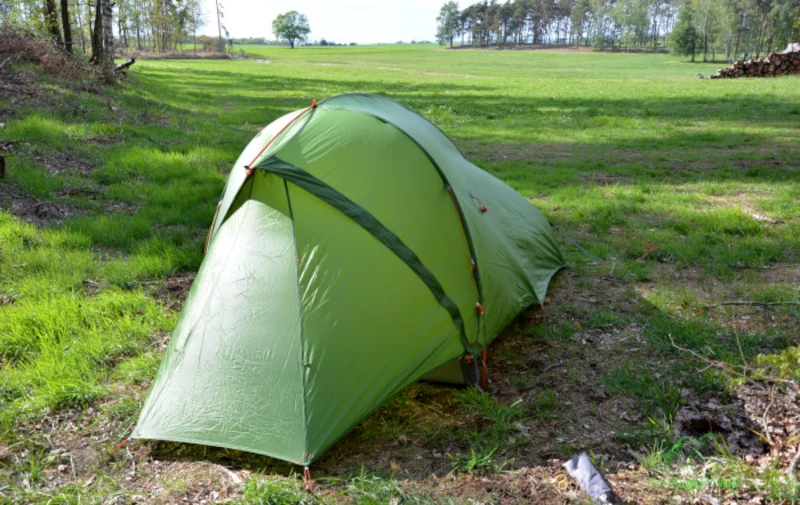 Before my last trip to Ireland I urgently needed a new light tent. My old tent is finally obsolete, because after more than 15 years of use the outer fabric has become so rotten that even slight contact with the herring caused cracks to appear. Besides it was much too big – designed as a family tent. But those times are over. A new light tent for max. 2 persons should fit into the backpack, so packed up it should have little weight and little volume. In addition, it should be stable and weatherproof, as good as the tents can be today. Because in Ireland you have to expect heavy showers or even longer periods of rain at any time. The light tent should offer the right protection for this on the first tour.
Takeover of outdoor-knowhow.de
[contains *advertising]
Shortcut for those in a hurry for the current light tent model
Light tent - Table of Content
hide
A brand with high standards in environmental protection
As I have already had good experience with a Vaude family tent for many years, this company was of course privileged in the selection of the light tent. In addition to that, Vaude has in the last few years put a lot of emphasis on environmentally friendly production and durable, ecologically safe products – which unfortunately is not as self-evident in the outdoor industry as I would like.
Especially for the so-called membrane, which is supposed to provide waterproofness in many outdoor products like jackets and tents, most manufacturers still rely on PFC – polyfluorinated hydrocarbons – which provide very good protection against moisture, but are unfortunately a plastic in the true sense of the word – they are not decomposed in nature. Meanwhile, they can even be detected in polar ice or in the organism of humans and animals. Vaude has set itself the target of producing completely PFC-free by 2020 at the latest. For several years now, only a few components that are difficult to replace have contained PFC. In 2017, Vaude was one of the first outdoor companies to support the Greenpeace detox campaign.
An "easy" decision – light tent Taurus Ultralight
My decision was therefore made for the Taurus Ultralight – Tent 2 persons*. This light tent weighs only 1940 grams on my backpack, which is 970 grams per person. That is quite bearable for a tent. 🙂
Sufficient protection space
This is made possible by very light, yet tear-resistant nylon fabric panels and super-light aluminium poles reduced to the bare minimum. There is a retractable arch over the entrance area and crosswise a ridge pole, which is also inserted with a light tensioning arch. The arches ensure great stability even under wind pressure. At the flat foot end of this light tent there are still two short shaped rods firmly hidden in the fabric, which together with the guy triangle straighten the back end.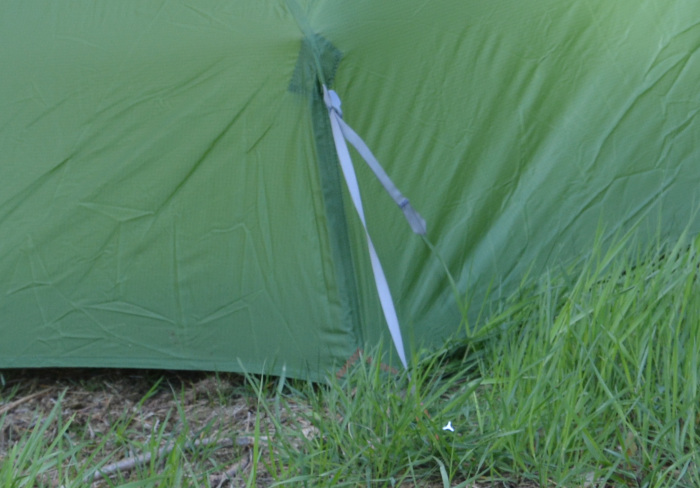 The apse in front of the tent entrance is formed with the ridge stump and by the bracing. Inside, two backpacks find plenty of room for the night, if it's not a matter of fully packed 70-litre volumes. The height of the storage space is 95 cm at the ridge cross of the light tent, the base area is 1.30 x 0.85m. Since we are all not that big, with an interior length of 2.20m there is still some storage space left (width max.1.30). With a max. height of 1,05m at the ridge cross I can sit upright or even squat in the entrance area.
The interior is covered by a suspended inner tent. This is safe from mosquitoes and drifting snow, and the dense fabric also insulates and reduces wind.
Fast assembly with few tripping hazards
The structure of these light tent is quite simple. If you do not separate the parts for weight distribution, you can pack or roll out the tent skin with inner tent in one piece. You must pay attention to the ends of the poles, as both poles can only be pushed in one direction at a time. Actually self-explanatory. The long ridge pole of the Taurus tent is slightly angled at the end to support the tent tunnel at the foot end to the ground. Only the crossing point is a bit tricky (arch over or under?), but after a practice setup you know what to do.
If both poles are in the guiding tunnel, the light tent is basically already standing. Now only the tent lines have to be guyed with pegs. All lines are already attached. This creates guy lines – triangles that give the tent good stability even under wind pressure. The tension adjustment is simple. Reflective elements make the guy ropes easily visible in the dark with flashlight.
Materials for the canvas, inner tent and poles
Waterproof fabrics for roof and floor
All fabric parts of the light Taurus tent are made of stable polyamide ripstop 40D. The outer tarpaulin is equipped on both sides with a silicone layer against harmful UV radiation and of course rainwater. Thus it resists a water column of 3.000mm. This means that if you could pile up water up to 3m high on the tarpaulin, the outer cover would continue to be tight. So no wetness problem, not even with continuous Irish rain. The polyamide fabric is highly tear-resistant with interwoven reinforcement threads. Silicone coating increases the lifetime of the fabric by up to 20%.
The tent floor is not silicone-coated, but a polyurethane membrane is laminated on. This ensures even greater impermeability up to 10,000 mm water column. Why not do the same with the outer fabric? The tighter the fabric, the less water vapour can get through. Since we breathe and perspire diligently and release water vapour, it has to get out of the tent somehow, otherwise we are quickly "in our own juice". And that is at least as unpleasant as being rained in for weeks.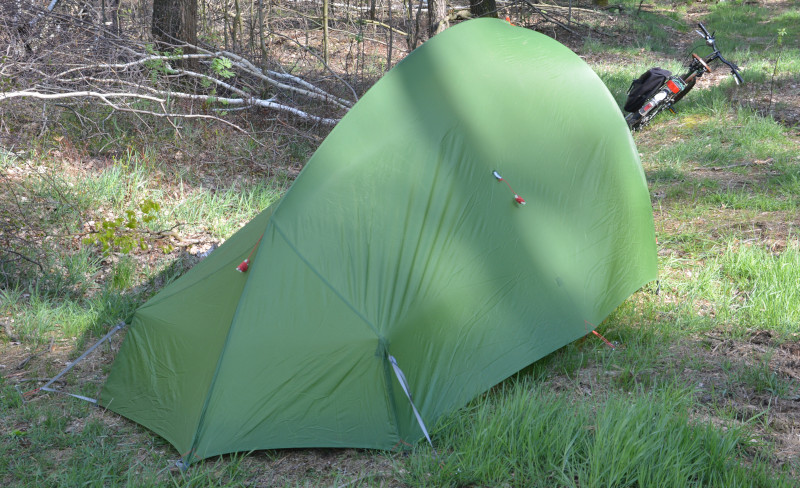 Ventilation for removing moisture
Part of the humid air is "blown out" via the lower ventilation edges of the light tent and the ventilation opening at the apse. But it's all right if the outer skin as a whole can breathe a little. It is always tight with a water column of 3,000 mm. But for the tent floor the higher tightness can be an advantage. If it rains longer or more heavily, water can collect under the ground, e.g. in small puddles. Our contact pressure additionally presses the floor onto the wet ground – and then a higher water resistance is good for a dry inner tent.
However, you will need this especially when travelling to wetter regions or during longer periods of rain or if you plan to camp on snow in winter. With occasional rain, where the water can seep into the ground well, a 3 – 5,000mm water column is enough to keep the light sleeping tent dry. You will have to use an insulating mat* against the cold ground anyway, no tent floor will help.
Linkage, pegs, cover – simply everything light
The frame of the Taurus light tent consists of 9mm superlight aluminium rods, which are held together at the points where they are attached by rubber straps. The weight is only 360 grams including the extra transport cover.
Also included are 15 aluminium pegs. These weigh only 160 grams including the small transport bag. Basically only 10 pegs are needed, the rest could stay at home as a reserve.
The outer skin and inner tent together with the transport bag weigh 1400 grams.
Fields of application for the light tent
The Vaude Taurus UL light tent is very suitable as a one-man tent or tent for 2 persons on hikes where you carry your own luggage or for bicycle tours. For canoeists the low weight of the trekking tent, but especially the small transport volume is a special plus.
It is also a light utensil for travelling to holiday areas with public transport and therefore limited luggage. Its high impermeability and wind stability make it suitable for regions where heavy rainfall and strong winds are expected – island tours, coastal areas, tropical rain zones. The light tent is especially designed for active travellers, who often have to assemble and disassemble – it's super fast – and want to have little stress on the way. When camping with 2 people who share the luggage, both porters can theoretically stay under 1kg transport weight for the tent. However, the outer skin and inner tent would have to be separated and divided, as this package together weighs more than 1kg. Poles and tent pegs with a combined weight of 520 grams can be transported separately.
Model development for VauDe light tents
Unfortunately, this is a little bit the same with outdoor equipment as with car manufacturers. The tent is one of the most important visible brand carriers and a new range of models has to be launched on the market practically every year. That is why the Taurus UL lightweight tent is no longer available as a new edition – but there are more advanced successors.
… even lighter – Space Seamless* and Space Seamless Ultralight* light tent
The current Vaude Light Tent is the Space Seamless* for 1-2 persons. This tent is with 1590 grams 350g lighter than my "previous year's model". Also the packing size has become smaller with 45 x 15cm.
In addition, due to a change of material, there is even a super light tent version that weighs only 1400 grams – the Vaude Space Seamless SUL*.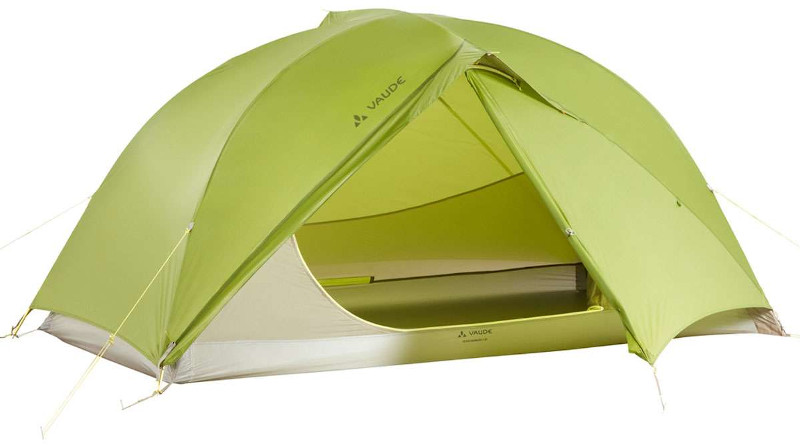 The interior of the super light tent has become a bit more cuddly as the width has been reduced from max. 130cm for the Taurus to 105cm. So it is a shelter for people who harmonize very well with each other. In exchange, each side of the Space Seamless light tent has a luggage compartment.
A seamless tent skin
"seamless" – the outer shell of the light tent was not sewn, but glued for better water protection and lower weight. The stability of these glued seams should be higher than classic seams – but I could not test this so far. Also this outer tarpaulin is silicone – coated. A little bit was saved with the floor equipment. It also has the polyurethane membrane (PU), but "only" resists up to 3000mm water column as well as the outer skin. But, as already described, this size is completely sufficient for normal rainfall and dry sites.
The stability of this light tent is again provided by a classic cross-arch construction made of featherlight aluminium tubes. This is a good way to deal with wind pressure, and the tent's interior is larger than the Taurus light tent, which tapers off rather flat towards the end. A stubby ridge on both sides keeps the luggage compartments open and ensures good ventilation via the roof vents on the opposite side. A tent lamp*, for example, can be well hung on a line in the canopy.
All in all a well usable lightweight tent for the above mentioned areas of application. Only for sleeping, it can be used as a bearable tent for 2 people on hiking or cycling tours. When used as a one-man tent, the sheltered place is even really comfortable.
Care instructions and care products for silicone-coated nylon tents
Never leave tents in the wet for a long time! Mould, mould stains and damage to the fabric can be the result. So, after the tour, always leave the tent to dry well. It's important to store the tent only when well dried and clean. It is best to use a dry, cool place for this. It should not be possible for solvent vapours such as paint or petrol to develop in the same room – so the garage or workshop is not a good place to store it. Clean zippers well – if they are very dirty, e.g. with an old toothbrush. The "lubrication" of the zip can then be done with the graphite of a pencil lead.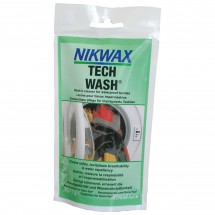 For stubborn stains, gently rub the fabric with Nikwax TechWash* (mixed 1:4 with water). Then waterproof your light tent with Nikwax Tent&Gear Solarproof*. This can be useful every few years anyway, especially to renew UV protection and extend the life of the outer skin. You'll enjoy your lightweight tent for a long time.
Advertising – Note
Some of the links in this article are marked with *. These are so-called Affiliate – links. These lead to an online-shop. If you buy something in this shop, sonnige pfade will receive a small commission to maintain this blog. Nothing will be more expensive for you, because the commission has already been taken into account in the pricing.
Product fotos: Producer/ Vendor