Slovakia has lost a bit of its perspective in recent decades. Wrongly so, as there are special natural beauties there, which have long been an attractive destination, at least for East German outdoor enthusiasts. O.k., almost everybody knows the High Tatras, but the fact that there is also a small Tatra, exhausts the geographical knowledge for many. The Mala Fatra Mountain region is known only to a few "insiders".
[Contains advertising]
table of content about Mala Fatra Mountains
Mala Fatra Mountains are an attractive destination in Slovakia for a trip of one or two weeks, especially since the surrounding villages have also undergone a beautification cure and have been able to shed the grey dreariness of socialist industrial regions. Both in spring and summer as a hiking area and in winter with several relatively snow-sure winter sports areas are worth the trip for two different target groups.
So it is worthwhile to head for Zilina and to have at least one day of rest before or after the Mala Fatra mountain hikes. For all those who travel by public transport, Zilina is anyway the transfer point to the local buses or trains. Info's about arrival, accommodation, entry points to the mountains, wellness on site etc. can be found down in the Mala Fatra travel tips, also with current information about the winter sports areas.
Mala Fatra – A mountain ridge in two parts
The Slovak Mala Fatra consists of two mountain ranges that can be hiked along a ridge path and many charming side paths. The ridge is at the same time part of the long-distance hiking trail "Eisenach – Budapest", which was built during the socialist "Friendship Times" through 4 East block countries. I don't know if it still exists and is maintained, but if you come across a red "EB" as a trail marker somewhere, you already know what it's all about. The Mala Fatra Mountains are divided into a northeast and a southwest part by the valley of the meandering Vah, which then touches Zilina on its way west. The north-eastern part (Krivanska Fatra) is more developed for tourism, but those who have enough time will surely also like the second mountain massif (Lućanská Fatra).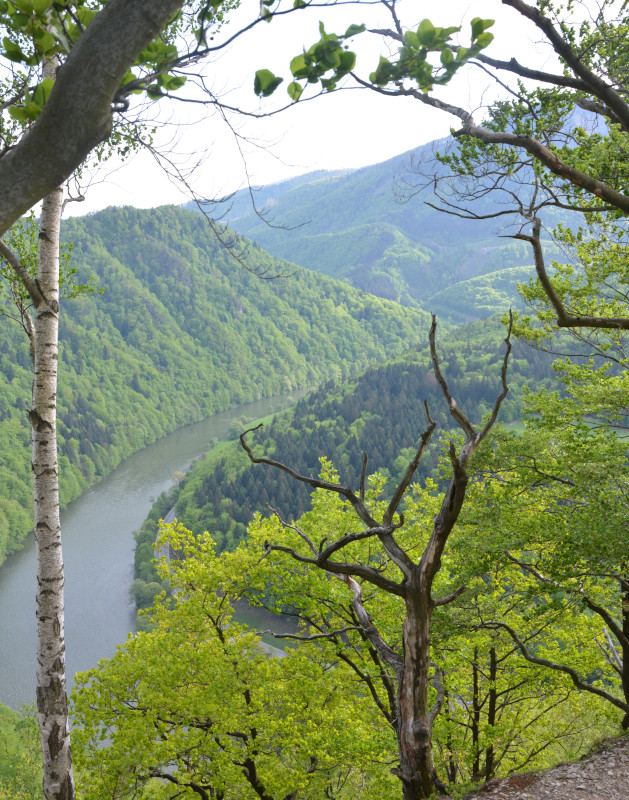 Mala Fatra Mountains region has been a protected area for a long time, since 1988 as Slovak National Park. In spite of its tourist attractiveness, there are free-living wolves, brown bears and lynxes. Especially during good weather periods, these will probably retreat to quieter side valleys, because the Slovaks are very keen on hiking, are very sporty and travel a lot.
Active experience in the Vratna Valley
A tourist "hotspot" is the Vratna Valley near Terchová, which is accessible only via a narrow road next to a river. Basically, it goes through a "rock gate" into the valley basin, which then widens and opens into three side valleys. As a "warm-up tour", the scramble over this valley edge rock is already fun. From Stepanovka in the eastern side valley you can climb the Maly (Small, 1343m) and the Vel'ky (Big) Rozsutec (1610m) – these are the only somewhat rougher cliffs of Mala Fatra. (See title picture) Otherwise the mountains are rather easy to hike, the ascent leads through forest areas and in the higher altitudes over grassland. In winter, the Vratna Valley is one of the preferred winter sports areas.
It is possible to make day trips from the valley and return to your accommodation. If you prefer to hike in one piece along the ridge path or single loops and side paths, you will find accommodation in mountain huts. These are usually located under one of the mountain peaks and have the corresponding name "Chata pod …" in Slovak language which means "hut under the …[peak]". It is not allowed to spend the night outside because everything is national park. If your chosen hut is full, you can ask if you are allowed to stay overnight with the tent next to the hut. Probably they will leave some corner of the hut free for you.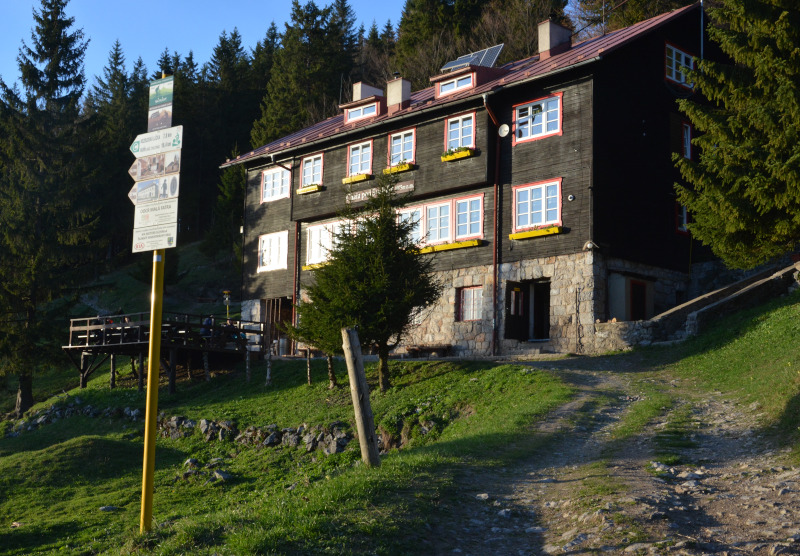 The highest mountain of Mala Fatra is Velky Fatransky Krivan (1709m), which can be reached from the Vratna valley almost to the top by cable car. This of course attracts a lot of sandal tourists. But on the way to the (small) Maly Krivan (1671m) you have your peace again.
Winter sports and mountain hiking in the Mala Fatra Mountains
Those who love winter sports will also find their opportunities in Fatra. Mala Fatra is considered to be relatively snow-safe. In the heights, some snow fields can be still found at the beginning of May, as the mountains are very cool at night. The Vratna valley is well developed with ski and chair lifts, there are several ski slopes below the Stoh peak. The winter sports information on snow depths and skiing and tobogganing conditions, which is continuously updated during the slovakian season, is displayed or linked below at the accommodations to the three winter sports areas.
There are also winter sports hotels of various categories in the Vratna Valley or outside in Terchová, where you can also find pensions and holiday apartments. The campground in the Vratna Valley, which was very popular among GDR citizens (East germans) during "socialist times", no longer exists. Camping is only possible outside the mountains, near Terchová and in other places.
Two other ski resorts are located near the village of Martin and in Valcianska Valley in the south-western Lúcanská Fatra.
In the warmer season, around May, mountain hiking in Mala Fatra is particularly attractive. Those who visit the Slovak Mala Fatra for the first time may want to cross the mountains on the ridge trail. But also for later hikes there are enough possibilities in Mala Fatra, as various hiking trails criss-cross the mountains. The following lines report about hiking experiences in Slovakian Krivanska Fatra.
Jewel mountain meadow
In the forest zone there are still quite a lot of spruce forests. Unfortunately, a large part of them is heavily damaged by bark beetles (and perhaps also climatic influences). Therefore you will unfortunately see large clear cuttings on some slopes at the moment. It will still take some time until forestry measures provide for healing.
The mixed forest zones are very pleasant species-rich ecosystems. Many partly protected plant species such as gentians, silver thistles etc. grow on the mountain meadows. Especially in spring, early blossoming plants enliven the mountain ranges.
Krivanska Fatra – Ascent over the Suchy
You can take the local train from Zilina two stops to Nezbudská Lúcka. From this station, where a family runs a small private snack stand, various routes lead to both the north-eastern and south-western mountain ranges. Because this is where the notched valley of the Vah begins, which separates the two wings.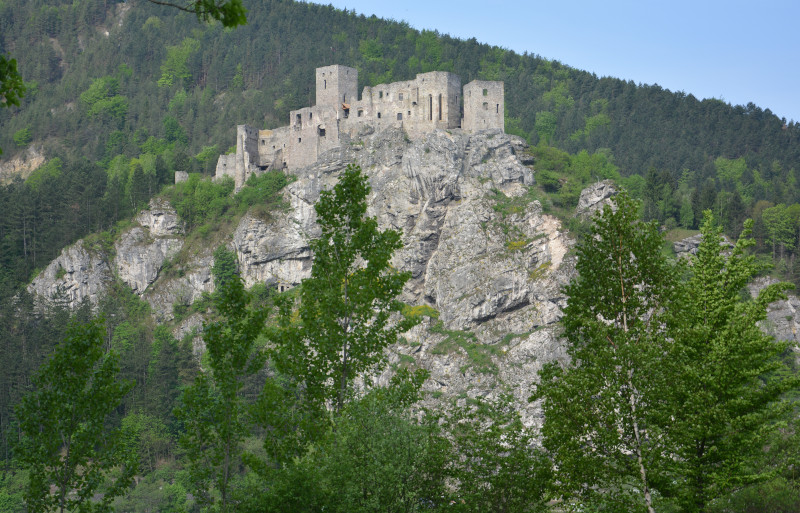 On a ridge near the village Strećno a castle ruin Hrad Strećno is enthroned below the western mountains and guards the entrance to the valley. If you walk in eastern direction, you will find the remains of another castle (Stary Hrad – old castle) on a ridge.
Rest in the Chata pod Suchym
The first stage on the way to the crest is the "Chata pod Suchym". There some paths meet and branch off, until then mountain biking is also possible, for which several mountain bike courses have also been established in Mala Fatra.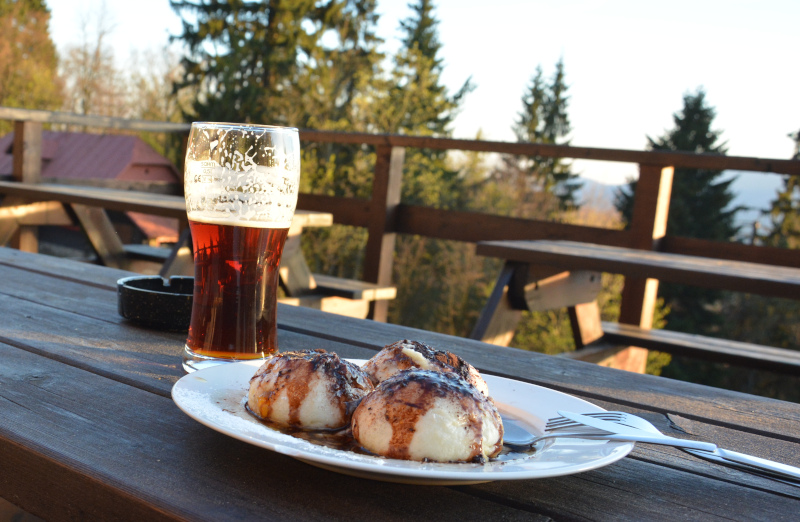 The hut offers a wide range of gastronomic delights, delicious sweet or savoury dishes quickly make you forget the effort of the ascent. Overnight stays are possible in simple rooms with double bunk beds for about 10€. Especially on holidays and in the season, advance inquiry or reservation is highly recommended.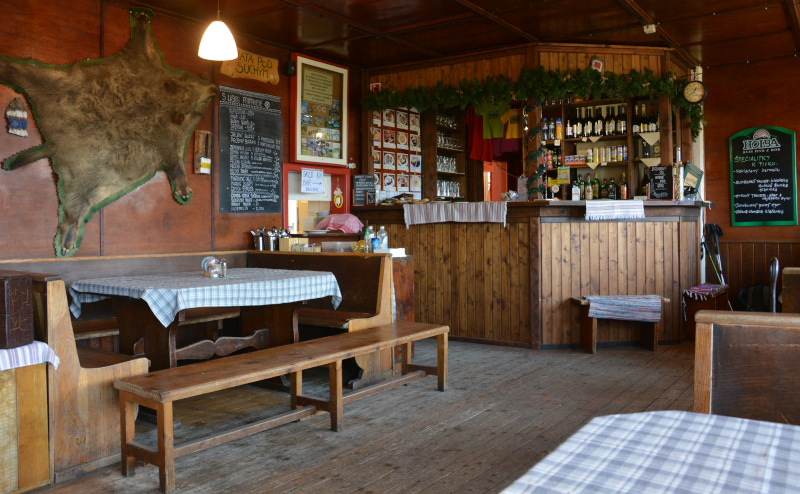 I had a room for me there unannounced, but when I wanted to extend for the next (celebration) day, the very friendly women explained to me that they had a large reservation and that there was no more bed available. After my breakfast and another coffee one of the ladies came to me and offered me a bed for the following night – she stayed with a colleague and gave me her own room. They certainly didn't care about the 10€ more, that's just the warm, lived hospitality I could experience again and again in Eastern European countries.
On the ridge heading east
From Chata pod Suchym, the ridge trail leads eastwards via Suchý (1468m), Maly and Velky Krivan to the Vratna Valley or to Rozsutec and Zázrivá on the eastern edge of the Fatra, whereby descents via side ridges to the villages north or south of the mountain range are always possible.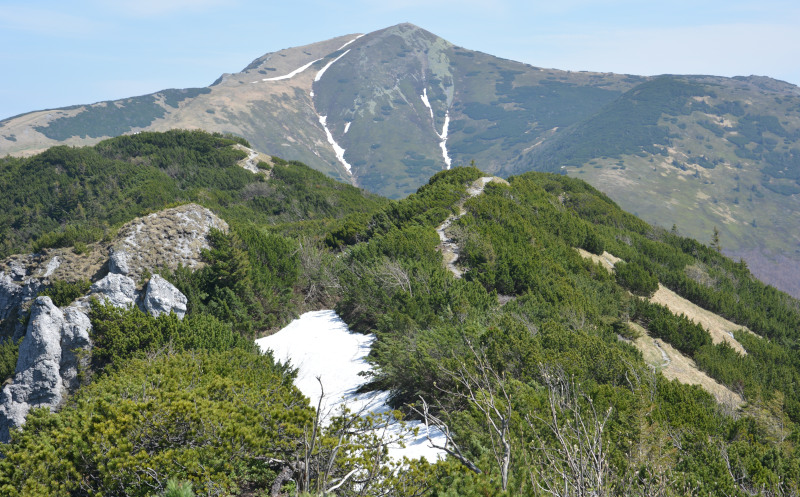 The hiking trails in Mala Fatra Mountains are well marked by a colour system. At all crossroads and mountain tops there are signposts, usually with hourly indications, which allow a fairly good time estimation for normally trained hikers.
Zilina – starting point in the Mala Fatra region
Zilina has a very beautiful old town centre. Around the Mariannenplatz there are, as usual in many Bohemian and Slovakian cities, many houses with sweeping arcades.
Dining hearty at Mariannen – place
There, various restaurants entice you to enjoy good beer and down-to-earth food. Everything around the goat can be found at "Zilinska Kozlovna" (Mariánske námestie 191). Of course you can also get pizza or even fast food in some places. Tasty Bohemian or Slovakian beer refines the pleasure.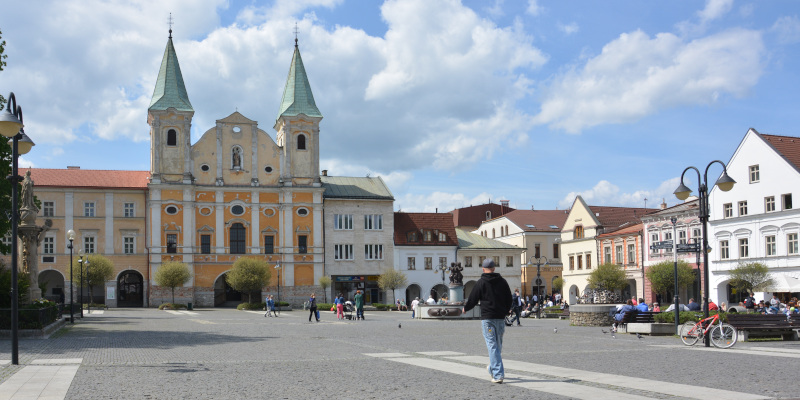 It is not surprising that relatively many Asian-looking people are on the road – in Zilina a Korean car manufacturer has built a large engine plant. Apparently a part of the Korean workforce is now enjoying Slovakian hospitality.
Organic-vegan feast – Café Gusto Zilina
Especially recommended is the Artisan Bakery "Café Gusto". It is located in a side street (M.R.Śtefánika 29) between the square "Námestie Andreja Hinku" and the bus station, where you can enjoy delicious cakes, tarts and other "earth-friendly" culinary delights (vegan&bio) in a pleasant atmosphere. Contact unfortunately only via facebook: Cafe Gusto Zilina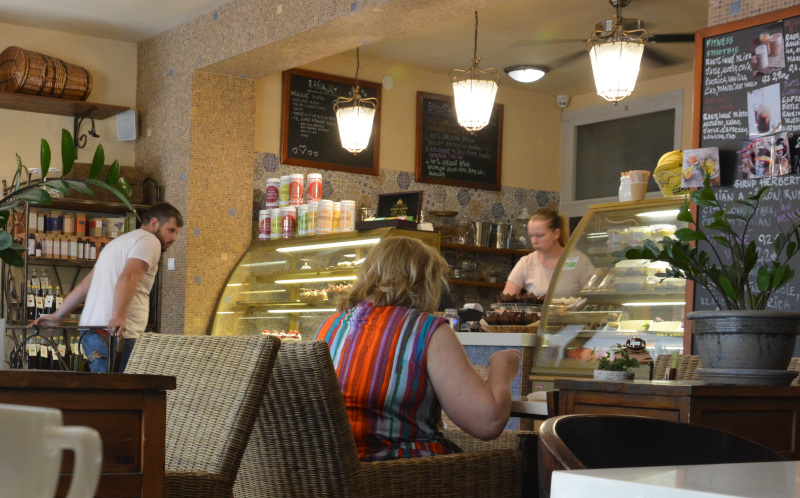 Overall, the region makes a very fresh and optimistic impression. Many young people are on the streets and give a quite satisfied impression of their personal situation. The introduction of the euro in Slovakia may have caused some inflation on some levels, but it seems to have been well absorbed in this economically strong region. Apparently the people here benefit greatly from EU membership and appreciate it. This and the anyway very relaxed and friendly atmosphere of many Slovaks make the meeting in the region very pleasant.
Living slowakian culture and tradition in Zilina
The tourist information office is located on the (square) Námestie Andreja Hinku. Various festivals and events enliven the cultural year in Zilina – Slovak carnival, an old town festival with a lot of traditional handicraft presentations, a cultural summer, St. John's Night with street theatre, a medieval market…
Mala Fatra travel tips – with winter sports areas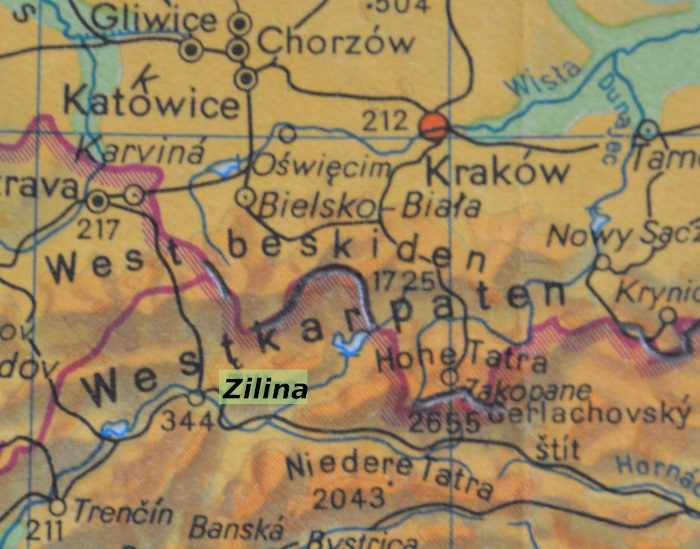 Climate and best travel time for Mala Fatra Mountains
It depends on what you want to do. Winter sports theoretically go from December to the end of February, but practically it depends on temperatures and snowfall. The current conditions for the Mala Fatra ski resorts you can find here in the snow report below and down following the links in the accomodation part for each resort.
The best time for hiking in the Mala Fatra Mountains is from May to September. There you can use practically all good weather phases. In summer it is hot in the valley, but on the mountains the temperatures are still quite pleasant. A long winter and wet periods can leave the paths a bit muddy, especially in the forest zone, but in the sun everything dries out quite quickly. You should be aware that it gets dark quite early in September and that there can be cold and wet days. But in nice late summer weather the mountains have a special charm, especially in the colours of the twilight.
Journey to the Mala Fatra
From Western Europe by public transport mostly via czech capital Prague to Zilina at the north-west border of Slovakia. There are both trains* and long-distance buses, although some of these run via Brno or require a change of trains. It is highly recommended to look for Regio-Jet * as a Czech provider. This is an originally student transport provider and travel agency that offers long-distance bus lines and partly also long-distance trains with different comfort classes in the Czech Republic and Slovakia.
Long-distance buses from Regio-Jet run from and to Vienna, Linz, Salzburg and various German cities such as Dresden, Frankfurt/M., Düsseldorf. In summer there is a connection from London to Prague several times a week. The service is good, there are travel assistants as well as drinks and snacks at the seat and "on-board entertainment". However, it is not always possible to find continuous connections on the booking portal, so it makes sense to look for connections for partial routes via Prague, Bratislava or Brno.
From Austria, connections to Mala Fatra are possible not only by Regio-Jet, but also by train with ÖBB – the booking can be made internationally via the portal omio*.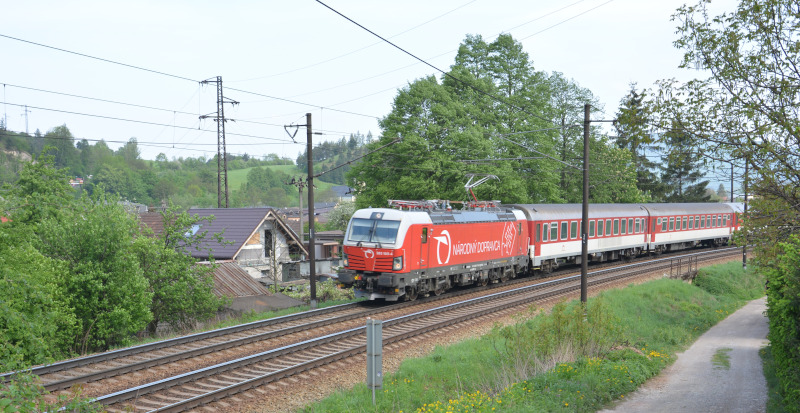 The nearest airports are Ostrava Leos Janacek Airport – about 85km and Poprad-Tatry Airport on the High Tatras – about 90km. These are also served from London by Ryan Air and WizzAir a few days a week. Check skyscanner* for possible connections.
Further away, but with regular flights to Vienna and Prague airports. Both are well connected in Europe, for example with easyjet*. All these airport locations are connected to Zilina by RegioJet*.
With your own car, rental car* or a camper van* you can travel from Western Europe via Poland and the A4 / E40 to Gliwice and then south via Ceský Tesin to the Mala Fatra Mountains. There would even be a stopover in Wroclaw with a visit to the dwarves possible. Especially from southern Germany or Austria the way via Prague or Brno is rather recommended. It should be noted that the motorway system in the eastern Czech Republic and Slovakia is not very well developed, so that depending on the route, the railway can be advantageous in terms of time. From Zilina the Velka Fatra (Greater Fatra), the High Tatras (Poprad Tatry) and the Slovensky Raj can be reached very well by train.
Entry into Slovakia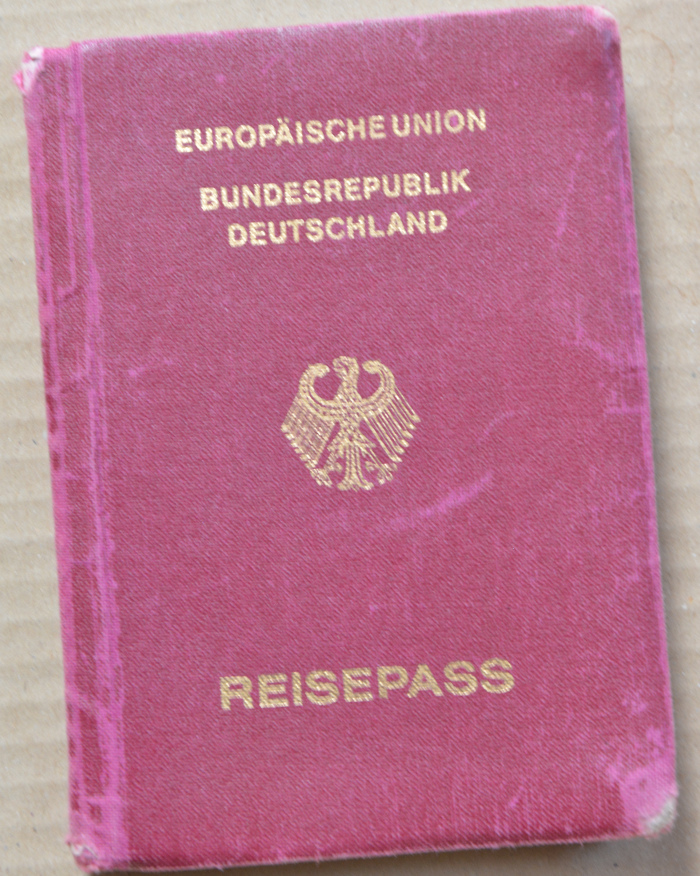 Slovakia is part of the European Schengen area. No visa is required for travel within the EU – Europe (or a valid Schengen visa for visitors from outside the EU). An identity card or passport is important, because at the borders to the eastern EU countries there are occasional checks.
Accommodation in the slovak Mala Fatra region
Accommodation is available in private guest rooms, apartments, hotels and also some campsites in the surroundings of Mala Fatra. Good starting points for mountain hiking are Varin, Gbel'any (with a hotel in a castle), Straźa (on a mountain bike route), Belá, Terchová and the Vratna Valley. Actually, there is accommodation in almost every village that borders directly on the higher altitudes of the Mala Fatra Mountains. The larger hotels in Terchovà and in the Vratna Valley offer partly also massages and other wellness programmes. To walk along the ridge you can head for the mountain huts. There you can find simple night's lodging in shared rooms.
Vratna Valley and Terchová, the larger winter sports area of Mala Fatra Mountains (Krivánska Fatra)
Information about the ski area Vratna Valley here, winter sports – season from 09.12.2022 – 30.04.2023
The Chalet Drevenica u Michala* is located in a stylish wooden house and offers space for up to 10 people in 4 bedrooms. Hiking destinations in the Mala Fatra Mountains and ski area are very close by.
Chata Zuzana* with wood-panelled ceilings and walls is a small, beautiful wooden chalet on a mountain slope. Up to 8 people can be accommodated here, two of them, however, on the sofa bed in the living room. In summer, the garden with barbecue facilities is very attractive.
The nearest ski lift is only 300 m away from the Garni Hotel Fatra*. Hiking and biking trails are very attractive in summer. For ski guests there is a ski storage room and boot dryer. Two suites, double and triple rooms are available as private rooms.
Chata pod Lampášom* is situated in Štefanová directly on the Velký Rozsutec. Hiking trails pass virtually in front of the front door. In the holiday home is room for up to 7 people. Fresh breakfast is a good start to an eventful day. From Štefanová there is a bus to the ski area and also to Terchova and Zilina.
You will find holiday apartments in Apartmán Romanna*. A double bed in the bedroom and a sofa bed in the living room can accommodate up to 4 people. Ski rental and ski slopes are easily accessible.
The Mucha Apartments* offer another holiday apartment for 3-5 persons. Living room, bedroom, kitchen and bathroom with shower as well as whirlpool, sauna and relaxation room ensure a relaxing stay. A rich breakfast provides fresh energy for hiking or skiing. Pets are allowed for holidays in the Mala Fatra Mountains.
On the northern edge of the Krivanska Fatra
In the village of Varin at the foot of the eastern ridge of the Mala Fatra about 10 km east of Zilina, the Weinerovka Pension* offers rooms. Cycling, skiing and hiking is possible in the surroundings, hiking trails start at the village. Double rooms, family rooms and an apartment with two double bedrooms and a sofa bed are available.
About 9 km outside of Zilina the hotel Château Gbeľany* is located in an old palace with park and courtyard. Rooms are partly under the roof with beams and pitched roofs. Some rooms are not only very spacious, but also elegantly furnished. (Deluxe suite, presidential suite…) There is a nice indoor pool, sauna, fitness room. It's great and quite close to the Mala Fatra Mountain trails!
With your light tent for hiking in the Mala Fatra Mountains you will find a campground in Belá on the road towards Terchovà.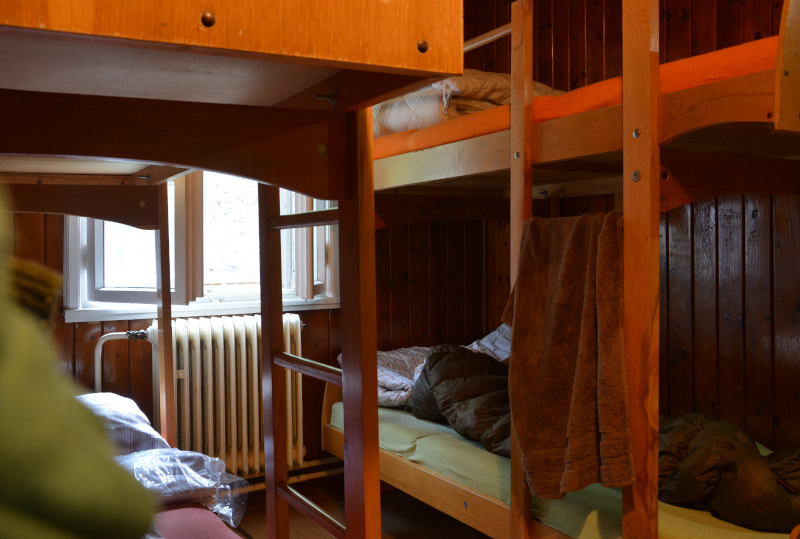 Martin – southwestern (Lúčanská) Fatra, another winter sports area
Martin is the second winter sports resort of Mala Fatra, about 36 km from Zilina on the southern edge of the western wing of the Fatra. The winter sport areas and facilities are a little smaller than in the Vratna valley.
Information about the Martinske Hole ski area here, winter sports season from 10.12.2022 – 02.04.2023
The VILLA CENTRUM APARTMÁNY* offers a family room with kitchen, refrigerator, sitting area and sauna. A terrace with a view of the garden and a playground make your stay more enjoyable. Breakfast a la card at the hotel. You have a fast access to the Mala Fatra Mountains.
There are several modern villas available in the Villa Ľadoveň*. Each villa offers 2 bedrooms with double bed. Breakfast is available at the nearby hotel.
Galery Apts Nr.1* is a centrally located apartment with 1 bedroom, kitchen and living room. In the bedroom there is a double bed and a sofa bed, so that max. 4 persons can live in the apartment.
In the Penzión Ľadoveň* there are several rooms, a common lounge and on the ground floor a restaurant. A children's playground and a pool can be used outside. The pension is situated in a quiet residential area.
In the Valčianska valley (smaller winter sports area)
About 12.5 kilometres south of Martin is the Valčianska Valley, a smaller ski area. Information on winter sports conditions here. Winter sports – season starts at 25.12.2022 an ends at 26.03.2023
Chata Janet* is a holiday lodge just outside the Valčianska valley in the middle of the forest down from Mala Fatra Mountains with overnight accommodation for up to 10 people. 3 bedrooms, 2 bathrooms and a complete kitchen are available. Fireplace and sauna are part of the house as well as a playground and garden area.
Zilina – Accommodation in the city
In the Dubná Skala Hotel*, a remarkable old building right in the centre of Zilina, various rooms are available, ranging from family rooms to deluxe suites. The hotel has its own restaurant and bar (smoking room), sauna and massages to complement the accommodation offer. Friday evenings there is live – jazz music.
If you feel more at home in a typical hotel tower block with 10 floors, the Zilina Holiday Inn* is the right place to be. A wellness area with 3 saunas and indoor pool and a roof terrace with a view of the city centre and the surrounding mountains are among the hotel's advantages.
Modern holiday apartments in the centre of Zilina offer Apartman Kuzmanyho*. All apartments are equipped with kitchen, dishwasher and washing machine and have a balcony. Approx. 15 min. walk to the railway station of Zilina.
The apartments downtown* have two-person and 4-person apartments, some with a terrace. They are centrally located and about 10 min walk from Zilina railway station.
The Penzión Central Park* is located in a renovated villa building. A restaurant invites guests to enjoy Slovakian and Czech dishes. In the house there is a wellness area with steam bath, Finnish sauna and indoor pool. A lounge with fireplace, winter garden and children's playground make the stay more pleasant. Zilina City centre and railway station are within walking distance.
Local public transport in the region
In Slovakia there still is a dense public transport system. Zilina is the central transfer point of the region. The railway station and the bus station are close together. The costs for local buses and trains are low. Tickets for the bus can be bought from the driver, for the train from the ticket office – unfortunately often with long queues – or from vending machines. The latter is not very easy, because there is a tariff zone system, which you have to understand halfway. Minimal knowledge of a Slavic language is helpful to understand the operation.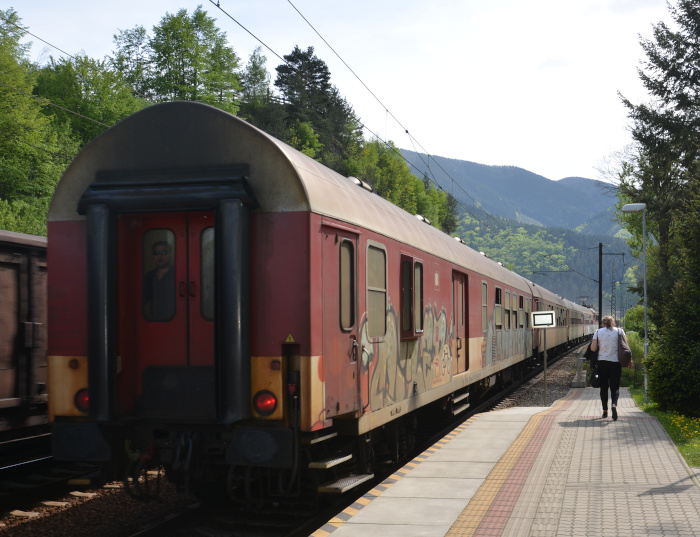 To get to the Vratna Valley (or to intermediate stops in places on the northern edge of the Mala Fatra) the bus to Terchová is the right one, but some buses also go via Terchová directly to the Vratna Valley including Stefanová.
Money in Slowakia
The euro is legal tender in Slovakia. You can get money in Zilina at bank machines. In smaller towns it is not so easy to get cash – so make sure you get it in time. In larger towns you can often pay by credit card in the shops.
wellness and massage in Zilina
Dhara Dhevi Thai Massage
in Narodna Ulica 676/11 – one of the pedestrian streets from the railway station to the old town centre. daily from 10 – 08pm. www.dharadhevi.sk
Kanitha Thai Massage
in HolydayInn Zilina in Sportová 2: Thai massage – by appointment https://holidayinn-zilina.sk/en/relax-and-wellness/thai-massage/
Sabai Dee Thai Massage
at Alexandra Rudnaya 23, budova Magnus, daily from 10-10pm https://www.sabaidee.sk/masaze/cennik/
There are also some therapeutic massage studios e.g. with sports massages in Zilina, these are not listed here.
Sauna
Sauna in SOHO1 wellness Zilina (bio sauna, Finnish sauna, cooling pool, massage) Street: Martina Razusa 23A daily from 12-10pm.
Conclusion: Mala Fatra Mountains and Zilina – a worthwhile destination in Slovakia
The Mala Fatra Mountains in Slovakia are definitely worth a visit. If you are a slow traveller with a lot of attention to detail, you can easily spend 2 weeks there – 5-7 days in the mountains, with wellness in the hotels in Terchová and in the Vratna Valley, 2 days in Zilina… If you are the energetic type, who eats miles and hikes through the mountains on the ridge trail in 2-3 days, you can join the nearby High Tatras, the Slovak Paradise (Slovenski Raj) or other landscapes of the region. Slovakia is a mountainous country with beautiful landscapes, even if not all of them are so spectacular that they are recommended as "must have" in travel guides. In addition, there are castle ruins, small original villages (some with wooden shingle roofs) and small towns, which as historical gems sweeten the exploration.
Those who love winter sports will also find their place for an active winter holiday in the Mala Fatra Moutains. Both in Krivanska Fatra in the Vratna Valley and in Martin south of Lućanska Fatra there are ski slopes and toboggan runs with lifts and the necessary winter sports infrastructure. Because, as already mentioned, many Slovaks are extremely sporty and use every opportunity for outdoor exercise.
As a summary here a little Mala Fatra FAQ:
Where are the Mala Fatra mountains?
Mala Fatra or Small Fatra mountains is located in the northwest of Slovakia on the border with the Czech Republic and Poland.
What can you do in Mala Fatra mountains?
Mala Fatra is a low mountain range with very beautiful hiking trails. Hiking is the most beautiful way to explore the mountains of Mala Fatra. This can be done on local circular trails or as a long-distance hike along the ridge trail, e.g. from hut to hut. In winter some places in Mala Fatra mountains are popular winter sports centers. However, Mala Fatra is also a national park with many opportunities for nature observation.
Where are winter sports centers in Mala Fatra mountains?
In the eastern Mala Fatra (Krivànska Fatra), the Vratna valley is a well-known slovakian winter sports area with several ski lifts. In the western Mala Fatra (Lúčanská Fatra) there is a ski resort in Martin and a smaller winter sports area in Valčianska valley south of the mountain slopes.
Which place is the starting point for Mala Fatra mountain trips?
The city of Zilina is the transportation hub of the Slovak Mala Fatra region. Long-distance and regional trains stop here, as well as several long-distance bus lines. Zilina is also worth a visit with a pleasant and well-preserved city center and numerous restaurants.
Read and share, and invite your friends to the Mala Fatra Mountains hike!
Did you like this little insight into the Mala Fatra Mountain region? Then I would be very happy about a backlink or sharing this link on your social media channels Thanks a lot ! 🙂
* Advertising remark
Links marked with * are so-called affiliate links to providers of services and shops. If you click on such a link and buy something there, the sonnige pfade blog get a small commission. Since the commission is already included in the price anyway, you don't pay for it anymore.