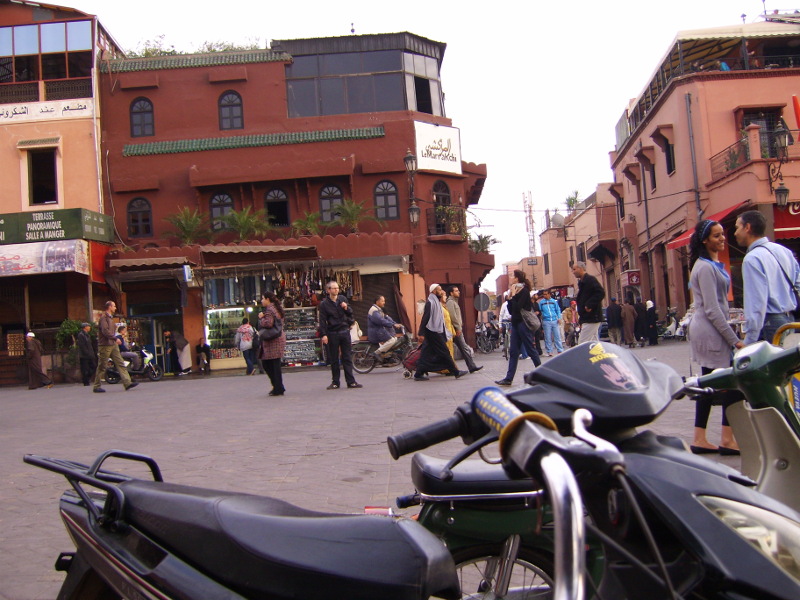 Marrakech is one of the four Moroccan royal cities that are definitely worth a visit. Here you can very well discover the for Europeans foreign and at the same time fascinating world of the Orient, although many western influences have shaped the modern side of Marrakech. In addition, on the south-eastern horizon, the mountain range of the Atlas always announces natural beauties within reach. The name Marrakech roughly means "Land of God"
For Marrakech you should allow a few days. Incl. different destinations in the vicinity, a week is definitely worth it.
[Contains Advertising]
Table of content for Marrakech
Exploring the city of Marrakech
The old town of Marrakesh has been a UNESCO World Heritage Site since 1985. Most famous are the Koutubia Mosque and the neighbouring square Djemaa el Fna.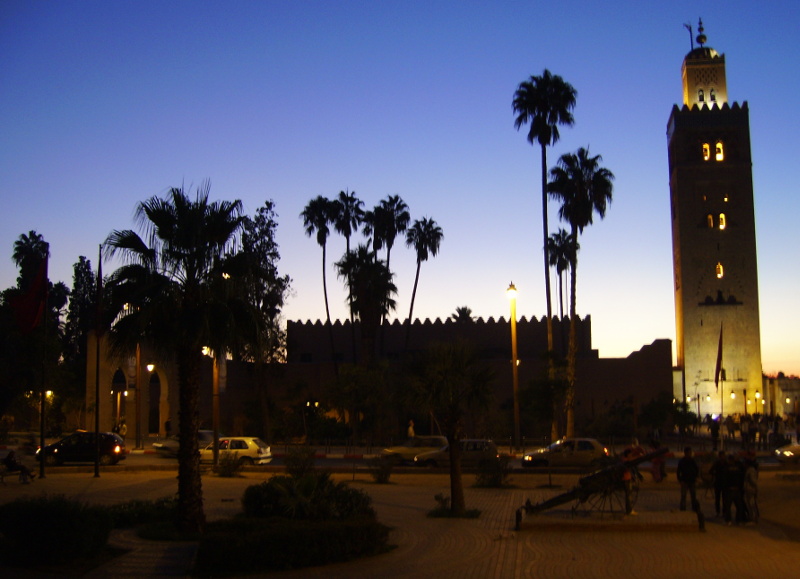 The Djemaa el Fna place
Although the Djemaa el Fna is translated as "gathering of the dead", as it originally served as a place of execution, today it is the living centre of Marrakech in general. In the morning, when the activity is still quite manageable, the crowd in the evening hours swells to a dense swarm, in which the senses are almost overexcited by colours, smells and sounds of all kinds. Jugglers and snake charmers enchant the multilingual audience, tattoo artists make for lasting memories on the skin of many a tourist, dancers make their rounds to the sounds of flutes, rattles and drums and fruit and spice stands exude the scent of exotic origin.
Around the square, coffee and tea rooms invite you to enjoy the ubiquitous Thé à la Menthe (mint tea) and other tempting drinks.
Churchill's Koutoubia painting
The British World War II Prime Minister Winston Churchill was known to be an enthusiastic visitor to Marrakech. He painted "Tower of the Koutoubia Mosque" during the 2nd World War and gave the painting as a gift to the US President Franklin D. Roosevelt.
Through various previous owners, the painting came to the couple Angelina Jolie and Bratt Pitt – famous Hollywood – actors in 2011. On March 1, 2021, the real Churchill painting is up for sale again: the auction house Christie's offers it for auction on behalf of Jolie. Estimated proceeds are worth between 1.5 and 2.5 million British pounds.
Bazaars in the Souks of Marrakech
North of the Djemaa el Fna square you can dive into the souks, an endless maze of alleys, corridors and niches, where the oriental bazaar lives up to its proverbial character. For this alone you should plan a few hours. You will lose your orientation the first time you go there anyway. So relax, with a few dirhams in your pocket you can't starve and at some point you'll be back on the Djemaa el Fna. A 3 hours guided tour through the souks of Marrakech is offered here*
Of course you will be approached, especially if you show interest in some of the expenses and seem willing to buy. Then it is good if you set out with clear boundaries for yourself and communicate them in a friendly but clear way. If you demand respect, you will also be respected.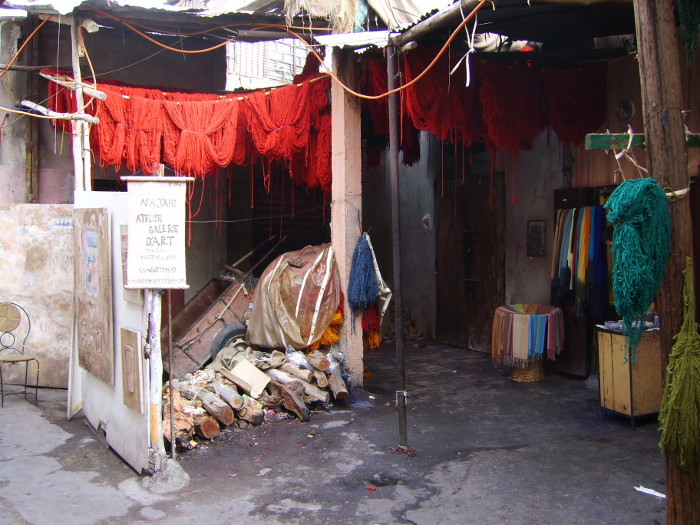 Marrakesh is a city of culture in many aspects. With its city wall from the 11th century, numerous palaces and mosques, the Medersa Ben Youssef and countless other buildings from more than 1000 years of its existence, the "Red City" has a whole range of architectural attractions. But also culturally you can put together a colourful programme. The spectrum ranges from the Museum of Folk Art to the Royal Opera House. There is also an annual international film festival and the "Festival national des arts populaires". The Museum of Photography in the Rue Souk Ahal Fassi is also enriching and on a high level.
Medersa and palaces
If you have left the souks and now come out at the Ben Youssef mosque, you should definitely visit the Marrakech medersa. This was founded as an Islamic university in the 14th century and was expanded in 1564 to become the largest Maghrebian medersa with 900 students. Since 1960 the Medersa is a museum. The walls of the atrium – courtyard are decorated with colourful tile mosaics, plaster stucco and cedar carving. Arranged around several courtyards were 150 living cells for the students.
Along the Marrakech city walls
Then you can explore the city walls. North of the medina you will find the Koubba of Kadi Ayad ben Moussa and not far from there the Bab el Khemis gate with its horseshoe shape. Further east you can pass through the gate of the tanners Bab Debbagh, which is separated from the palm grove by a kind of outwork. With this you now know a small part of the city walls, which were already built in the 11th century in a length of 12km. At the same time the first extensive water supply with groundwater collectors was built, some of which reached down to a depth of 50m.
The most important building material for the city wall as well as for many of the historic buildings is clay, a cheap and ecologically beneficial building material used worldwide. Those who like earth building and want to gain real building experience in Morocco can do so in Azid in the south of Morocco at the Kasbah Cid Ali el Jadida, which is renovated by Moroccan and German experts in annual seminars.
In the royal quarter
On the southern edge of the medina you will find the Royale quarter with the El Badi Palace and the Dar el Makhzen, today's royal palace. While this is not accessible, you can visit the ruins of El Badi. Originally a magnificent building financed by the gold plunder from a campaign to Timbuktu, its stones were the target of ambitious building projects in Meknes. That is why only walls, gardens and an underground dungeon remain today. However, the ruins serve as a backdrop for the annual Folkore Festival. If you still haven't had enough of palaces, you can visit the Bahia palace a few hundred meters north-east and see if it lives up to the assessment "bahia" = beautiful. Not far away, the palace Dar Si Said houses the museum of Moroccan folk art.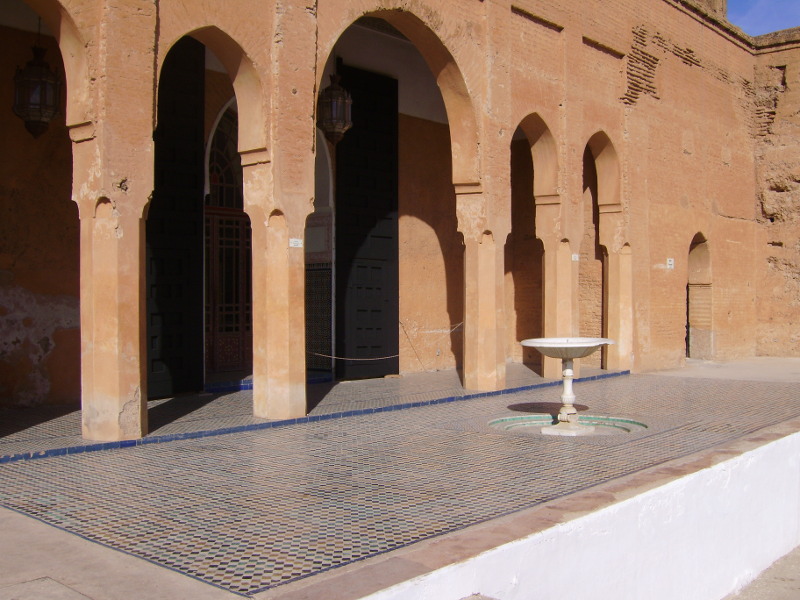 The history of the Saadian tombs to the west of the Dar el Makhzen royal palace is interesting: they were built during the reign of Sultan Ahmed el Mansour to bury all the dignitaries and family members of the Saadian dynasty there. However, the Alaouite Sultan Moulay Ismail largely destroyed the Saadian buildings because he envied them for their construction skills. The tombs remained undisturbed, but surrounded by a high wall. After a long period of oblivion, the tomb was discovered by French archaeologists and made accessible by breaking through the wall.
Not far from the Saadian tombs is also the splendid gate to the Bab Agnaon palace quarter.
Nature in the Marrakech city
It is understandable that a city that has grown from 250 T inhabitants to almost one million within a few decades cannot offer too much in the way of nature experiences. The historic palm grove (Palmeraie) is already an oasis, which was deliberately created in the 12th century on more than 13,000 hectares to provide the city with a fresh air corridor.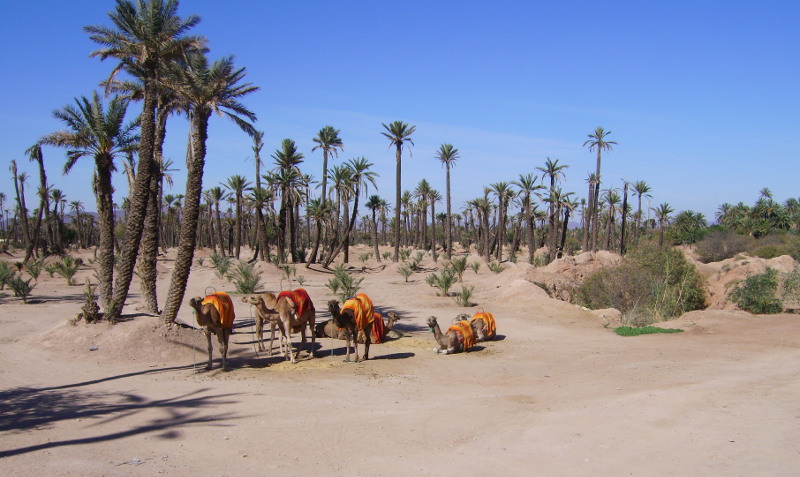 For the water supply the supplies of the Atlas Mountains were tapped and led into the city of Marrakech with a system that was costly for that time. Some gardens were added. Directly bordering the royal palace Dar el Makhzen is the Agdal sultan's garden, an orchard with olives, figs, citrus fruits, pear and plum trees. West of the city centre near the airport are the Menara Gardens, an old olive grove.
There are also a number of parks and smaller gardens within the city, which often complement the residential complexes of palaces or residential neighbourhoods. Thus, for example, the Jardin Majorelle is specially worth mentioning that was arranged by the French painter Louis Majorelle.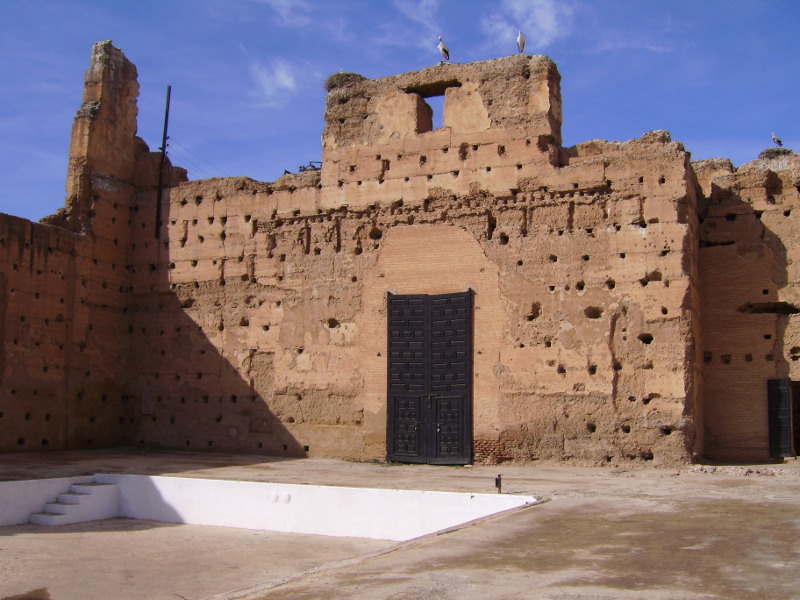 If you want to know where the European white storks spend their winter, it is best to visit the Palais de la Bahia or keep your eyes open – on many of the old clay walls white storks can be seen during the winter months and enjoy the warming sun.
Trips and experiences out and around Marrakech
In the city centre you can get a good overview by using the "hop-on, hop-off" buses. They are not too expensive, but save you two days of walking and you get an impression of the most important sights. There are two routes – one runs within the city and the other goes around the palm grove. You have to walk the narrow streets of the old town yourself, there is no bus going in…
You can either explore the surroundings on your own or book a day tour on site.
A day in Essaouira on the Atlantic Coast
For example, it is very easy to travel to Essaouira by public bus. Departure times, information and tickets are available directly at the Gare Routiere (bus station). The journey time is about 3 hours.
If the journey by public bus is too stressful or unsafe for you, you can also book a day trip to Essaouira by local tour operators* in a minibus.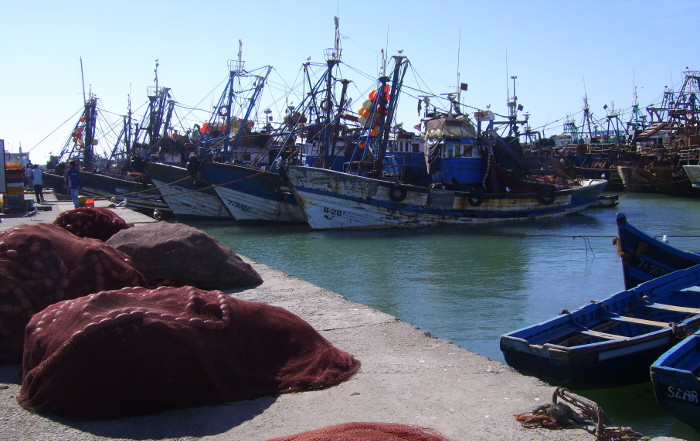 Essaouira is a small port city. Already in 1506 the port was fortified by the Portuguese. But it did not help them for long, in 1541 they were driven out again.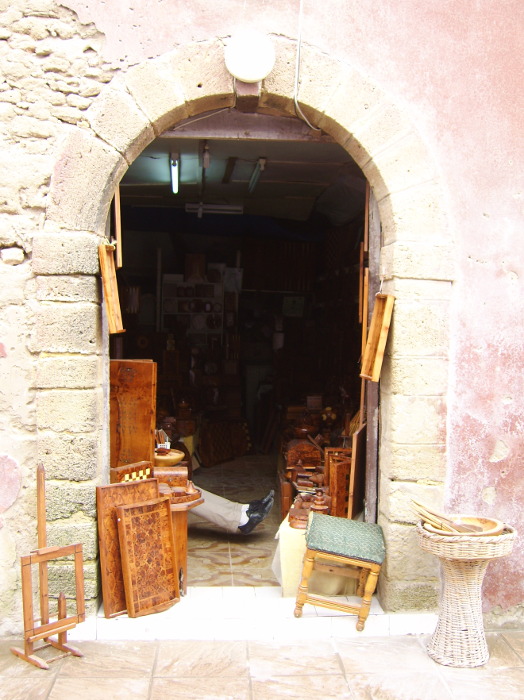 If you wonder why the old town is crossed by streets crossing at right angles, it is because the builder Sultan Sidi Mohammed commissioned a French prisoner to plan it. Nevertheless, it is worth to stroll there – the hectic pace is by far not as oppressive as in the souks of Marrakech. Many marquetry carvers have settled in Essaouira, so you will find everything you could wish for under marquetry, from small jewelry boxes to furniture.
Experience Ouzoud waterfalls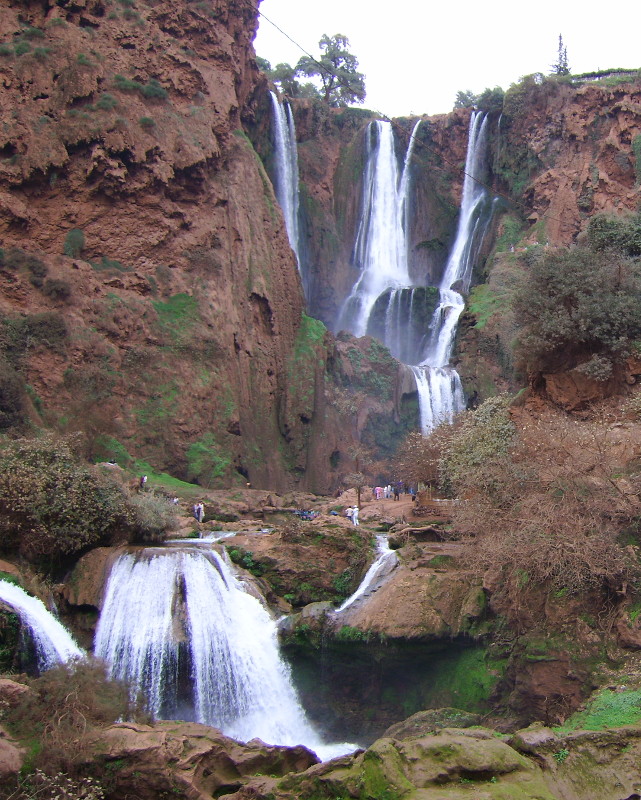 Local tour operators offer day trips to the Ourika Valley in the High Atlas or to the Ouzoud Waterfalls. Especially the latter is difficult to organize even in a short time, when time is limited. In any case, the tour is an experience. Therefore, it is recommended to take advantage of the offers of the tourist providers*. Usually you will be picked up directly from your accommodation on the day in question. The shuttle buses meet at the Djemaa el Fna and distribute the tour participants to the appropriate minibuses. Take water and some food with you, but you will usually get a warm meal on the way.
Of course there are also various offers for camel riding*, hiking in the Atlas or cooking courses in the Tajine kitchen…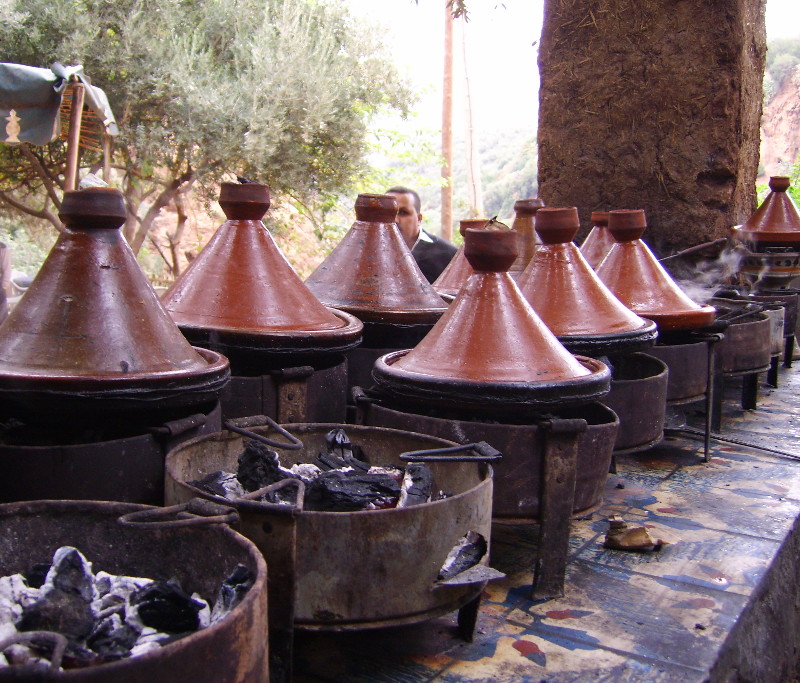 For trekking tours of several days in the High Atlas, Marrakech is also a good starting point. Since buses go in all directions, including the mountain villages, you can get from here to the starting point and back again. You can get a breath of Atlas air on a day trip to the Ourika Valley*. Would you like to experience a little desert? This is also possible from Marrakech on a three-day small safari on the edge of the Sahara* with an overnight stay in a Bedouin camp and camel ride in the Erg Chebbi.
Marrakech Travel Tips
Marrakech lies deep in the North African country of Morocco north of the Atlas Mountains. To the Atlantic coast it is almost 200 km (west). There are relatively good road connections and a railway line. The overland route gives you the vastness and character of the country. Especially at dusk the relatively dry, clayey plains are especially impressive in the reddish light of the setting sun.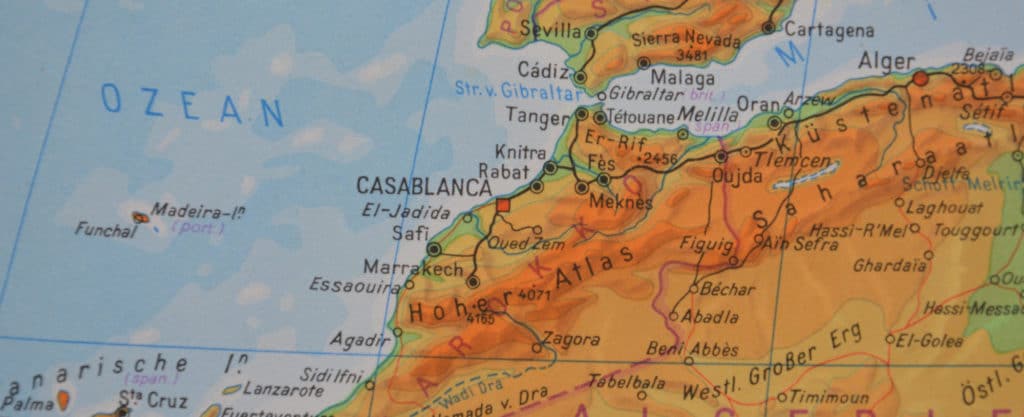 Journey to Marrakech
By land from Europe
If you want to travel to Marrakesh by land, you can cross the Strait of Gibraltar by ferry from Spain. Your destination is the north Moroccan city of Tangier. The road network in Morocco is quite well developed. Right-hand traffic applies. Public buses connect the larger cities. There is also a railway network, with trains running very punctually, but relatively slowly. From Tangier to Marrakesh there are several stops, the last one being Casablanca.
By plane
Several airlines fly direct to Marrakesh from Europe. As travel agents in Europe offer Marrakech as a city destination, you can benefit from this logistics according to your own needs: On the one hand, there are "flight-only" offers from the tourism providers, which sell remaining seats in the booked aircraft. Especially if you like to organize a program on your own, but don't have much time to prepare and the travel time is also very limited, it is worthwhile to have a look at "flight + hotel". The advantage is that you have this package as a fixed base and do not need to look for accommodation on site. Furthermore, the transfer from/to the airport in Marrakech is included, so no haggling with taxi drivers or eternal search for the right city bus.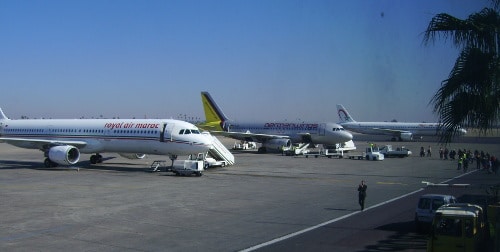 Usually there is something like a tour operator representative on site, whom you can contact if you have any problems. The time in between you organize for yourself according to your own preferences. The disadvantage is that you are bound to one accommodation and cannot plan e.g. a round trip with overnight stays. To explore a region, it is better to look for different accommodations yourself and to move around. For a city a fixed accommodation is the most practical.
Of course you can book your own flight to Marrakech directly with the airlines e.g. easyjet* or tour operators and arrange all other program items yourself. A search with price comparison and online booking option for flights from various airports in Europe to Marrakech is offered by omio on its search portal*.
Transfer to and from Marrakech airport
If you are traveling individually to Marrakech, i.e. without a tour operator in the backhand, who also organizes the airport transfer for you, then you can book your own transfer here*. The drivers will be waiting for you in front of the Marrakech airport and will take you as close as possible to your accommodation in the city center. On your departure, they will pick you up from your accommodation or an agreed meeting point in the center of Marrakech and take you to the airport. IMPORTANT: Due to the slow passport control, plan an early arrival at the airport!
Avoid or compensate for flight
Compensate for climate damage: Air travel is particularly damaging to the climate. Even if some pilots tell their passengers that the CO2 emissions per person are in some cases even lower than with a car, the emission of the climate gas is many times more effective at high altitudes than at the earth's surface. If flights cannot be avoided, I strongly recommend at least compensating with atmosfair or a comparable organisation in your country. This costs for example for a return flight from Leipzig to Marrakesh about 19€ for the 826kg CO2 emission.
Accommodation in Marrakech
As Marrakech is a popular tourist destination, there is accommodation in all classes and for every budget. These can be stylish old town guesthouses (Riyadh, which actually means courtyard garden), but also modern hotels – new buildings. Marrakech is far away from the sea and is not exactly the "bathing city", but many of the hotels have a pool. If you love coffee, you should better drink your breakfast coffee in the old town, the hotels usually don't offer a real treat to start the day. In Marrakech there is a tourist tax of about 2€ per night, so when comparing prices, please check if this is included in the price or if it is added to the accommodation costs.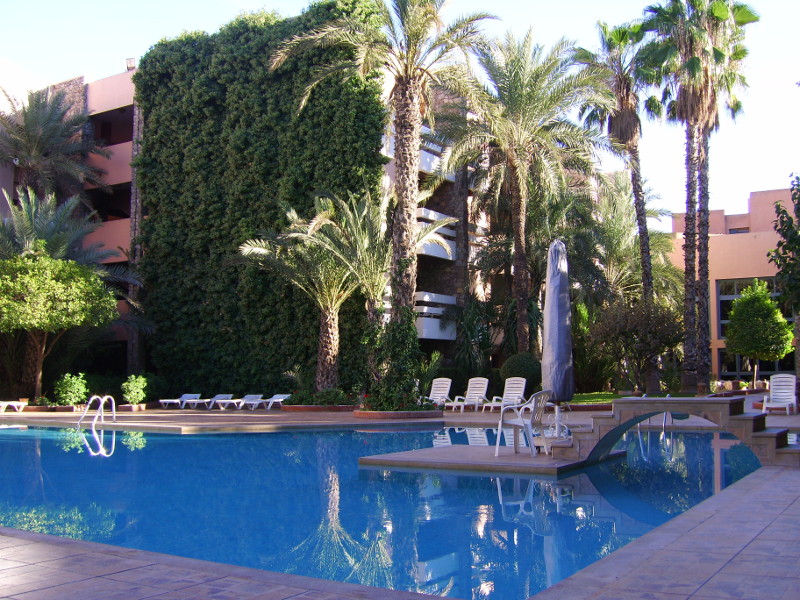 Budget in Marrakesh
Marrakech offers a wide range of budget accommodation – small hotels and private rooms or hostels*. Hostels start from 5€ per night and bed (in a shared room). These can be dormitories with 10 or more beds. But with a little luck you can find single rooms from 10-12€, mostly with shared bathroom. There are plenty of hostels. Unless extraordinary events or international congresses attract an unusual number of guests to Marrakech, it should always be possible to get a bed.
– Camping near Marrakech: Ourika-Camp (about 12km from Djeema el Fna, bus -st. Plage rouge) https://t1p.de/fne0, footpath: https://t1p.de/1fcc at the P2017 direction south
Camping is also possible in some resorts in the green oases on the outskirts of the city
Middle class – accommodation
From 30, 40€ per night you can get very good rooms with good ratings. The real class will be around 60€. Among them are often small houses with only a few rooms, which are managed very familiar. These are called Riad (courtyard garden). Many accommodations have roof terraces with beautiful views over the old town, benches or sun beds and at least a "plunge pool".
Typical are beautiful inner courtyards with arcaded corridors all around, which give the houses character. If you like it more modern – this is also available in the price range, although the satisfaction of the guests in the more traditional houses is on average much higher. As hotel prices are generally lower than those you are used to in Western Europe, it might be worthwhile to take a look at the keyword luxury overnight stays. Especially in the low season or when occupancy is low, there is a lot more for a good price.
Find your perfect overnight stay in Marrakesh
The Riad Luciano Hotel and Spa* in Marrakech is located not far from the Medersa, the Orient Museum and all important objects in the city centre. An outdoor pool, spa and wellness are part of the hotel's facilities. Breakfast is included, but other meals can also be taken in the restaurant. The air-conditioned rooms have large double beds and private bathrooms. The reception desk arranges tour offers to the surrounding area of the city.
A small entrance in a side street leads to the Zwinzwin boutique hotel*. This is why it is pleasantly quiet despite its superb location close to the centre. Several double and triple rooms are available, all with private bathrooms. There is a good breakfast offer. Daily specials can also be enjoyed in the hotel's own restaurant with beautiful views from the roof terrace. A pool and wellness facilities are also available.
Family rooms and holiday apartments await your guests at Riad Dar Wildeve*. The air-conditioned rooms have a kitchen, bathroom with shower, sitting area, desk and coffee machine. A communal lounge and terrace are meeting points for visitors. The sights of the city are just over 1 km away. Pets are allowed.
Riad Manaoui* offers plenty of space for up to 6 people in a 3-bedroom apartment. It is fully equipped as a holiday apartment. A terrace is available to all guests. A breakfast buffet is offered in the morning. The location is superb – only a few steps from the centre.
The apartment haut standing gueliz* is ideally located for a visit to the theatre in Marrakesh, as it is only 400m away. An air-conditioned apartment with living room and bedroom, double bed in the latter, which can be extended to 4 persons by a sofa bed in the living room. Bathroom with shower and washing machine as well as complete kitchen complete the equipment.
In Sweet Jacob's Appartment Gueliz City Center* there are several apartments available for max. 4 – 7 guests. The train station and medersa are nearby, the garden Jardin Majorelle is 900m away. Each apartment has several bedrooms, kitchen with dishwasher, oven, microwave and washing machine. On the ground floor of the house there is a bakery and a food market.
Riad Dar Zennou* offers accommodation for families or groups of up to 6 people. Only 200m away from Djema el Fna you have a whole house at your disposal with three bedrooms and a roof terrace with plunge pool.
Top – Accommodation in Marrakesh
If you like to spend a lot of money on luxurious overnight stays*, you can of course also do so in Marrakech. Higher priced accommodation is available for 170 to over 800€ per night and suite. In return you get breakfast on the roof terrace, comprehensive service in all questions, pool and steam bath and a more or less extensive wellness offer.
Especially this Riad enchants with very individual and tasteful facilities, which give you a hint of 1001 nights. On the other hand, the modern houses are like luxury hotels in other metropolises of the world.
Living in enchanting palaces
Some of the dignified Marrakech old town hotels are particularly noteworthy: *****The La Maison Arab Hotel* not only offers rooms with a fireplace or terrace, some even with their own Jacuzi, but also a spa area, good breakfast with edible coffee, afternoon tea and hot drinks in the piano bar. If you like, you can take part in in-house cooking courses. For pleasant hours 2 Hamam and several massage offers, bathing pleasure is provided by the heated pool.
Only 200 m away from Djeema el Fna is *****Riad Dar Al Assad*, a rather small individual hostel in a side street. You can enjoy breakfast and tea on the terrace, and fragrant soaps are available in the bathrooms. On request, lunch and dinner can be provided by the house cook.
At the *****Royal Mansour Marrakech*, you can feel a little like you are in Arabic nights on film. Only 5 minutes on foot from Djeema el Fna, you will find an indoor and an outdoor pool, spa and wellness area with massage offers, spacious halls, some with marble panelling, and pleasant rooms with a small kitchen area.
Probably the best address is the *****Hotel & Riad Art Place* directly on Djeema el Fna, the main square in Marrakech. Nevertheless, it is a quiet place for the night. You can relax on the roof terrace, where there is also a pool. You can use the hotel's own fitness centre for balancing physical activity. The rooms are tastefully and individually furnished, each room is a speciality.
From Riad Lavande*, it is only 1 kilometre to the Bahia Palace through the medina of Marrakech. The spa area with sauna and massages is particularly pleasant in its design and equipment. An outdoor pool and the sun terrace invite you to relax, a small garden provides the visual framework. For fitness you can use the equipment center, cooking courses are offered from the house.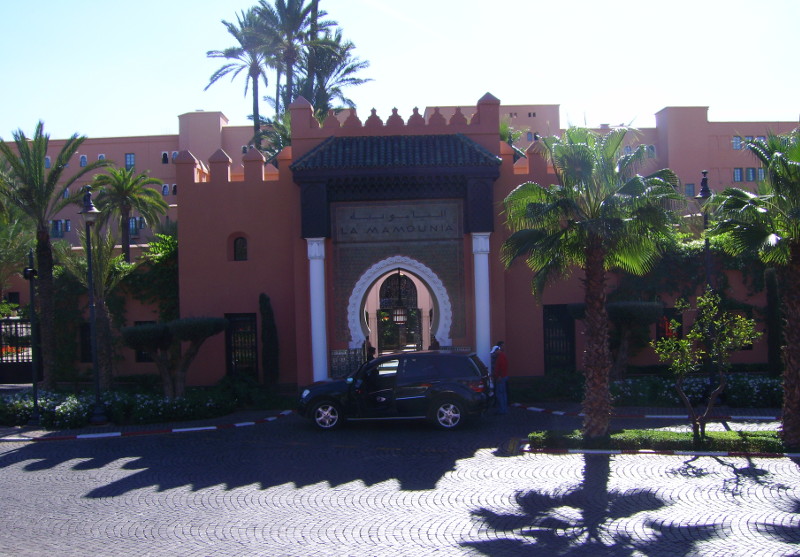 The most famous luxury hotel in Morocco is the Hotel La Mamounia, which was built by the French in 1923. Numerous VIP's of this world gave and give themselves here the handle in the hand. Winston Churchill is said to have stayed here several times because he found the view of the snow-covered Great Atlas so impressive.
Wellness in the hammam in Marrakech
Your riad has no pool? Your hotel has no wellness oasis? Then take the opportunity to pamper yourself for 3 hours in the Hammam*, the oriental version of the spa. The wellness experience begins with the enjoyment of the steam bath and continues with an extended oil massage with argan oil. The pick up at your accommodation is included.
Public transport – local and regional
There are city bus lines locally, and since the end of 2017 even a quiet and emission-free trolley bus line in Marrakech. This is the first trolleybus line in all of Africa.
There are also a large number of taxis. The petit taxis (mostly red with yellow marking) are only allowed to drive within the Marrakech city limits, grand taxis are collective taxis that also cover the last corners of the country. The prices are basically fixed – Grand Taxis are based on the number of passengers, Petit Taxis have taximeters. Nevertheless, it is advisable to agree on prices in advance, as the fare prices often do not cover the increasing costs of taxi drivers.
In addition to Grand Taxis, buses and trains also operate nationwide. The Marrakech railway station (2008) is ultra-modern, but in traditional style. From here you can reach Safi on the Atlantic coast and Casablanca, from where other routes, for example via Rabat, lead to the northern parts of the country.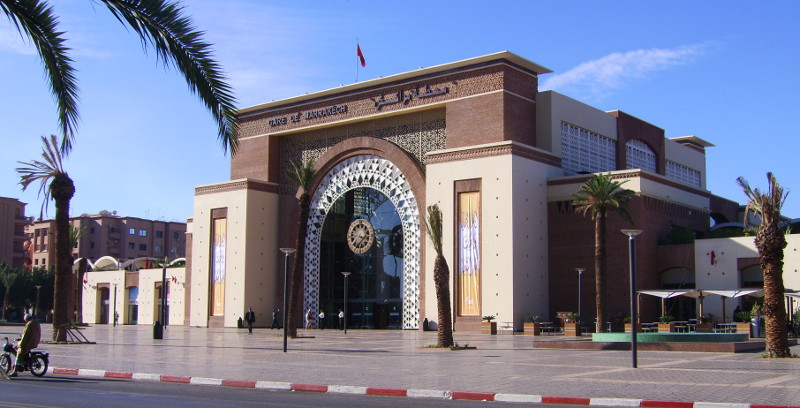 Buses open up large parts of the surrounding area and connect Marrakesh with Agadir, Essaouira and Casablanca. There is a state company and several private bus companies. All national buses depart from the Gare Routiere, where you will also receive your tickets.
Money – Moroccan Dirham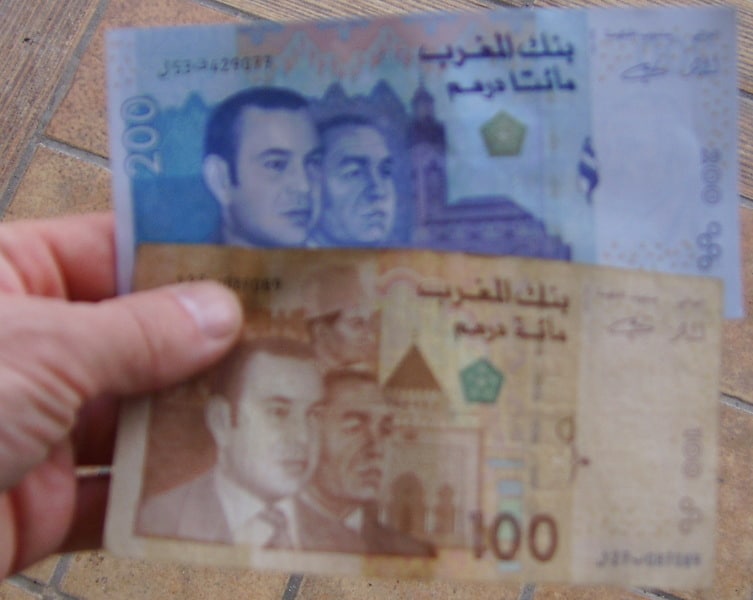 Currency is the Moroccan Dirham (MDH). For 1€ you get about 10 Dirham. You can get money in the big cities of Morocco as elsewhere at the bank machine. This is no problem with credit cards.
You can exchange Euros in banks and exchange offices, but this costs fees. You should put some small change in your pocket as a tip (from 5 MDH). If you are going to the country, you should take a sufficient supply of cash with you. For security reasons, keep the largest amount of cash in your (hidden inside) pocket to be prepared for emergencies. Beware of pickpocketing with a safe bag.
The export of Dirhams is forbidden in principle, so try to get as close to 0 as possible at the end or to exchange larger remaining amounts in an exchange office. However, the German Foreign Office states a tolerance of up to 2000 Dirham for tourists.
Climate and travel times
Best travel times for Marrakech are February to May and October/ November. During these periods the daytime temperatures are between 20 and 30°C. However, night temperatures can be in the single-digit range in February and March and the autumn months. As the houses are rather built in such a way that they do not let the day heat in at all, in the transitional seasons and specially in the winter, warmer clothes for evening and night hours or accommodations with heating are recommended.
Entry – formalities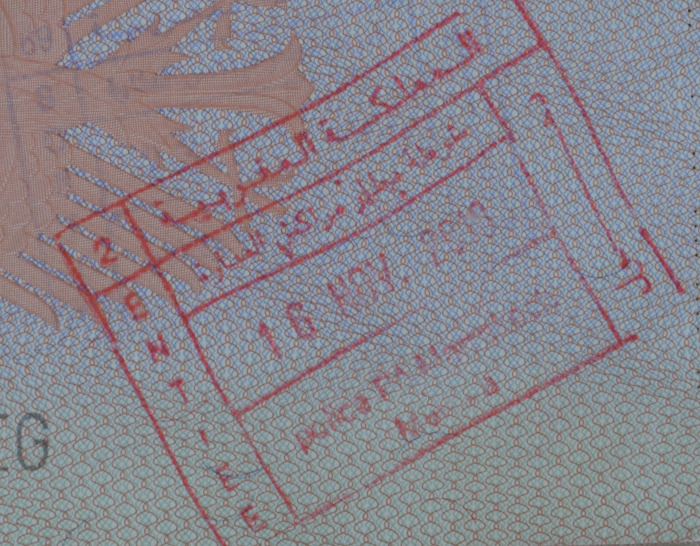 Passport control: For EU citizens, entry up to 90 days with an EU passport (valid for at least 6 months) and entry stamp is possible witCitizens of other countries should contact the Moroccan embassy in their country for information on the necessity of a visa or the entry requirements.hout further visa formalities.
As mentioned above – entry and exit may involve longer waiting times. The passport control is thorough and accordingly slow.
Security
Inform yourself about current safety instructions. These are issued, for example, by the foreign offices of the different states. It makes sense to fly over them before a trip to Marrakesh and check the media for current incidents in Morocco. Otherwise, many of the hints of the foreign offices are often so general that they could also apply to any major European city. Precisely because there was an attack in Marrakesh on the Djemaa el Fna in April 2011 which cost 18 lives, the local security authorities are very present everywhere and are doing everything in their power. This attention will be even higher than usual, especially in the Capital City Year of Culture. Many Morocco insiders, who regularly visit the country, take a relaxed view of the situation – apart from a few border regions.
For your walks in the city and especially on the Djeema el Fna and in the narrow souks you should look out for safe bags to avoid pickpockets.
Language and communication
Contrary to what I suspected due to the proximity to Spain, French is much more common than Spanish or English. In hotels you will sometimes find German speaking assistance. But people who have a lot to do with tourists usually speak English. Some of them are really polyglot – I met a young travel guide who, besides Arabic and Berber dialects, also spoke English, Spanish, French and Portuguese quite well.
Food
Classically Taijine is at home here! Many tasty dishes are prepared in its own juice and served on the table. Vegetarian food is no problem at all, the vegetables are numerous and with some special spices very tasty. For tasting the maroccan streetfood you can take part at a guided tour by night.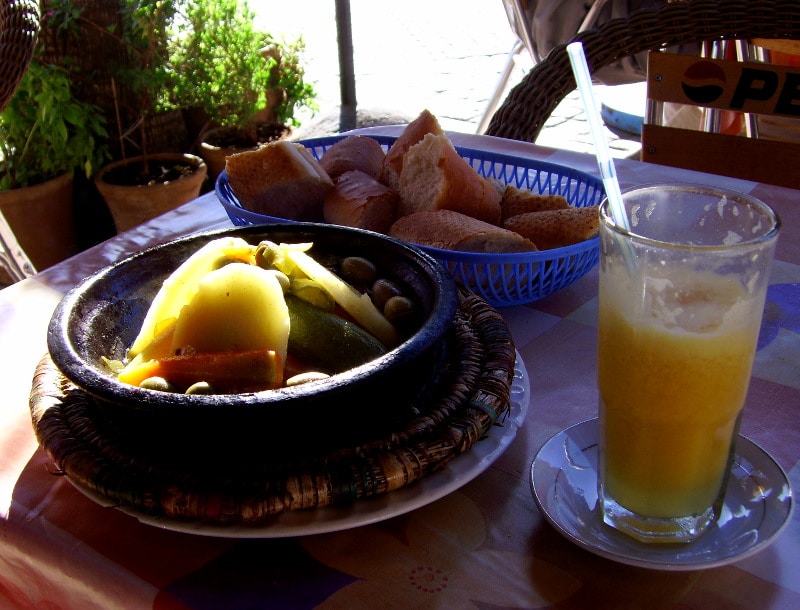 Especially nice is a dinner on one of the many roof terraces, from where you can have a view of the Atlas mountain range. In the evening red the mountains shine especially beautiful.
Choose well frequented restaurants so that your food is always fresh! Unfortunately, many travellers in Morocco are confronted with gastrointestinal problems. Taking active charcoal and electrolytes with you is therefore not a bad idea.
If you can't do without fast food, you can also find the yellow seagull and other western fast food chains in Marrakesh.
Taking pictures
The jugglers, dancers and snake charmers on the Djemaa el Fna expect a tip for photos as part of their daily income. Otherwise, you should only take photos of local people from the area with their permission – for some Muslims it is simply undesirable for a " picture" to be created of you. Husbands may also consider photos of their wives by strangers to be dishonourable.
Photography of military installations and dams is prohibited.
Travel guides and travel literature for Marrakesh
As a good travel guide for your handbag I recommend the Marco Polo Marrakesh*. This spiral-bound book contains suggestions for a number of very special highlights and a removable city map. With a weight of 315 grams, it puts only a minimal strain on your luggage.
If you are interested in the many gardens in Marrakesh, the volume Gardens of Marrakesh* offers exactly the overview you are looking for.
If you mainly want to plan trekking tours in the nearby Atlas Mountains, use the Moroccan Atlas Trekking Guide* for your purposes. Included is also a city guide for Marrakesh.
The historical report "A year in Marrakesh" by Peter Mayne* offers an insight into everyday life on the streets of Marrakesh in the 1950s.
Invite your friends to Marrakesh!
I hope the travel tips for Marrakesh helped you and you enjoy a wonderful trip to a magical world. Then I would be pleased about a link with recommendation on your social-media channels. Thanks!
Reference to *advertising links
The links with * in the text are so-called affiliate links. If you click on them, you will be forwarded to a shop. If you buy something there, I get a small commission for the recommendation. There are no additional costs for you, because the commission is already included in the price.
---
Advertising