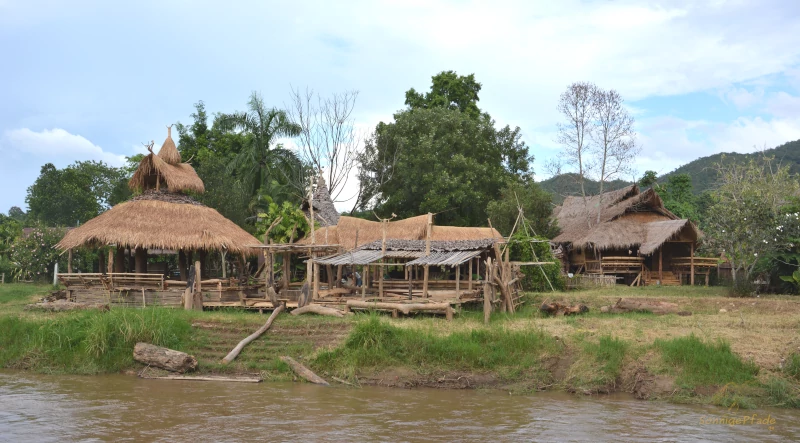 When backpackers and other travelers from Chiang Mai in Thailand want to "get out into the countryside", they usually head for Pai. This settlement in the north of Thailand has achieved a certain fame among backpackers, but typical rural Thai life can only be found in the surrounding villages. Nevertheless, a visit to Pai can be quite helpful, especially for long-term travelers. Because around Pai there are some nice sights, which are easy to reach with a rented motobike or a tour offer. And also otherwise the suitable infrastructure is there, so that backpackers can meet, exchange experiences and also have a little party. I have even heard and read various reports where people have 'run into each other' in Pai and have built up really good projects together! So there is also room for creativity, in a relaxed atmosphere under the Thai sun…
Backpacker hotspot Pai - table of contents
hide
Pai history ~ From drug market and army chillout to backpacker hotspot
It is actually a bit strange how somewhere in the north of Thailand, in a rather remote corner, such a traveler hotspot could develop. If you believe the stories, the hotspot Pai was there long before the travelers. In the 60's and 70's large units of the US Army were stationed in Thailand to fight their war against Vietnam and Laos. Since war is sometimes exhausting, the troops needed places to relax. Pai was probably already such a rural "sanatorium".
In addition, many of the smuggling routes from the mountains in the north converged in the area around Pai, where drugs from nearby Burma were transported on foot or by donkey. Thus, Pai was probably a first drug trading place where the farmers passed on their goods to middlemen. There were enough buyers in Thailand at that time and also favorable channels to transport the hot goods to the States. According to legend, the bars in Pai were filled with U.S. soldiers, drug dealers, special agents of the U.S. Drug Enforcement Administration and the CIA, the dollars were loose and the village experienced a first boom with nightlife and parties until dawn.
When the US troops moved out in the eighties, they left behind an infrastructure of clubs, cheap hotels, bars and everything that makes life easier for backpackers. And they came, especially since the environment in northern Thailand has a charm and lures to small adventures. Today, some of the special agents are still there, but they are getting on in years and are enjoying their retirement in seclusion with their Thai wives in the area. Other "westerners" have also settled in the area. But in Pai the traveler – scene is booming and enjoys a colorful gastronomy, cheap scooters or motorcycles, wellness, party, fishspa, fun and sun….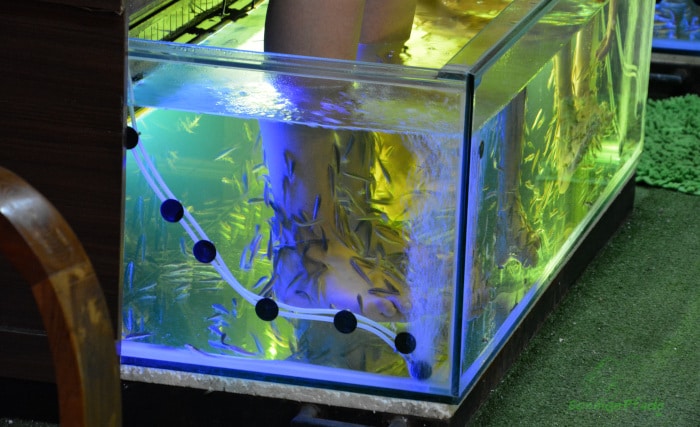 Full service for travelers
Strictly speaking, Pai is an administrative district with several small towns. In thai it is called Amphoe Pai or: อำเภอ ปาย
The small town has everything that is necessary for backpackers – from cheap (and not so cheap) accommodation to various restaurants to scooter – rental and tour providers a sufficient infrastructure. If you are unsure (left-hand traffic!) or do not have a driver's license, you can fall back on the offers of the local tour providers or, of course, use private cabs or motorcycle cabs with significantly more money to explore the surroundings of Pai.
There are several good sights and attractions, which I will come back to in a moment. If you just want to relax, maybe your resort has a hammock area or a wellness offer. The latter you will find in the resort. "Tubing" on the Pai river is also popular… hanging in an inner lorry tube and floating down the river. As mentioned above, there is always party in the evening – if you want to. Of course you can also look for a quiet place a bit away from the traveler hotspot near the walking street. Or just outside of Pai use one of the rural "resorts".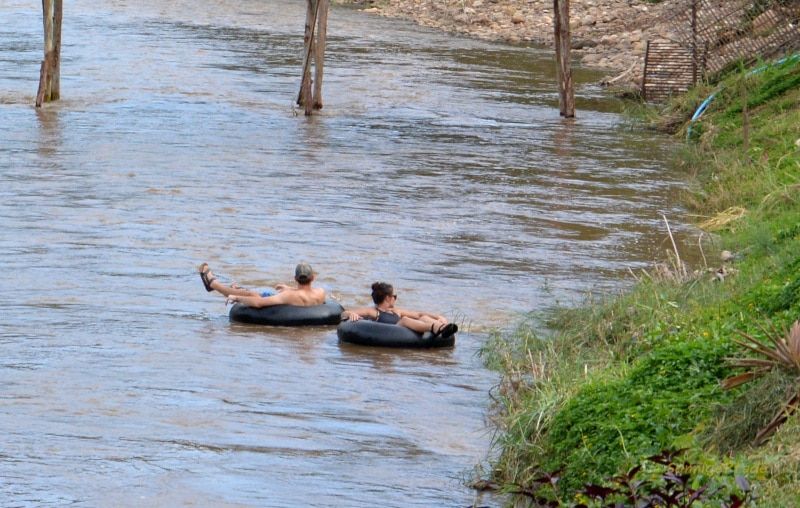 Attractions in the valley of Pai
Almost obligatory is a visit to the Pai Canyon and the World War II Memorial Bridge. The latter is located about 8km south of town, the Pai Canyon on the way there. On foot it's probably quite far, especially if you use the busy main road 1095. But by bike or scooter it's easy.
Pai Canyon is an impressive landscape of sandy rocky ridges and deep gorges in between, probably formed by erosion. You can walk along the narrow stone ridges and look left and right deep down into the tree-covered slopes. This already belongs to the small design wonders of nature, how such formations originate and maintain themselves in this status to please us. For me, the sandy erosions are somewhat comparable to the sandstones in Melnik in southern Bulgaria, where rock caps sometimes form veritable columns.
The World War II Memorial Bridge has a historical significance for Thai people. The Japanese built today's highway 1095 in the 1940s during the Second World War to keep the territories under control and to be able to transport troops. There must have been some fights at the bridge over the Pai River. Today you can pass the bridge as a pedestrian on bumpy, partly loose planks. A small exhibition informs about the historical events in Pai. The steel arches and the steel skeleton are a bit more impressive than the bare reinforced concrete of the new, adjacent modern bridge.
Hot springs and cold waterfalls
In the surroundings of Pai there are "hot springs" in several places. These are developed as "thermal spas" and you can also visit them with swimwear. From the World War II Bridge further southeast, in the monsoon forest of Huai Nam Dang National Park, are the Thapai Hot Springs, which are fed by several hot springs up to 80°C. If the entrance fee is too expensive for you, because it also includes a national park fee, you can find your bathing pleasure in the Thapai Spa before the national park border.
In addition, various waterfalls fall more or less high from the mountains, actually in the whole northern mountain region of Thailand. This eternal waterfalling becomes almost boring with time… 😉 Also near Pai you can hike to waterfalls, go there by scooter or let tour providers take you there. Quite famous among backpackers is the Mo Paeng waterfall west of Pai. There you can sit in two small pools or slide down a few meters in the water channel over the rocks.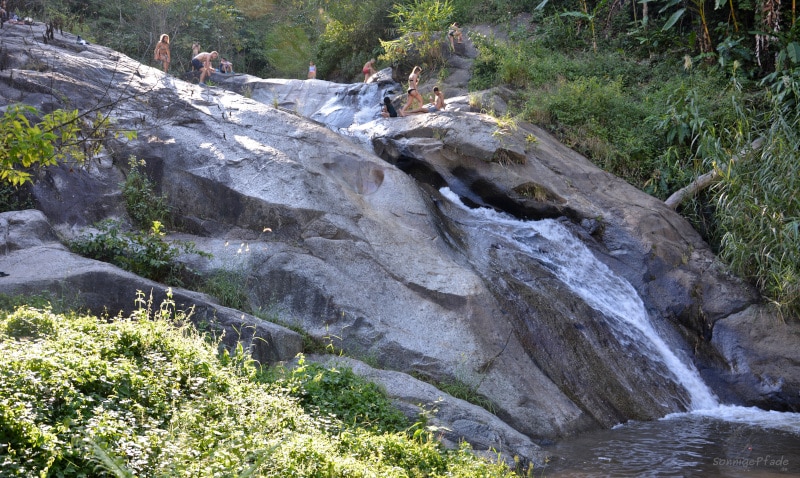 Chinese village and temple in Shan village
A worthwhile excursion destination is also the Chinese village Ban Santichon west of Pai. The whole northern region of Thailand is populated by refugees and various ethnic groups from neighboring countries. Among them are Kuo-min-tang Chinese who have settled in a village of their own. Founded about 100 years ago, the Kuo min tang was the leading power in China from the 1930s. When the communists under Mao Tse-tung conquered mainland China in 1948/49, part of the Kuo min tang fled to Taiwan under Chiang Kai-chek and founded their own state there.
However, some groups left China in other directions, such as Thailand and Pai. They run something like a museum village, generating income to make a living in Thailand. Right on the road there is a big "restaurant", of course with Chinese food. Whole bus tour groups can be fed there. In the village itself there are also small souvenir stores, tea rooms and cafes, some houses are modeled like traditional farmhouses. On one side there is something like a castle complex. In addition, the stream flowing through is dammed up to a small fish pond, you can walk over a narrow bridge in chinese traditional style … this has something of Japanese garden culture.
The transitions from "reconstructed" tradition, museum – furnishings and retro – hokeyness are fluid. Let everyone form his own opinion. The actual settlement of the Chinese exiles is next to the museum village. Further up the mountain above the Chinese village is a popular vantage point, which allows especially in clear sunny weather a wide view over the valley of Pai and the surrounding mountains.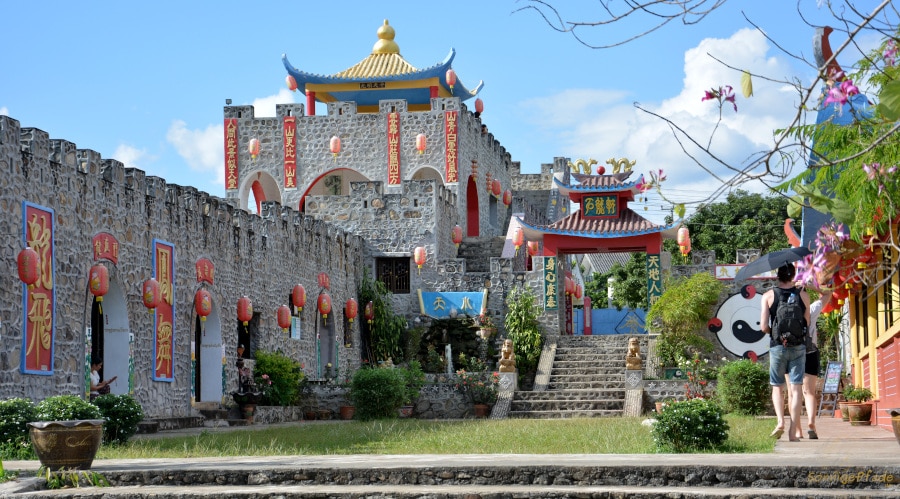 Some Pai visitors make their way on foot to the village of the Shan ethnic group with the temple Wat Nam Hoo, located about 3km to the west. In this temple, a 500-year-old Buddha is worshipped in Chiang Saen style. A pagoda is said to contain the ashes of a princess.
East of Pai, the Mae Yen waterfall can be the goal of a hike, which falls over three steps from the mountains. This can only be reached via an increasingly narrow valley.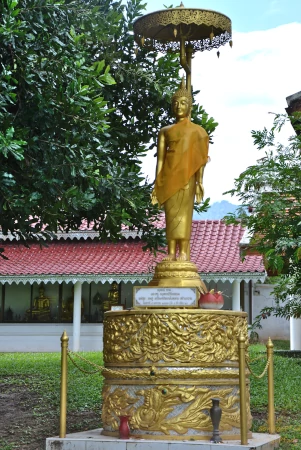 Cave Tham Lot …rather longer and slower
An excursion that is definitely worthwhile is the visit to the Tham Lot cave near Pang Mappa (Soppong). With the public minibus the trip to Soppong takes 1.5 hours and from there it is another 9km to the cave. However, many Pai – travelers who have booked one of the offered tours to the Tham Lot reported that on the tours the visit to the cave was only pulled through quickly and under great time pressure.
I was there myself with a scooter and have enjoyed this excursion. Not only the walk into the cave with an assigned local guide, short raft ride at the entrance and impressive stalactite – halls is worthwhile. Also the surrounding area with the Nam Lang stream, which flows in many arms through the landscape, offers a delightful natural experience for attentive and patient explorers.
At the reception to the cave, there is a small exhibition in the Information Center that provides information about prehistoric findings in the caves such as cave paintings and burial sites. If you are in front of the cave at sunset, you can watch the swifts returning from hunting and nesting in the cave entrance. Shortly after, flocks of bats leave the cave. In this respect, it is better, especially for nature lovers, to use quarters at Pang Mappa for one or two nights and not to miss this natural spectacle.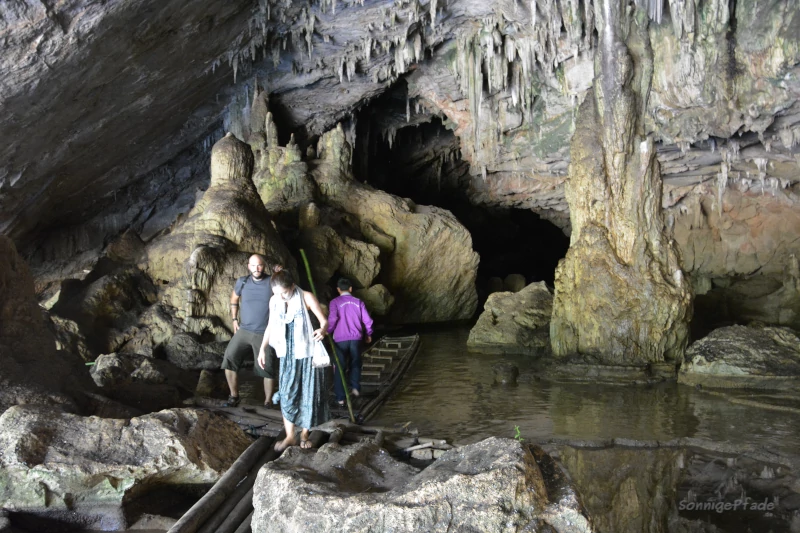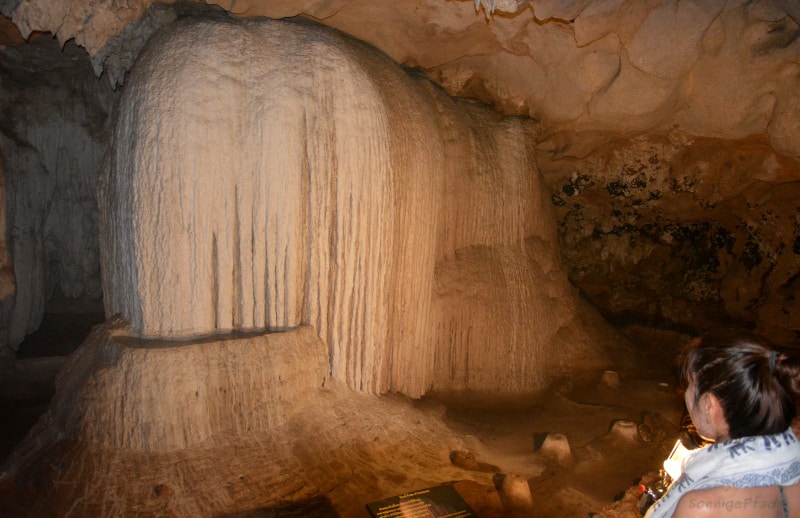 Pai nightlife
Besides the already mentioned nightlife of Pai, you can visit several Buddhist temples in the town. In Wat Klang you can find a lying Buddha of more than 8m length carved out of a tree trunk in the back pavilion. To Wat Mae Yen, after a few kilometers of hiking into the mountains, you will climb 353 steps up the mountain slope. At the top, a large white Buddha is enthroned, visible from afar from many directions among the green leaves of the trees. Nearby, the path to Mae Yen waterfall begins. But Pai is a bit more "multicultural" – there is a Muslim community with a mosque, which is otherwise found more in larger Thai cities.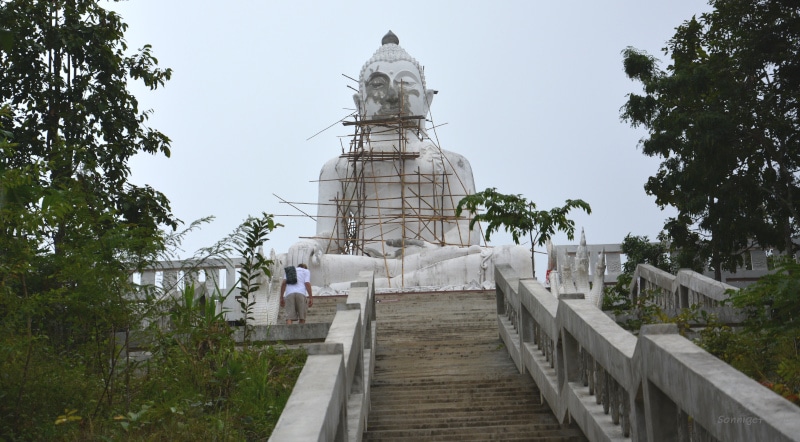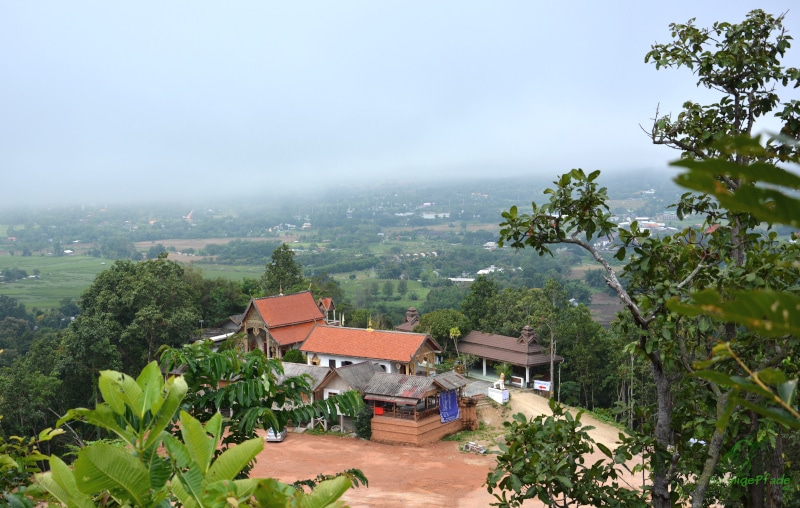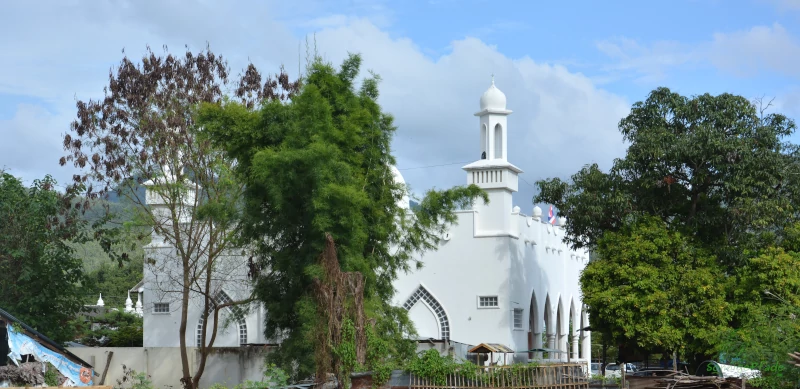 The night market of Pai is a bit different than many of the usual night markets in Thailand. Here there are not only the most diverse Thai food stalls next to some T-shirt sellers. Here also artists try to get their goods to the strolling customers. Or craftsmen, for example cobblers, who offer homemade partly very stylish shoes. At this time from sunset, Chaisongkram Road and part of Rungsiyanon Road becomes a pedestrian zone. Of course, then the bar business goes off everywhere. In the warm nights you can enjoy relaxed your drink or dance in some location to life – music. From Thai pop to the current global music scene you will surely find something to your taste.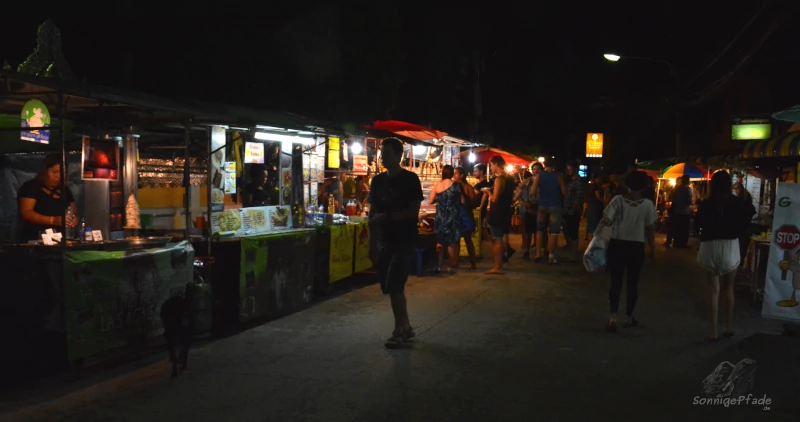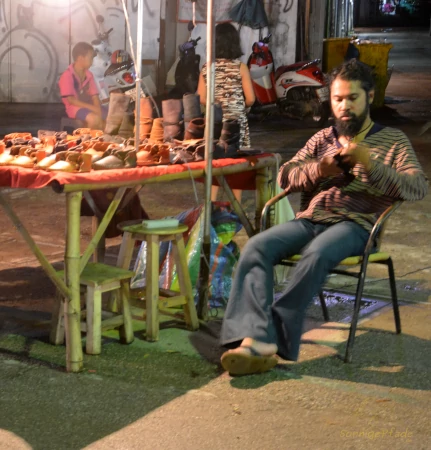 Elephant Camps
Unfortunately, there are a number of "elephant camps" in the vicinity of Pai, because many tourists still indulge in the "fun" of taking part in elephant riding. The obvious torture in the keeping of the animals, which are after all something like the heraldic animal of Thailand, should act as a deterrent.
Who wants to see it, finds the elephants in such a kind carport on poor concrete floor put down, if they are not used. Of course, they are shackled – a short chain is placed around one of the front feet, leaving little room for movement. And the "shelter" itself has little room for movement of these giants. To ride the elephants, their will must be broken. The "training" to become a riding elephant always involves violence and pain for the animals. To control the elephant – guides use a hook, a bent iron bar with a tip, which the elephant will feel painfully if it does not immediately obey the will of the rider.
If you would like to come into contact with "released" elephants in a natural environment, where they can recover and live more or less according to their nature, then go to the office of Elephant Nature Park in Chiang Mai and book your personal elephant encounter there.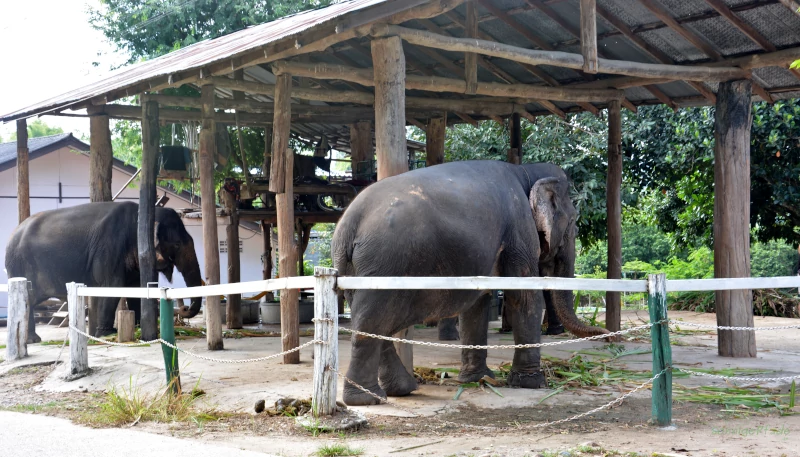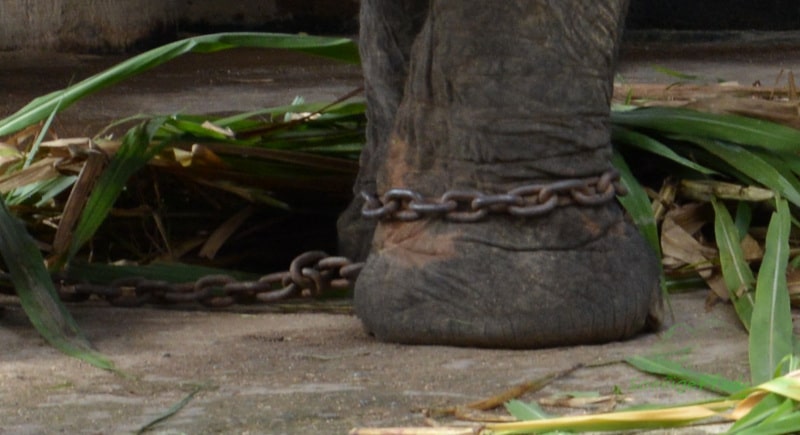 How to get to Pai?
If you plan to travel to the north of Thailand, then Pai is definitely a good starting point for further activities. From Bangkok, it is best to travel to Chiang Mai first. This can be done overnight by train*, very comfortable also with couchette.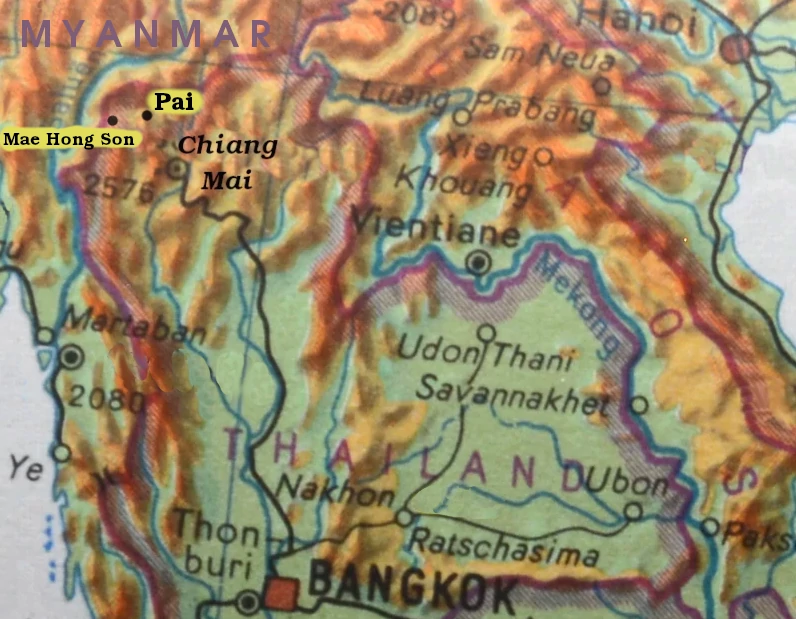 To Pai by bus or private cab
From the Arcade Bus Station 2 in Chiang Mai, minibuses travel to the smaller towns in the far northwest, including Pai. This trip takes about 3-4 hours depending on the route and leads over many mountains, tough serpentine – roads along. Counted were probably 762 curves, at least on the mountainous route. Some softer minds report hair-raising rides in the narrow minibus with daredevil overtaking maneuvers and snipped curves, which are to be survived only with vomit bag. The small bus station Pai is in the middle of the Traveler – hotspot.
If you prefer to go privately by cab (up to 6 persons), this is also possible. You can find your bus or cab information with online booking option here at 12go.asia*.
Traveling on from Pai
As I said, for me Pai would only be a starting point from which I would travel on to the northeast of Thailand via the 1095 Thai main road after a few days. Either with a scooter or motorcycle rented in Pai (there I saw the cheapest offers at all) or with the next minibus, e.g. via Pang Mappa (Soppong with Tham Lot cave) to Mae Hong Son. This "district town", right provincial capital is larger, but clearly more "Thai", although there are also very nice guest houses around the lake and temple in Mae Hong Son and a small "restaurant – street" (not to say "pub mile" to it). Many of the things, especially nature experiences, you can also find around Mae Hong Son, just without the party scene in the evening. Mae Hong Son has a tiny airport from which one or two planes fly daily to Chiang Mai.
Or you do the round like I did during my first stay in the region the other way around – from Chiang Mai to Mae Sariang, further to Mae Hong Son, then Pang Mappa and Pai.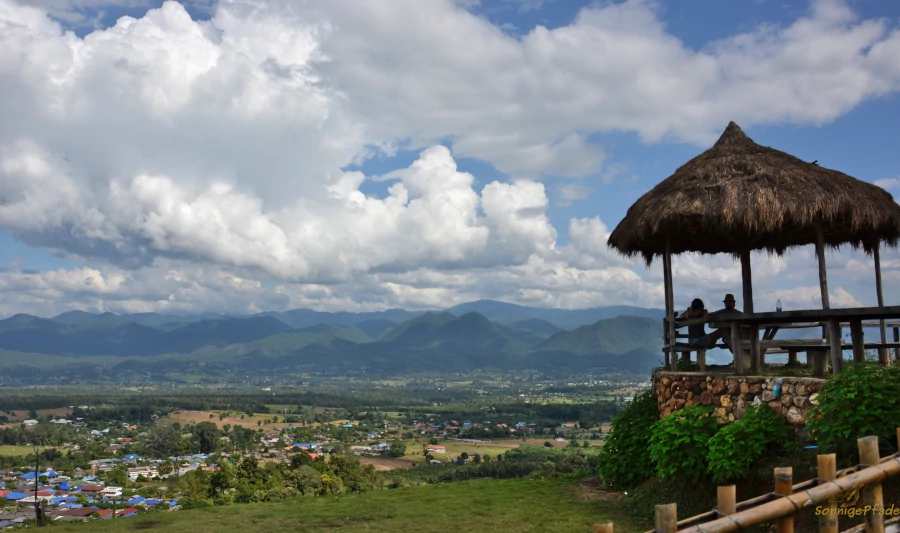 If you want to go from Pai to Chiang Rai or Chiang Kho on the Mekong, border crossing to Laos, you can ask in the AYA traveler – service for a direct minibus. If enough people are interested, this charter route will be offered there (possibly even with an overnight stay in a simple guesthouse on the Mekong).
Accommodation in Pai
As mentioned in the article, Pai has a lot of different accommodations to offer – unusual for such a small place in such a relatively remote region. But there is a lot – from simple village beds and hostels over bamboo huts to quite comfortable hotels and resorts at the Pai river. A small selection you will find below:
budget – accommodations in Pai
Very cheap accommodation in dorm beds in mixed dorms or in women's dorms is offered by Baan Mai Sak Hostel* in Pai. Water, tea and coffee are available for free. You can relax in the hammock on the balcony.
One of the cheapest accommodations in Pai is the Tribal Backpackers Hostel*. Dorm beds as well as private wooden huts in the garden are available as night quarters. Tea and coffee are free of charge. You can also be picked up from the bus station for free.
Only about 500m from the bus station, yet with a quiet garden and hammock area to relax, UP2U Guesthouse* is one of the most popular budget hostels in Pai. The guest beds are all handmade from wood and bamboo by the owners. Fresh coffee and small delicious snacks are offered in the house.
Diamond Village Resort* features solidly built bungalows (cottages) for two to three guests with private shower bathrooms in a larger garden area. Garden furniture is available for everyone, and there is also a fireplace.
Small bamboo huts and wooden cottages are the individual accommodation at KK Hut*, about 1km from the walking street in Pai. Simple, but pleasant and quietly located. Fans provide air, mosquito nets keep away pests. The reception also arranges tours in the area and provides luggage storage on departure day.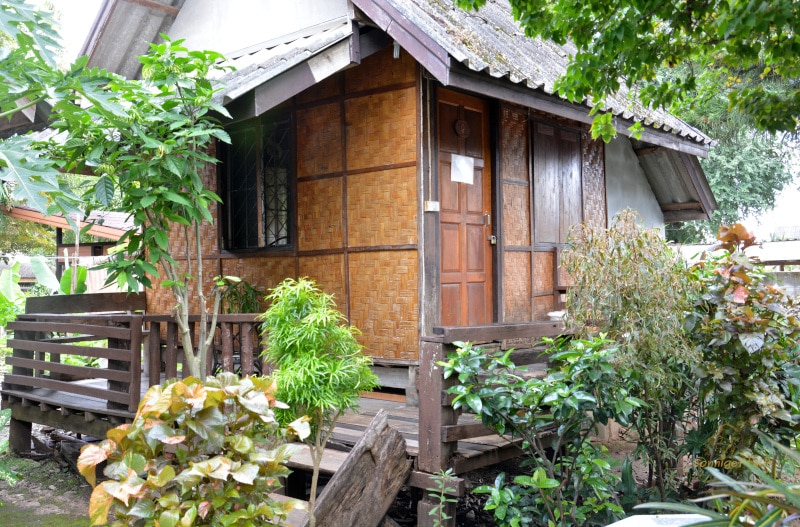 Middle Class Accommodations
On Pai river just a few hundred meters from the night market, you'll find Pai Loess Resort*, which accommodates guests in individual small bungalows. Two guests at a time find their overnight place in double beds in the huts. The garden with sun terrace can be used by all for relaxation. For catering, the diverse restaurants of Pai's Walking street are located in the nearby area.
About 400m from the bus station, the cottages of Pai Princess Resort* offer accommodations close to the center of the action, yet with a quiet garden and terrace.
A few kilometers outside the settlement in the Pai Valley is Kuad Khon Thoe Pai Cottage* with infinity pool and green garden grounds. Accommodation is in small cottages for two (+1) guests with private bathrooms. A washing machine and dryer can be used by all guests. The owner offers a shuttle service to the town of Pai (5km) at fixed times.
Pai – best accommodation
One of the highest quality hotels in Pai is the *****Reverie Siam Hotel*, about 1.2km from the center of the settlement. Guest reviews are also excellent. Rooms for two to 4 guests are traditional Thai in style, but technically well equipped. Tea and coffee makers and refrigerators are standard in all rooms. Each room also has a balcony or terrace. Reverie Siam Hotel Pai includes two outdoor pools (one of which is saltwater pool) and an in-house restaurant. Traditional Thai dishes are on offer here, as well as European evening meals. Special dietary requirements can be catered for on request if necessary.
In terms of style, the *****Oia Pai Resort Hotel* is rather Greek in style and is set in an artificial saltwater lake. Two-bed rooms, each with extra beds and extensions, and bathrooms with tub or shower are available for guests. Relaxing loungers and seats are available at the on-site pool. Children are welcome, buggies and indoor and outdoor playground equipment are provided. An on-site snack bar satisfies small appetites and allows for a good view of the Pai Valley. Oia Pai Resort also offers free rental bicycles for exploring the surroundings. In addition, the resort offers kayaking or canoeing opportunities on the Pai River. It is about 900m to the bus station and walking street.
What else should you pay attention to?
Even though I have written a few times that it is worth renting a scooter in Pai – be careful! Nowhere have I seen so many injured travelers as in Pai – with bandaged or splinted arms or legs, ugly skin abrasions, sometimes even crutches. The left-hand traffic is unfamiliar for many travelers, in addition to the sometimes chaotic driving style of locals and inexperienced travelers. It is better to drive a little slower, especially through the villages. If you have never ridden a scooter before, it is better to take a cab (at the bus station) or a tour operator, or take the buses for the next stage. And- a first aid kit* is always advisable for travelers!
Before renting a scooter/motorcycle copy your passport incl. Thailand entry stamp. You usually have to deposit the passport at the rental agency. If you rent a scooter, take some photos immediately from all sides with date/time stamp. Above all, if you see already somewhere scratches or dents, hold these in the photo! So one can not make you afterwards for already existing damage liable.
As beautiful as it is in the Pai Valley, at some times the mosquitoes can be quite a nuisance. In general, it makes sense to take a mosquito net* with you to Thailand for your bed. This ensures a restful night. Many accommodations have mosquito nets over the bed, but not all. Mosquito protection is also malaria prevention! Also a mosquito repellent* is recommended. Either from home, or with a little luck you can get mosquito repellent in the 7eleven supermarket. The only question is what is in it….
If you go to expensive accommodations anyway, clean bed linen should be a matter of course. In cheap hostels or the bamboo huts on the Pai River this may not be the case. There an own "hut sleeping bag" or a sleeping bag – Inlett* is recommended. Even though I don't have much in my light backpack, there is enough space for it. The serves me then in the couchette or Sleeperbus as a blanket…
You like to see more of Thailand's north?
Giant Buddhas in Nong Khai – border town at the Mekong river

Ancient Sukhothai – the cradle of the Siam empire
Waterfalls, caves, temples – in the Northwest near Chiang Mai
Phimai – the small Angkor Wat of Thailand
Are you already dreaming of tubing on the Pai river?
Invite your friends for chilling and tubing in Pai! Together you can plan your Thailand North – trip – Share the link to the post on your social media channels! A positive echo on the internet also helps search engines to separate spam from good content and thus improves the search for all – Thank you!
* Note on advertising – links
Some links in this post contain the * as a mark. These are affiliate links, which connect you with a store or an agency. If you buy something there, "Sonnige Pfade" receives a small commission to cover the technical costs of the blog. Nothing will be more expensive for you, because the commission is already taken into account in the pricing.
Travel Tips for individual journey to Thailand