First published in German under Travel Stories on 16.4.2020
In the center of Varanasi we leave our rickshaws, because at this crossing the rickshaw drivers are not allowed to go further. What comes after that is not a pedestrian zone, but still rickshaw-free. At the crossroads there is a small police station and there are always policemen standing around, who are not exactly squeamishly "regulating" with their bamboo sticks – I christen the place as "crossroads where the rickshaw drivers get beaten up".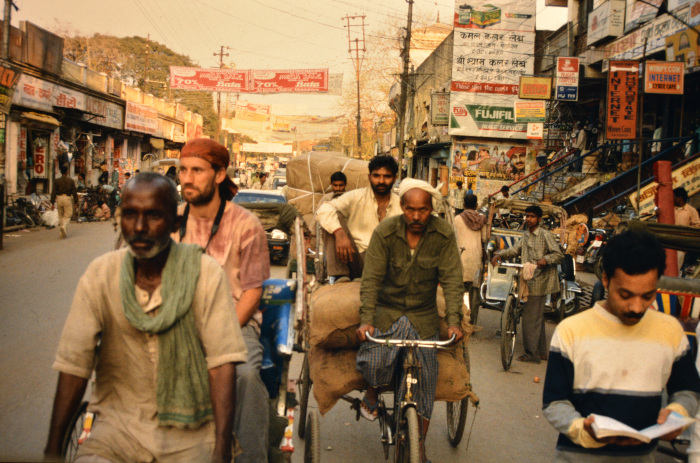 Accommodated in the Yogi-Lodge we spend a week visiting the Ganga ghats, a sitar concert, a trip to Sarnath and to the university Benares. On Mahashivarati, the Hindu holiday for the wedding of Shiva with his goddess Parvati… our last evening has come. The backpacks are already packed and we are hanging around in the city.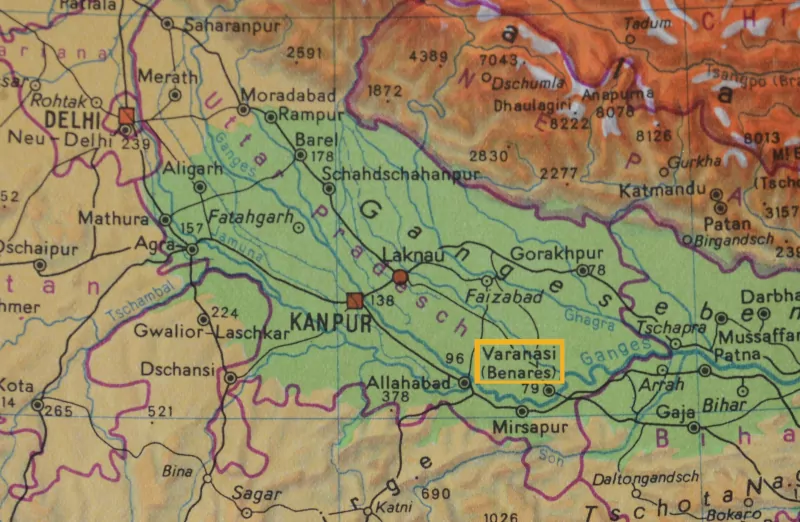 Varanasi is once again swollen by several hundred thousand pilgrims. Through the narrow streets hundreds of young men dance and romp barefoot in groups, shouting and throwing rice. The main street is full of people, a hustle and bustle. Several stages are set up, with lots of colourful light, shiny silk fabrics and deafening songs and prayers. The technicians only know two switching positions on the amplifiers: Off or Max.
At one of the stages I meet a dealer who sold me a new red shirt two days ago, which should accompany me the whole rest of this trip. Or better – he meets me. I would not have recognized him in the crowd. But many Indians have a good memory for people. And they value good, polite relations. Since I wanted a short-sleeved shirt, the sleeves had to be cut off and hemmed first. No problem, a tailor was sitting right next door. To bridge the small waiting time, an employee was sent to the next chai – salesman and brought a tea for us both. Now the salesman is obviously with a club here at the stage and they contribute to the entertainment at the Mahashivarati – evening in Varanasi. We are briefly introduced and friendly welcomed in the round. After a little chat we continue our walk.
In front of a pub or club a wild dance to loud music is going on. Apparently they are serving Bang-Lassi out of big cauldrons. We have already heard several times that at Mahashivarati the prohibition of drugs is not so strict and the sale – or as here the giving away – of Bang-Lassi is allowed. Soon we get a glass full and are included in the growing circle of dancers. The rhythms become faster and hotter…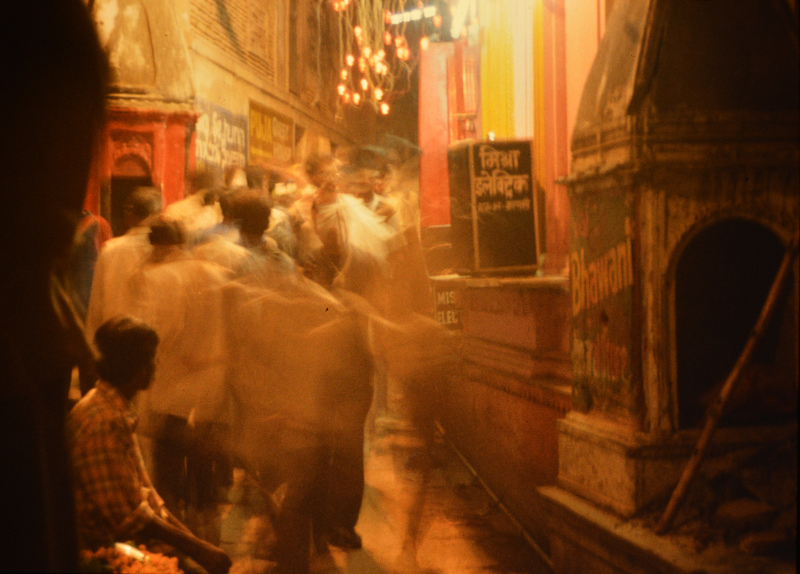 But after half an hour the "free lassi" is gone and the tables are taken down. The close pack of dancers dissolves. I routinely reach into my right trouser pocket – and get a huge fright. The passport is gone.
Normally it is in a relatively well closed, secure pocket, where a few larger banknotes are also stored. But I took something out of it before and put the passport into the leg pocket, which is only secured with velcro. And there it must have fallen out with the wild hop around… Or stolen? Well, I don't have to blame my stupidity on others now…
I say to Peter "This is the real deal – my passport's gone!" We look around a little more, maybe he lies here somewhere in the dust of the clayey road. But no trace. Since I'm not quite sure where I actually lost him, we slowly walk back to the stage where we met the dealer earlier. There we are immediately recognized and addressed. On the stage there is a speaker and holds some endless monologues in Hindi, of course as deafening as the music otherwise.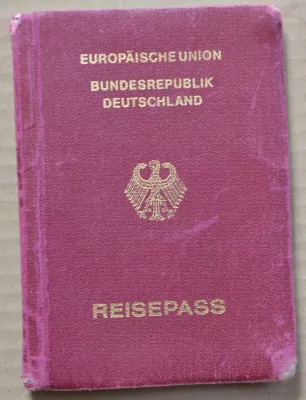 We tell some of the stage hands that I have lost my passport and we are looking here to see if it is lying somewhere. And where we suspect that I have lost it and so on. While we are still talking, the crowd around us is getting bigger and bigger, finally there are at least 200 people standing around us. By the way, I hear that the speeches on stage are now mainly about a "…german passport" and at this volume all 10,000 Indians in this street have probably heard what happened to me.
I am moved by a strange mixture of emotions. On the one hand, I am glad that now probably 20,000 eyes are looking around and not only staring at us, but looking for a red passport. On the other hand I am a little embarrassed to be in the centre of attention because of the misfortune and to be stared at by more and more people. (Okay, being stared at is normal in India, I got used to it to some extent).
After a few minutes a group of kids shows up and talks to our counterpart. They noticed or saw something! We are sent along with the children to walk down the street. There is the police station, at the aforementioned crossing, and the children lead us straight there. But the scenery has changed. The crossroads are closed, a grandstand is set up in front of the police station. Later a procession is supposed to move along this stage. The official Mahashivarati – celebration of Varanasi. Now the children speak to a policeman and point to me. A stocky policeman in plain clothes approaches me and asks me about the incident. I tell them again that I have lost my passport.
What follows I could not quite explain to myself until today. Maybe a little show about the "intensive police work"? Anyway, the plain-clothes policeman takes a big stick, turns back into the street we came from, the children in front and us behind. By the way, he demonstratively shooed up a group of young people with his truncheon – no idea for what reason. But we run back to the stage where we are already known. Immediately one or two of the responsible people come up to us and talk to the policeman. For us not a word of explanation.
After ten minutes we go back to the police station. Sometime halfway, the policeman explains to me "Your pass is secure". I don't know how he gets it now, he has no radio or anything how he could have got an information from somewhere. Well, we trot along, at the police station he says "Wait" and we stand between the stage and the house. Peter says to me, "we can't get away today from Varanasi anyway. I'm gonna go back to the yogilodge and get our room ready for the next night." That's probably better, we won't make the night train anyway.
In the meantime, some apparently high-ranking authorities of Varanasi city have taken a seat on the stage in front of me. Besides nobly dressed ladies and gentlemen, there are also two uniform wearers whose stars sparkle on the broad epaulettes. And now the nightly procession to Mahashivarati begins. Colorfully dressed groups of men and women arrive in floats, on which large illuminated pyramids with dozens of light bulbs stand. Further illuminated ornaments are carried. They are all wired, so to speak, and emergency generators are placed on the wagons to keep all the lights shining and sparkling.
From time to time colourful painted elephants come, partly with riders and sedan chairs, partly as "draught horses" for other carriages. Some wagons look like rolling temples. I stand behind the grandstand, in front of the police station, watch the procession and wait. Nobody cares about me anymore. My problem doesn't seem to have any priority over the magnificent parade.
Peter comes back from the Yogilodge. No more rooms, all full. But we are allowed to sleep in the head office. But the general opinion of the managers of the Yogilodge is – 'You can forget your passport, you won't see it again'. Well, I have already thought about what follows now – getting any loss reports from the police, going to Delhi without passport, going to the embassy and apply for a replacement, waiting, going to immigration office for visa replacement…. All this can take time and will certainly not be a pleasant experience. And we can probably forget our other travel plans.
Suddenly I see that one of the two uniforms with all the tinsel on the stage turns around and looks at me. In his hand he has – a red passport. He waves me over and asks me, at first with a strict, serious expression, for my name and other personal details. But I can already see that he starts to grin more and more. And finally he presses my passport back into my hand. After about four hours I have my passport back. It had probably been handed in to the police immediately after I lost it, and had been transported to an evidence room far away on the outskirts of Varanasi due to some official regulation. Then it took so long to pick it up from there again, mainly because of the holiday rush.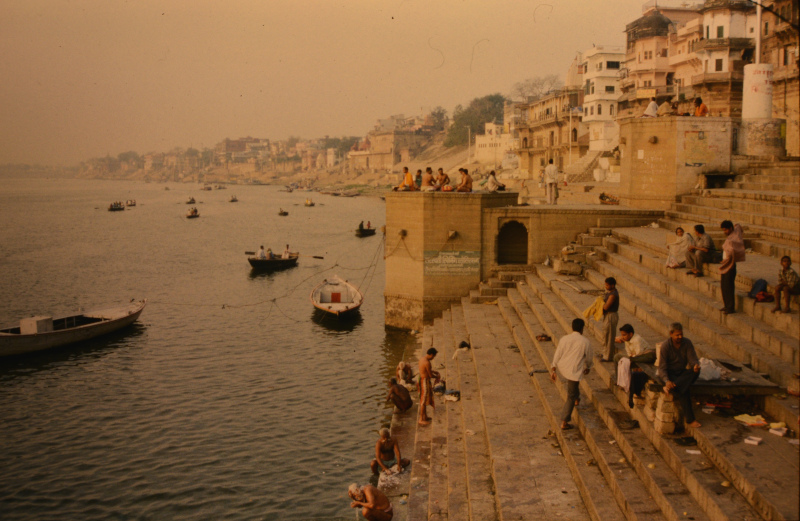 Of course the children who were the first to put us on the right track got a reward from me. They are really proud that they could help us. And the civil policeman, who took care of the problem, I actually wanted to buy him a meal (we went for dinner anyway after all the hectic). But he refused. He also didn't want to accept the coke I brought him. I don't know if it was because this slatted person was sitting in front of us on stage or if he wanted to be a principled example of anti-corruption, he didn't accept more than a word of thanks.
In the Yogilodge we were greeted with "Hello". The managers were quite surprised about the happy ending of this story. And of course we were also happy that we could continue our way from Varanasi towards Kajuraho with only one day delay.
Good story? Let's share it!
You like that Varanasi travel story? Then please share the link to the post on your social media channels! Thanks 🙂
---
Advertising
.